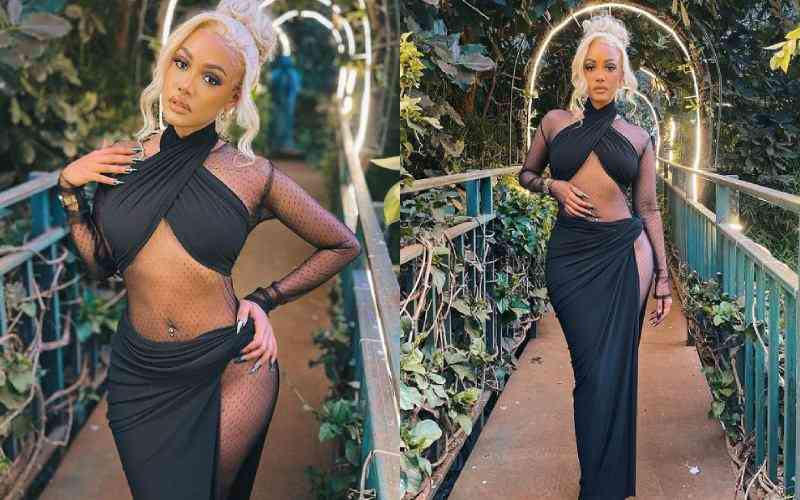 Popular singer Tanasha Donna has let netizens in on her childhood, sharing unknown details of her life before fame.
Revealing the news via social media, the mother of one disclosed that she was born in the UK to an Italian father and Kenyan mother but later moved to Kenya where she spent some time before relocating to Belgium where she was brought up by her Belgian stepfather.
"When people ask me where I am from, I never know where to start. Born in the UK, grew up in Kenya then left for Belgium but my biological father is Italian with some mixes in there too but grew up with a Belgian stepdad," she wrote.
However, about six years ago, the Sawa crooner moved and settled back in Kenya with constant trips to Europe.
"I then moved back to Kenya about six, seven years ago now but go back and forth Europe and Kenya when I can," she added.
Career and Love
Upon her return to the country, the social media influencer landed a job with NRG Radio alongside DJ Kace for the station's mid-morning morning show.
"NEW SHOW ALERT. Guess what? I'm officially part of the baddest littest evening show in the 254, #NRGCIRCLE with my G and my co-host @shaqtheyungin Catch us every Mon-Thur from 8 pm- midnight!" she announced.
It is during this time that Tanasha and Tanzanian bongo flava star, Diamond Platnumz started a relationship that fueled her growing love for music even more. The singer moved to Tanzania to be with her boyfriend and advance her musical scope. With time Tanasha was able to interact and make music with various artistes while there.
The couple was soon blessed with a son but unfortunately broke off their relationship and Tanasha moved back to Kenya to raise her baby.
Speaking about their break-up in a previous interview with a local publication, Tanasha explained that one of the reasons why she left Diamond was because he was unfaithful to her.
"There were too many back and forths. When you reach a dead-end that is when you bounce. I fought it all. But when it came to infidelity, I realized I was fighting a war on my own. It was the limit for me especially since I was loyal like crazy to him. It had been ride or die for me. I had to leave for the sake of my son and my own mental health," she said.
Despite their relationship not working, Tanasha admits that the Wasafi Classic Baby CEO is taking care of his child.
"He is paying for his education right now, taking care of him and making an effort. I like what he is doing to his kids. He's making an effort to be there for them and I'm proud of him," said Tanasha.
Related Topics