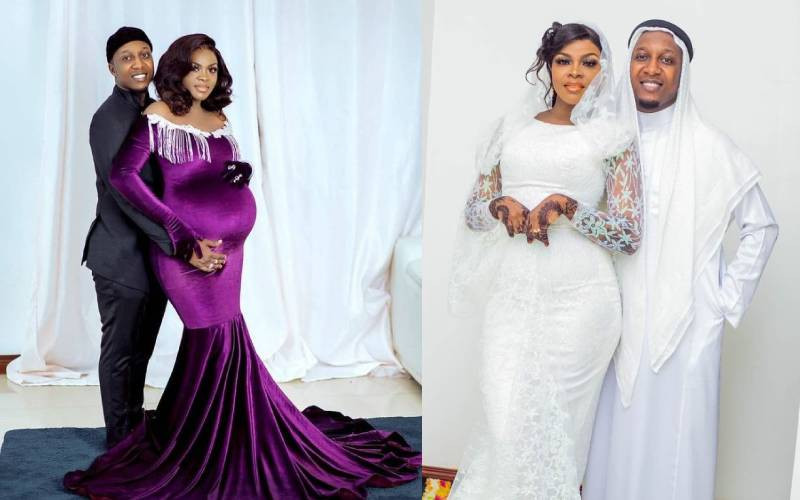 Bongo Flava star Diamond Platnumz's sister, Mwanahawa Abdul, popularly known to her fans as Queen Darleen, is seeking a split with her polygamous husband Isihaka Mtoro after two years of marriage.
Darleen shared the news with her fans on social media, saying that despite the love she feels for her husband, there is no other alternative to their woes but to separate for the sake and well-being of their child.
The Kijuso crooner hopes her elders will understand why she had to make the tough choice.
View this post on Instagram
"I have decided to leave the person I love so that I can protect someone that I have more love for. I love my daughter so much. I know my elders will understand my decision," she wrote.
Speaking during an interview with Wasafi TV, the seasoned actress claimed her husband has been funding their lifestyle with money gotten through dubious means, a realisation she says​ hurt her immensely.
​"The businesses he does, as a woman you have no right to brag to other women. Unfortunately most of us women brag yet we do not know what our husbands are doing," she said.
Queen Darleen tied the knot with her husband Isihaka as his second wife sometime in 2019 in a private wedding, leaving fans surprised as she had previously not announced she was in a relationship.
View this post on Instagram
Addressing her alleged strained relationship with her co-wife during the interview, Queen Darleen said she considered herself the only wife since she never met or interacted with Isihaka's first wife.
"I think you should stop saying that there was drama between me and my co-wife, I don't have a co-wife I was on my own. The reason I am saying this is because I have never seen or interacted with her as my husband's wife. Whatever their relationship was it didn't involve me, everyone was doing whatever they liked," she said.
According to the singer, the only reason she had not packed her things and left her husband for good was for their child's sake. She, however, said she was done with the marriage and wanted nothing to do with the union.
"We haven't split but personally I would say I am not in that marriage. But my husband is around, he is taking care of his child, we are living together but personally I am not married. I love that man to death and I remember I even lost so much weight sometime back and became the talk of town because I was fighting for myself then. I did and that is why I am going to repeat that I Queen Darleen I am not in this marriage and the way I see it, we are just here to raise this child," she said.
Related Topics