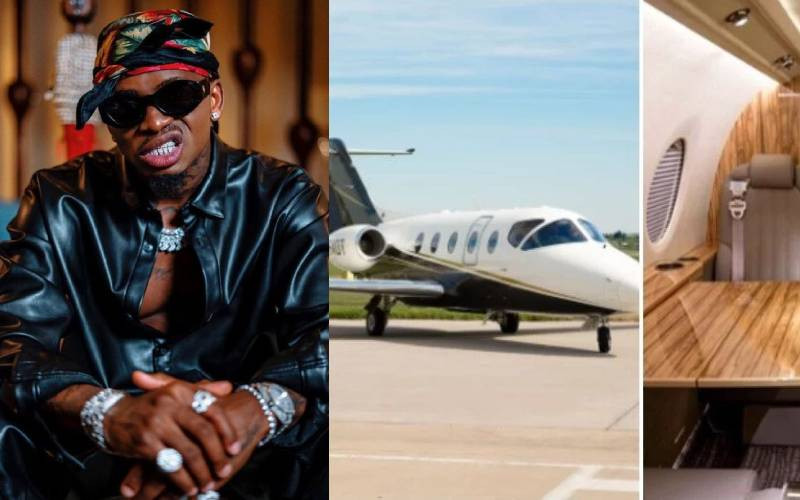 Bongo Star Nasibu Abdul, alias Diamond Platnumz said that he recently purchased a luxurious private jet. In an interview, the Jeje hitmaker told DW Africa that he must always buy high-end cars to look the part.
"Especially for someone like me coming from the streets, sometimes I feel like buying a million-dollar car. What for? I have to do it because they will not value you if you don't. Someone else will look like the real deal," he said.
Diamond Platnumz, estimated to be worth $10million, according to Celebrity Net Worth, insinuated that he would soon get another private jet as he likes upgrading.
"Actually, I have bought a jet because I keep upgrading," he added.
Just over a month ago, the father of four made public his plans to buy a private jet to ease his international tours. Diamond says traveling around the globe can sometimes be overwhelming without personal means.
View this post on Instagram
"I am buying a jet not because I want to show off but because I have to. Look at my world tours now, I have a lot of shows, I have to be flying like sometimes to three different countries. If you look at the number of people I am travelling with and the amount I spend on airlines, it is best if I buy my own jet. And I will be saving a lot of money," he said.
It is reported that in June last year, he bought two Cardilac Escadales, estimated to be approximately Sh32 million each.
The arguably one of the wealthiest musicians in East Africa, Diamond doesn't shy off when it comes to occasionally flaunting his wealth on social media.
View this post on Instagram
In 2021 while speaking about the impact the Covid-19 pandemic has had on the entertainment industry, Diamond noted that one lesson he has learned during the pandemic period is that one source of income is never sufficient, especially for artistes.
"The pandemic had me thinking of what would happen in case I am unable to perform. So, I have put in place measures to ensure no disruption to my earnings if a similar incident occurs. I have invested my money, and I can maintain my current lifestyle even if I stopped singing today," said Diamond.
Related Topics