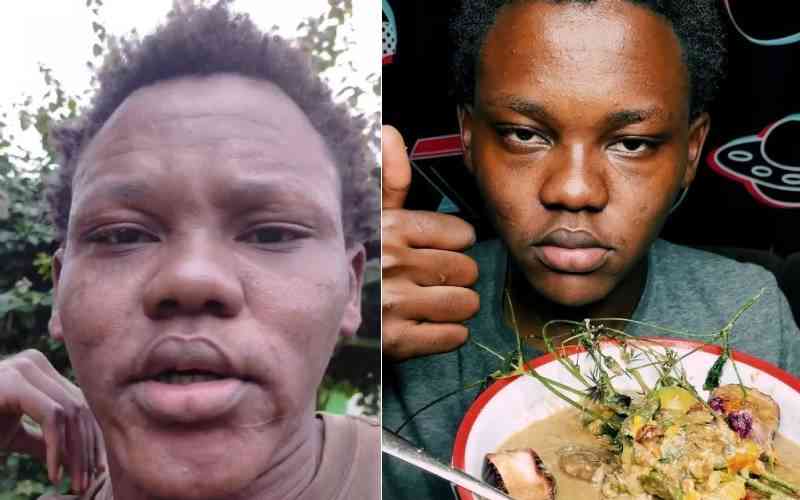 Popular content creator Aq9ine, alias the King of Muguka, has told Kenyans to stop worrying about his health, saying they should mind their business.
Taking to his Instagram stories, Aq9ine, who entertains Kenyans by preparing and eating unusual foods, said he would stop at nothing despite being called out following his recent reaction to eating a spider.
"Mnaboo. Mnacatch juu ya shida zangu why? Mimi nikikufa nitazikwa na munisahau. Haufai kushtuka juu mimi si wenu," he wrote.
Aq9ine said he would continue with his antics once he recovers, adding that the next food items on his list were frogs and snakes.
"Nikipona next ni chura na nyoka. Nilisema nitapika hadi nikufe," he added.
The content creator recently shocked many Kenyans after his face looked unrecognisable following a reaction from eating a spider.
Sharing the video via Instagram, Aq9ine said his whole body was itchy and his face numb. He asked his fans to pray for him should things go south.
"Guys, make your last prayers before niende. Muniombee bana mimi naenda. Naskia kaa sina uso, nafurafura kila place. Nimekula spider and this is happening to the whole face hadi mikono," he said while scratching his skin.
View this post on Instagram
His revelation raised concerns from fans who urged him not to risk his life.
DJ Pierra Makena said, "Mukuru! For people like us who love you and believe in your creativity, I know you can do content that does not harm your body, and we will still support you! You have a bright future as a content creator so use it wisely. Health first."
However, Aq9ine did not regret his actions as he confessed that it had been fun to risk his life to entertain his fans.
"If this is my last video, it has been fun entertaining you and risking my life as well. I love risks because we live a risk... We are all going to die... Much love comrades," he said.
The Meru TikToker has since been discharged from the hospital, laughing off social media rumours that he died.
Related Topics