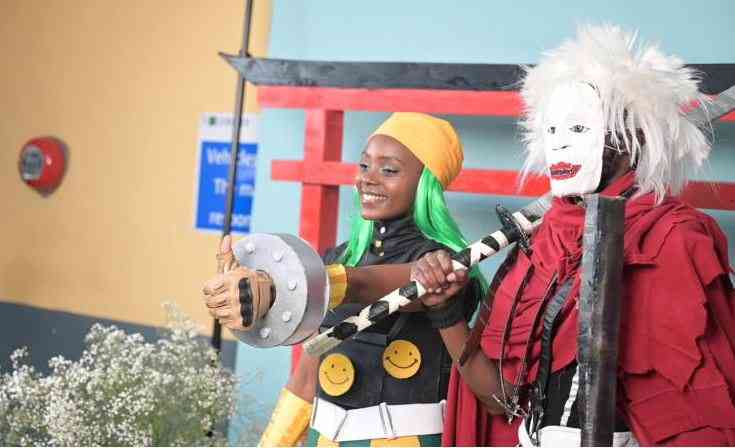 Anime and manga fans recently had a reason to smile recently, when Otamatsuri, the biggest anime and manga festival in East Africa, was once again held here in Kenya.
Otamatsuri is the only convention in Africa that is exclusively anime and manga. Anime is the Japanese style of animation, while manga are Japanese comic books drawn in Japanese style.
This year's Otamatsuri was held at The Junction Mall along Ngong Road on July 9 and was sold out ahead of the date itself, at 1,500 tickets and opened to a charged crowd.
"The crowd! At one point we kind of got scared because it was the first time we had been hit by that kind of number. But the crowd was respectful, organised, and extremely patient," says Harto Muhato, a co-founder of the Tsunami Studio and also Anime Café, who organised the Otamatsuri event.
"The queue began from the first floor till the third floor. But people were very patient and understanding and we managed to get all of them inside the venue," says Brian Khisa, also a co-founder of Anime Café and Otamatsuri.
One of the biggest attractions of anime conventions is that fans get to participate in cosplay, which is where a person dresses up as a certain character from a work of art such as a film, a video game, or a book.
Otamatsuri is a combination of two words: 'Otaku', which is a Japanese term for people with obsessive interests, particularly in anime and manga, and 'Matsuri', a Japanese word for festival. It is organised by Anime Cafe Kenya, The Tsunami Studio, and Movie Jabber.
The convention is the brainchild of Muhato, Khisa, and Jotham Micah, a co-founder of Movie Jabber, an entertainment and mass media company that creates content and experiential events in various categories of popular culture.
The three co-founded Anime Café, through which Otamatsuri was born, with its origin story going as far back as 2012 when it started as a small gathering at the Tsunami studio with a few anime fans before becoming what it is today.
"It started as me and Harto with Anime Café as just a small gathering of anime fans. We had like 20 or 30 people coming in every other month. In 2017 when Jotham from Movie Jabber joined in, we decided to try and go bigger to see if we could get a bigger gathering of anime fans, and in 2019 we held our very first Otamatsuri at the Alchemist Bar, which brought in around 300 people," says Khisa.
They had not expected such a turnout and they then realised that there was demand and a core community of anime fans within Nairobi and Kenya.
"It is just that they are isolated in their little circles, so we decided to have a platform for such people, where they could come and celebrate their love of anime," says Khisa.
"In 2020, the pandemic happened. We had hoped that we would be able to do the second edition of Otamatsuri, but unfortunately because of the pandemic and the restrictions we were not able to do that, so we decided to do a virtual convention which we live-streamed on Facebook and Twitch."
Khisa says that the only way people consume anime in Kenya is mostly through piracy and that it is only recently with Netflix and another streaming service called Crunchyroll that people are now able to access anime legally.
"So we decided to try and involve other more legitimate entities so that we could make connections with our networks and also show people out there that there is a fandom within Kenya," he says.
"We were lucky enough to get an animator from Japan to pop into our virtual event and we also got a major player from one of the biggest anime streaming platforms called Funimation. They were also able to stream in and connect with fans here in Kenya. It was also an avenue for people to learn where they can access anime.
The event had around 900 views from Kenya alone and eventually on July 9, this past Saturday, they held the second physical event.
A convention like Otamatsuri is important for fans to connect since anime and manga being a niche genre, especially in Kenya, and it can be a lonely pursuit.
"For me, the biggest moment aside from the amazing cosplay was the fact that most of the people who came in were new faces. So these were people who had been reading manga in isolation as fans and finally they had found a platform where they could reach others like them and others who like the things that they like," says Brian.
The Japanese art form has exploded in popularity in recent years all over the world.
Related Topics