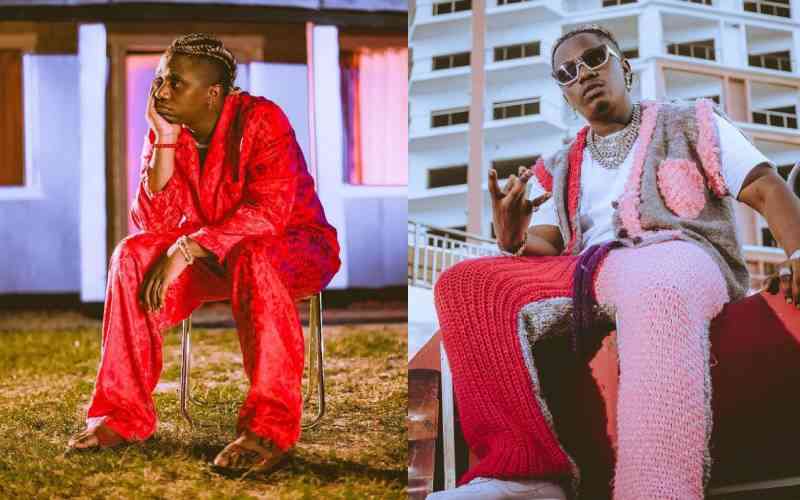 After working together for six years, Bongo Star Rayvanny has announced his exit from Wasafi Classic Baby (WCB).
The Tanzanian singer, real name, Raymond Shaban Mwakyusa, posted a video on Instagram showcasing his journey at WCB and the achievements he'd received under the record label.
In the two-minute and nineteen-second video, Rayvanny takes us back to when he started out and his close relationship with the WCB boss Diamond Platnumz.
"Ni miaka sita sasa toka tuanze kufanya kazi pamoja. My team, my family, WCB Wasafi, upendo, umoja imekua gunzo kubwa sana kama team," says Rayvanny at the beginning of the video.
The Tetema hitmaker highlighted his achievements while at WCB, including being the Tanzanian artiste to receive a BET nomination and to perform on International platforms such as MTV and Dubai Expo.
Rayvanny also prides himself on becoming the first Tanzanian singer to hit the Billboard Charts following his Tetema remix hit with Maluma. He is also the first artiste from his country to reach 100 million streams on Boomplay.
View this post on Instagram
"Haya yote yalifanyika tukifanya kazi pamoja. Shurkran for that to my family, WCB, lakini pia my brother, Diamond Platnumz," said Rayvanny.
Rayvanny, who is leaving WCB to focus on his record label, Next Level Music (NLM), thanked his boss, Diamond, for providing him with a platform to showcase his talent to the world.
In the exit video, Rayvanny describes Diamond as someone he admires and respects, saying he will forever be grateful for helping him get this far.
Diamond commented on Rayvanny's exit video, saying," NLM PRESIDENT! Let's Gooooooo!" and accompanied it with a crown emoji.
View this post on Instagram
However, news of Rayvanny leaving Wasafi started way back in 2020. It all started when a curious fan asked the singer which record label he was planning to switch to before Rayvanny responded, saying his ties with Wasafi were 'for life.'
"Before I even say a word, Vanny Boy and Wasafi are for life. I want to first thank my management, WCB Wasafi; I greatly thank Diamond Platnumz for the far I have come. If I decide to have a label, I can even have about five of them. So, there is no way that I am leaving Wasafi to go to another label. Maybe I own about 10 labels under my name," he said.
In an interview in October 2020, Diamond Platnumz confirmed that Rayvanny would be leaving his record label to start his own.
"Not sure if I'm allowed to talk about this but Rayvanny is starting his own record label very very soon. That label is so big. I was looking at his studios and told him, 'Rayvanny this studio is big'. The day he will post it, as we speak it will be the number one best studio in the country," said Diamond.
When asked whether his signees had the privilege to start their side projects while still under Wasafi, Diamond responded, saying, "Anyone under the Wasafi record label is allowed to start their own projects if they want to. An example is of Drake, who has OVO and is still signed under Lil Wayne's Cash Money Brothers records. What I keep telling my signee's is that they should think outside the box. Let's be diverse and bring in different ideas."
Related Topics