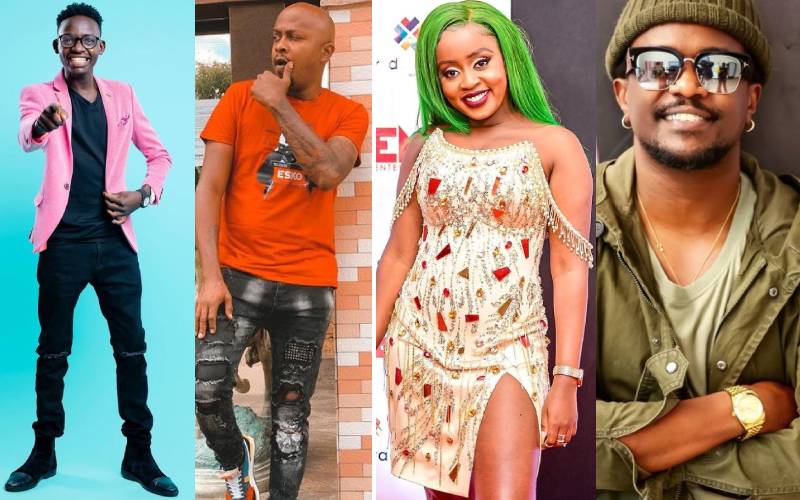 Most concepts taught in the confines of the four walls of a classroom do not necessarily transform to anything tangible and entertainers know this too well. Most are the archetypical meaning of learning on the job.
Elani is probably the most learned group in Kenya. The trio boasts of two Law degrees and an Actuarial Science degree.
Sauti Sol closely joins the bandwagon as the quartet boasts of college degrees from across the board since Bien studied Journalism, Savara Commerce and Finance; Chimano studied Journalism, and Polycarp Actuarial Science.
Other entertainers have dropped their papers and fully focused on entertaining us. Below we look at some of them;
Nyashinski
Musician and entrepreneur Nyashinski, time and again has proved that he is not only an impeccable rapper but also a visionary. He became famous as a member of the hip hop trio Kleptomaniax before successfully launching his solo career. Known for his lyrical skills and songwriting talents, encompassing lighter, more uplifting songs as well as aggressive street tracks, Nyashinski has a degree in Environmental Planning Management, something he admits he has never applied anywhere.
Kuky
Salima Muigai, going by the stage name Kuky, is a Kenyan rapper, singer, songwriter, model, and entrepreneur who recently started her musical journey and has been giving other established names a run for their money. The petite talented rapstress boasts of a degree in Journalism, which has seen her work in several media stations locally.
Groovy Jo
Multi-nominated and highly revered rapstress, Groovy Jo has been on a short music hiatus since releasing her last socially-empowered single Clear Picture last September. She is roaring back in the scene and is set to drop her deluxe album soon. Gaining notoriety through a series of online freestyles, and later becoming a fully-fledged rapper signed to ADF, Groovy Jo is not just talent, but talent with brains. Under her sleeves, she has a Bachelor's Degree in Business Information and Technology.
Gwaash
Gwaash is undoubtedly one of the godfathers of Gengetone. Breaking into the limelight and raking up millions of views since 2018, he grew up in Umoja and later attended Nyeri High School. He later joined Riara University where he attained an undergraduate degree in International Relations.
Nadia Mukami
Nadia took over the scene like a whirlwind. The eloquent singer has an undergraduate degree in finance, which she has openly used in advocating for a saving culture among the youth. She started an online saving initiative, Financial Discipline Journey, where she gets people to save and keep the momentum. "I graduated in 2018 with a Bachelor's degree in Finance and when I got into music, I asked myself how was I going to use the degree. I started with my music business and I am happy to be running this amazing and successful initiative," she said.
Ndovu Kuu
Christopher Thande aka Ndovu Kuu became an overnight sensation when his hit song Ndovu Kuu hit the internet. Courtesy of his easy-flowing lyrics laced with humour, Ndovu Kuu has continued to churn out danceable tunes, which more often than not trend on social media. His latest, Maggie wa Nyumbani, features Bien of Sauti Sol. Having performed well in high school, he enrolled for a degree in Geospatial Engineering. Not liking the course, he opted for another choice and ended up pursuing a degree in Aeronautical Engineering.
Xeniah Manasseh
Xenia Manasseh is one of the many faces of Kenya's changing music scene and sound. With a number of songs inclined toward RnB and Pop, Xenia takes her place among Kenyan musicians whose music appeals not only to a local audience, but a global one. The Atlanta-based singer holds a Bachelor's Degree in Music Business and Management from Berklee College of Music.
Karun
Karungari Mungai, professionally known as Karun, is an R&B singer-songwriter and former member of the legendary, Camp Mulla music group. After the crew broke up, the artiste enrolled at the Berklee College of Music in the US. At the prestigious institution, her Major was Electronic Music Production and Design.
Fena Gitu
The self-proclaimed phenomenal woman, Trufena Wanjiru is also another brainy rapper who has stood the test of time. Known for fusing a variety of genres; Neo-soul, Afro-soul, reggae, hip hop and Afro-house, Fena has created her unique, urban 'Fenamenal' sound. She holds a Degree in International Relations.
Laura Karwirwa
The gospel singer and songwriter who doubles up as a TV personality went to school for a whole different course. She is a Kenyatta University alumni with a Bachelor's Degree in Food, Nutrition and Dietetics.
Crazy Kennar
At the heart of online comedy, Kennar stands tall with his comic skits, Tales of Crazy Kennar. He has since amassed a sizeable fan base while venturing into other crafts. The funny man studied Actuarial Science.
Henry Desagu
Funnyman Henry Desagu, real name Ithagu Kibicho's fan base seems to be growing bigger and more engaging. His YouTube channel has over 657k subscribers with 416 videos, which is not a small fete. He is one of the most popular online comedians in Kenya, who rose to fame a few years ago when his name was synonymous with fighting sponsors and advocating for the rights of 'Team Mafisi'. The Kenyatta University alumni holds an undergraduate degree in Economics.
Mulamwah
With the rise of internet usage, comedians are some of the people who have really cashed in on the influx. David Oyando, best known as Mulamwah is also a comedian who uses skits and sometimes stand-up comedy to do his thing. Known for his online shenanigans, Mulamwah is a fully-fledged nurse with a Bachelor's Degree in Nursing from Moi University.
Flaqo
Comedian Erastus Otieno aka Flaqo is famed for the popular character 'Mama Otis,'. It appears he put his papers aside and tossed himself into the entertainment world. He had earlier said he grew up in a serious environment before turning comic later in life. The once teachers-favourite has never practiced after graduating with a degree in Public Health.
MCA Tricky
Despite forming the image of a former street child during his stint at the Churchill Show, Tricky is not one. In 2019 he graduated with a Bachelor's Degree in Mechanical Engineering. Early this year he also intimated he was going back to school to further his studies with a Masters Degree in Mechatronics Engineering.
Wabosha Maxine
Wabosha Maxine is an award-winning Kenyan influencer and engineer, best known for her beauty, travel, and lifestyle content. She has been recognised as one of Africa's rising creators, and has more than 462,000 followers on Instagram. The CEO and founder of Bosh Drip has a degree in Mechanical Engineering.
Ben Cyco
He is an acclaimed gospel artiste and is known for the Cyco Podcast, which covers a range of topics. In 2020, the Cyco Podcast won the award for the Most Influential Podcast at the Africa Digital Influencer Awards. Ben doubles up as a TV host - he hosts a gospel show on KTN and holds a Bachelor's Degree in Political Science and Government from Kenyatta University.
DJ Tabz
She is one of the fewest female deejays that have stood their ground on mostly male-dominated grounds. The beautiful turntablist boasts of a Law degree.
DJ Crème de la Crème
He might be one of the most decorated and finest turntablist in the +254, but Crème is somewhat of a nerd. He scored an A- in his KCSE and later enrolled for an undergraduate degree at Kabarak University. He graduated with a Second Class Honours Upper Division before joining the Code Red Deajays stable.
Related Topics