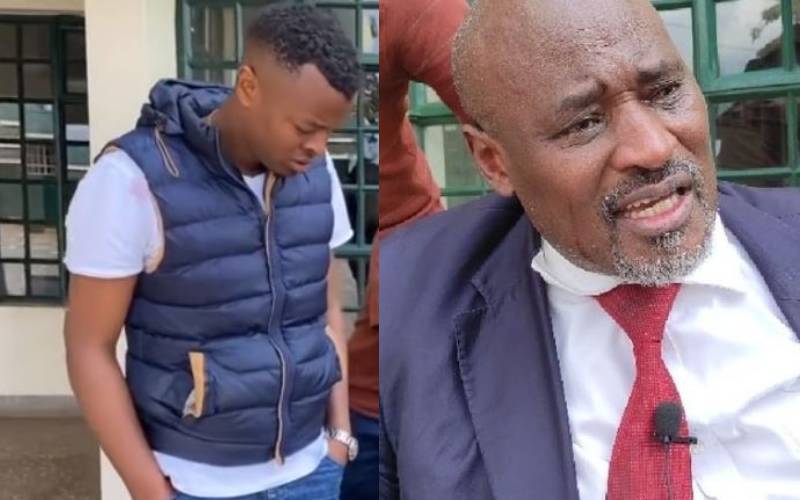 Controversial singer Alex Apoko aka Ringtone Apoko, and his lawyer Evans Ondiek expressed their disappointment after their hearing with Blogger Robert Alai was postponed. Without holding back his emotions, Apoko's Lawyer, who is physically disabled, admitted that making his way to Kibera Law Courts was not easy, and a simple email notifying them that Alai that his lawyer wouldn't be present would have gone a long way.
"Unfortunately, the counsel for the accused wasn't present and he should have been courteous enough to tell us even in an email that he was not available to come because coming here wasn't easy and the key witness on our part was ready to testify but it has been adjourned to on June 23," said Ondiek.
Narrating about his health condition, Apoko's lawyer revealed that he was recovering from an accident, adding that his health condition is still a bit of a struggle. He, however, expressed his disappointment in Alai's move, claiming that counsels should not be playing dirty games at the expense of common mwananchi.
"It was wrong for counsel to play games.... it's not fair to play games. I feel the pain as counsel what will Moraa or Wanjiku do when counsels are playing very dirty games," he added.
View this post on Instagram
A while back, Ringtone and Alai were involved in an altercation that turned physical. Shortly after pressing charges, Alai was arrested and detained at Kilimani police station on allegations of beating Ringtone with a wooden club.
He was, however, granted a bond of Sh1million or an alternative cash bail of Sh300,000 pending mention. He was also cautioned against mentioning the matter on his social media accounts.
Speaking shortly after their altercation, Ringtone, who had been rushed to the hospital to get medical attention, thanked Kenyans for their help and prayers after the alleged assault.
View this post on Instagram
"I want to thank all Kenyans for praying for me after the assault and attack and I want to thank the doctors of Kenyatta National Hospital for working on me and I just want to ask my fans to continue praying for me. I am a law-abiding citizen therefore I will let the law take its course and continue praying for me. God bless you and thank you," he said.
Related Topics