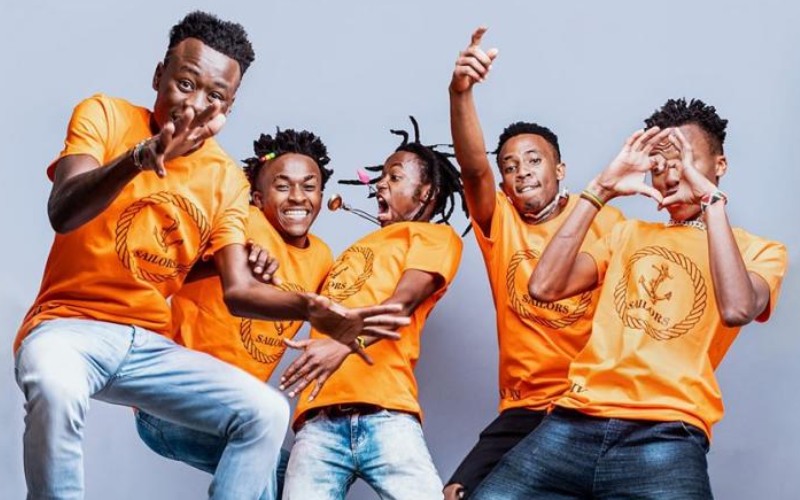 Shalkido and Masilver, who are members of popular music group Sailors, have disclosed that they will make a comeback soon.
According to Masilver, who was working for a construction company before fame came knocking, the covid season affected so many artistes.
"Hizo story za covid zilifanya wasanii wasipate doo flani but sisi tulijiamulia henceforth tujifanyie vitu wenyewe. Maprojects zetu sisi ndio tunajishughulikia. Tunjirun sisi wenyewe," he said.
Digging deeper into their pro-longed hiatus, Shalkido, popularly known as African Boy, added that the group is still on 'vacation mode' but the situation will change soon.
"Sisi tuko vacation, si jina sailors inamaanisha wale watu wa majini? So sisi tuko kwa maji. Sahii tuko vacation. Lazima pia ujiburudishe kidogo. Wacha watu kwanza wapige muziki. We will be back," he said.
Just three months ago, Miracle Baby, real name Peter Mwangi, a member of the music band, took to social media to address everyone who was curious to find out what happened to the Gengetone music group.
Through a post on Instagram, a seemingly frustrated Miracle Baby accused Kenyans who keep asking the whereabouts of the music group of pretense yet they witnessed what was done to them. According to him, when the group was experiencing challenges with its then management company, no one showed up to support them.
"World mzima ilikua na ikaona tukinyanganywa vitu zetu zotee including: Account zetu, Doo zetu , Deals za mamilioni zikapingwa," he wrote in part.
He added that everyone knew who did them wrong but no one called them out, insinuating that as a group they felt unsupported during that time.
"Mnajua nani aliduu ivo... But ikanyamaziwa!!! Sioni tukisaidiana na maswali," he added.
Explaining what he has been up to, Miracle Baby said he is focused on ventures that will help him earn a living adding that he will not entertain such questions from anyone.
"That's why naduu chenye itaniletea food kwa meza," he stated.
Related Topics