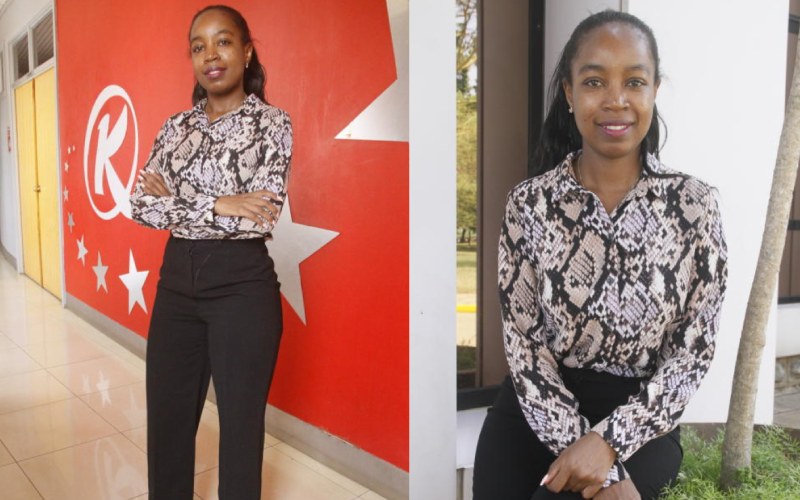 When you speak to Ms Hazel Wachira, you might initially be half interested in the finer workings of the aviation industry, especially the engineering aspects of it. After all, it is not easy to understand unless you have a passion for it.
But there is a quote that says if you cannot explain it to a six-year-old, you do not understand it well enough. Wachira understands her stuff very well and explains every detail so succinctly you will leave the conversation fascinated with the beauty of engineering.
Ms Wachira has been an engineer with Kenya Airways (KQ) for the past five years, supporting the airline's Engineering Department on the Boeing 787 Dreamliner fleet. Her work mainly revolves around ensuring the reliability of aircraft, managing their life cycle.
She is also an Unmanned Aerial Vehicle (UAV) drone instructor, but that is a story for another day. Today, she explains how she executed a major project never been done before.
In 2020, Wachira was the lead and project manager in the project of repurposing two Kenya Airways Boeing 787 Dreamliners. The Boeing 787 Dreamliner is a passenger plane, but they were able to repurpose it and turn it into a cargo plane.
It was the first-ever cargo repurpose of this type to be performed in the world on the Boeing 787 model. Wachira, who is 30 years old, led the project from the initial designing, actual modification, implementation and final delivery of the cargo plane.
When the Covid-19 pandemic hit the world, the airline industry was one of the hardest hit, as most passenger flights were grounded, but cargo flights continued. But there was a hitch, as Wachira explains.
"About 50 per cent of our cargo capacity is carried by passenger aircraft, so if you are not able to fly the passenger aircraft, you lose that capacity for cargo business. It does not make business sense to fly a ghost cabin and carry cargo in the belly. You would be using so much fuel and there are a lot of other operational costs," she says.
They had to find a way to make it sustainable, because even if planes were grounded, maintenance and servicing had to continue, an incredibly expensive venture.
Most importantly, other industries in the country rely on the national carrier being functional, especially the agricultural sector. Farmers in horticulture and floriculture had to keep exporting their goods. Having this at the back of their minds inspired the creativity that inspired Ms Wachira and her team.
The beginning
Their first idea was to place cargo on the seats since people were no longer using them. But that is not as easy as just placing goods on seats. That requires some engineering.
"We quickly went in and looked at how we could be able to do that. We looked at, 'A person weighs 80 or 90 kilos, how much cargo can we put on top of the seats?'" They then did the math.
"If we were able to put a certain amount and restrain it effectively, then we would be able to load cargo on the seats so that we did not fly a ghost aircraft. We could load cargo in the belly and load cargo on the seats, and then fly the aircraft."
So that was what they did at first to ensure they met that business need. However, it was a temporary solution; they needed a solution to prevent damage to the seats and create more space in terms of volume.
"The seats were restrictive and what we carry is voluminous – not really very heavy but voluminous, especially the big cartons. So if we were able to remove the seats, we would get more space and if we were able to load on the floor and restrain we could provide more space for cargo. The aircraft would be able to carry more," Ms Wachira explains. "Carrying more meant more revenue and we would be able to meet the expectations of our customers. So we set out to do that."
The job, however, meant much more than just removing seats and using the empty space. A lot more engineering and creativity had to go into that process.
The 787 is a relatively new aircraft in the industry, having been in the market for around 10 years. It is a passenger plane and the model does not have a freighter version, so what they were attempting was unheard of. Usually, modifications are done on much older planes, mostly those over 30 years old.
"Also, the design of the aircraft is unique. It is not a conventional aircraft. It is made using composites that are not very easy to work with, so there was a lot of engineering that we needed to do," says Ms Wachira.
The idea of remodelling the aircraft was met with skepticism, but Ms Wachira and her team were determined to execute the idea after the initial evaluation and they were determined it could be done.
"So we started engaging management, leadership and the cargo business as well to see how we could come up with the business plan to support that. We went through evaluations, deciding who we wanted to partner with, how to do it," she says.
The process was intense, given that aviation is the most heavily regulated sector in the transport industry.
"We had to do a lot of lobbying, tests, analysis, double and triple checking; all that to ensure that whatever we were providing met the safety standards of the aircraft we delivered."
The most interesting aspect of this project was unlike other modifications for aircraft where the engineers receive instructions on how to do it. This was a completely different approach where Ms Wachira and her team designed the instructions themselves.
"So the project was mostly an engineering design project. That was 90 per cent of the project. Coming up with the instructions, validating, then qualifying and then getting them approved by the regulator," she says.
"When you do something for the first time, you are developing a standard that everyone else will follow."
Inspection
After the painstakingly and thorough process and inspection of every part of the aircraft, the certification was done and the project was completed in February 2021.
"It meant a lot because it showcased the talent we have in Kenya. In this area and in Africa, we focus a lot on just service and maintenance, but this time we were getting into engineering and design, especially in a trade as global as the aviation industry, which is heavily regulated and controlled. Safety standards are top-notch and everything has to be exact," says Ms Wachira.
"I was proud of the accomplishment because it showed the only thing different between us and other people is opportunity. When we got the opportunity, we jumped on it and did a good job. It means we can do this."
Related Topics