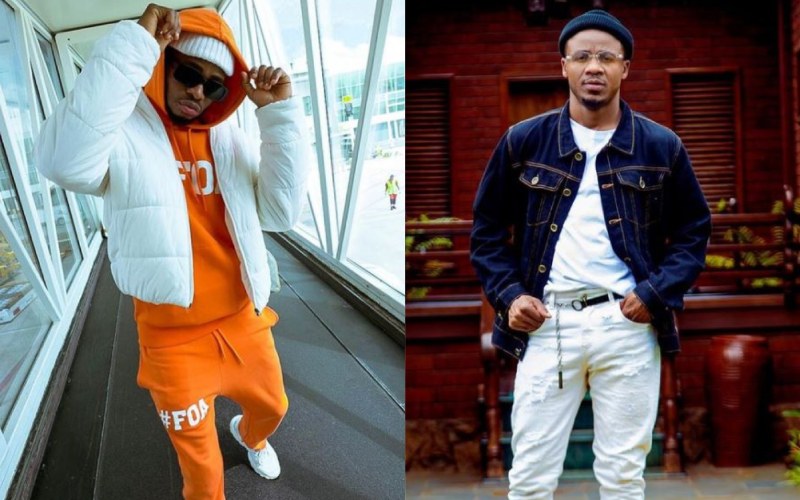 Bongo star Diamond Platnumz on Friday released his EP dubbed First of All much to the delight of his fans.
In one of the songs titled Nawaza, Diamond sort of takes stock of his life as he reflects on past happenings and how different things might have turned out.
Interestingly, he touches on his long-standing beef with fellow star Ali Kiba, stating that after deep thought he has realized they differ over petty things like fanbase and popularity.
"Nilowaza leo nishawaza sana, mi na Kiba ugomvi kipi nikagundua ni ushamba na ujana wa kugombania mashabiki," he sings, hinting that he has grown in the industry and no longer focuses on such issues.
The song, which brings out Diamond's poetic nature, highlights a number of issues as he also looks back at some of the artistes he has nurtured under Wasafi but have gone ahead to stain his name.
He sings that humans can be ungrateful and even an infant you looked after might later turn against you.
Diamond also recalls the life and times of Tanzanian actor and director Steve Kanumba who died in 2012.
Described by many as one of Tanzania's most popular film stars, Kanumba died after he allegedly fell in his bedroom and suffered a fatal head injury.
Diamond, in his song, imagines how well their movies would have performed if he was still alive.
"Ooh nawaza huenda Steven Kanumba angelikuepo hai nawaza movie zetu pia tungejidai."
In one of the verses, he also sings about Wasafi as he wonders about the uncertainty that might face the record label when he exits the earth and whether his songs will still be played.
"Nawaza siku nikifa sijui wasafi itakufa…nawaza sijui maradhi ama ajali itanikuta. Nawaza oh! Mama Dangote nani chozi atamfuta, nawaza sijui nyimbo zangu watazikumbuka."
Cheating
In a separate verse, he reflects on his past relationships (that had their fair share of drama) and admits that perhaps he is the problem due to his unfaithful nature.
The song had already raked in over 964,000 views by the time this article was published.
In the comments section, his fans commended his music prowess, describing the song as deep and well thought out.
Football Dream: When he said " siku nikifa sijui wasafi itakufa, nawaza sijui maradhi ama ajali itanikuta " maan I felt that, this guy is one in a century. A song ???? with an emotional true message
Ezekiel Kashilim: If you're very emotional, just in a first minute you can't be any more able to fight back your tears. This song is a very heart touching one and teaches some life experiences. This is how unique this African lion is.
Terry Muiruri: This song is from deep down his heart…full of emotions,,, wow
Smart Kicks: Diamond singing about what's gonna happen when he's no more slaps really hard. You can hustle hard to build an empire only for it to be brought down in a day!
Related Topics