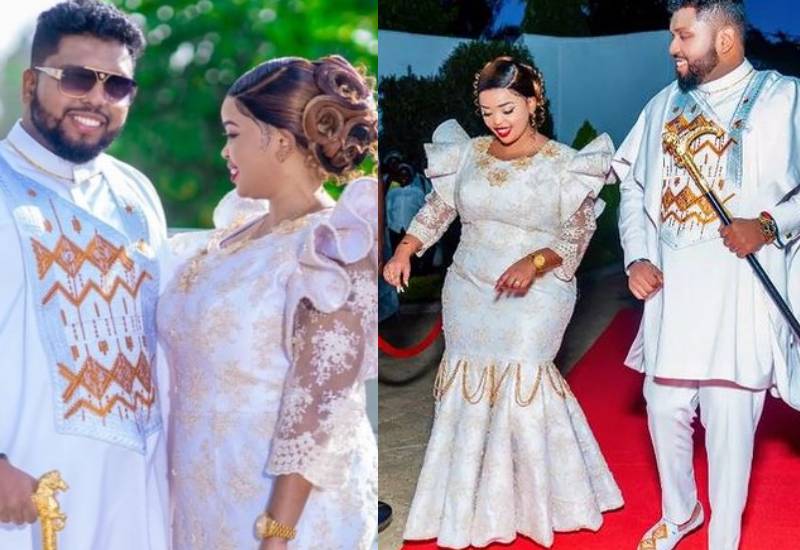 Two months after their engagement, the new celebrity gospel couple in town of Lucy Natasha and Stanley Carmel has officiated the love affair.
On Saturday, the two love birds hosted a traditional wedding in Nairobi, a colourful ceremony that was organised by the couple's families.
Even though details on the function remain scanty with the media having been left out of the arrangements, an excited-sounding Natasha let the cat out of the bag through Instagram posts, in which she announced the progress towards the much-awaited big church wedding day.
"Early today leaving for our traditional wedding…Such a great joy seeing our families cementing the lovely bonds we share," Natasha captioned on her Instagram page on Saturday evening, a photo of her and her prophet heartthrob all smiles doing the talking.
Both of them were in white apparel, artistically designed with an aesthetic golden touch all matching their jewelry and extras.
Invited guests were mostly in black with a touch of African-inspired Ankara prints.
"Dancing moments in our traditional wedding. May God give you a reason to celebrate this year. I have found the one who my soul loves," Natasha charmed on as she shared more images of their happy moments.
The flamboyant Nairobi city preacher and her fiancé Carmel have been in the news since they got engaged at the Boma Hotel, Nairobi, during a private ceremony attended by friends.
In her trademark approach, Natasha, the founder of Empowerment Christian Church (ECC) broke the news of her engagement via Instagram, posting photos of the event and giving snippets through choreographed write-ups that were shared widely to a near breaking of the internet.
Prophet Carmel, who is believed to have been courting Natasha for over a year now, was dressed in traditional white Indian attire paired with red shoes as he got down on one knee to ask for Natasha's hand in marriage.
"My Love Carmel may the rest of our life's journey together will be filled with God's grace, blessings, provisions, protection and guidance," she captioned the photos.
Since then, the two have been ministering to their followers at the Nairobi church which is quickly becoming an attraction to many worshippers.
Related Topics