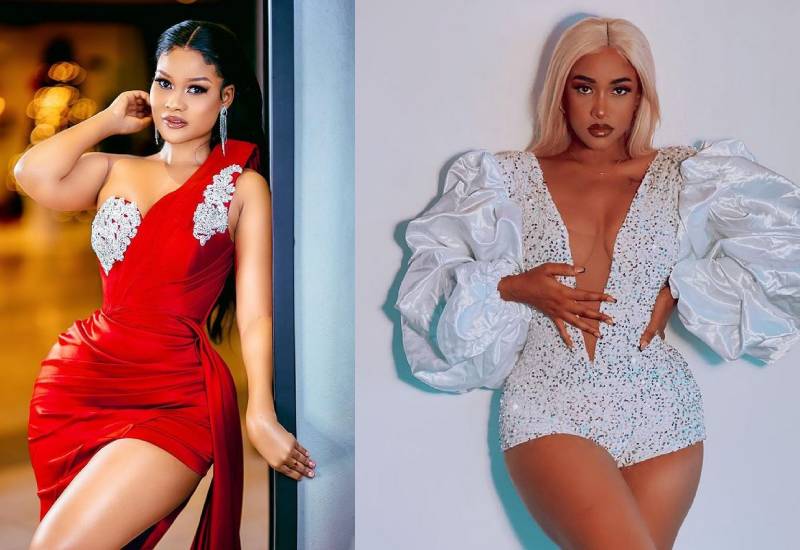 It's not every day when we get to see two 'baby-mamas' with the same father to their children getting along well and even becoming the best of friends.
But the ex flames of Bongo Superstar Naseeb Abdul alias Diamond Platnumz are making an exception to the rule, showing each other love both online and in person.
Yesterday, Kenyan singer and the mother of Platnumz' young son Tanasha Donna met up with Hamisa Mobetto, who also shares a son with the famous singer.
Donna and Diamond's son Naseeb Junior just turned two years old, while Mobetto's son with the star, Dylan is four years old.
The two ladies took to their social media accounts to chronicle their meet up, where they seemed to be fond of each other and in good spirits.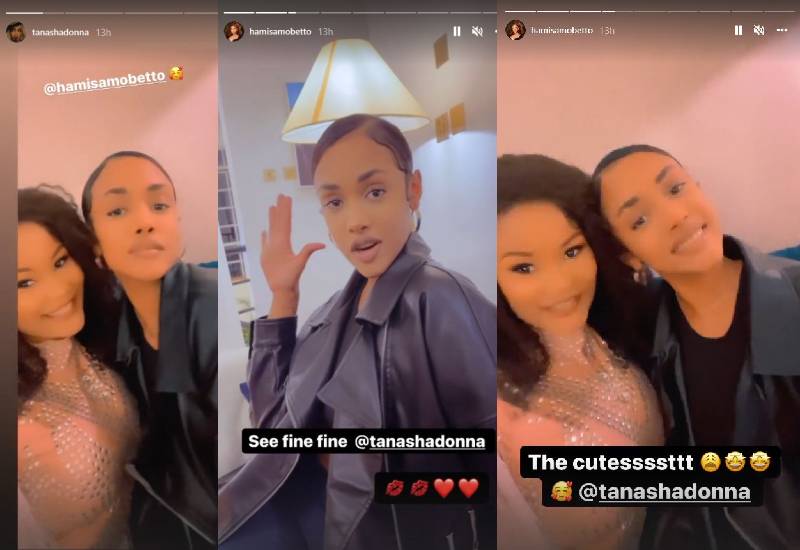 Both uploaded brief, playful clips onto their Instagram stories, tagging and complimenting each other while at it.
"See fine fine Tanasha Donna," Mobetto wrote alongside a video of Tanasha smiling and waving at the camera.
"The cutest," she added, before proceeding to document the rest of her evening, which included an outing at a Nairobi club in which she made a celebrity hosting appearance.
Donna and Mobetto have shown that they are in good terms before, with the two sending each other warm wishes on Mother's Day and on both their birthdays last year.
Mobetto also styled Donna for the music video for Liar, in which she featured singer Masauti.
The video-vixen turned entrepreneur and socialite has been in the country since Friday, where she has been attending interviews and setting down roots for her charity work as well as businesses.
Speaking to a local station on January 14, Mobetto opened up about her journey from modelling on music videos to building a sizeable brand as an influencer and social media personality.
"I've always been a person who would dream big and I've always wanted more. I know how to work to get what I want," Mobetto said.
She further spoke about her fashion company Mobetto Styles, which she launched in 2018.
"Since I was young mimi napenda kuvaa. If I don't look good, I don't go out. I think it has been easy for me because I do know fashion. Mobetto styles is doing well and I am currently working on my personal clothing line which I hope to complete by the end of this year," she said, before dispelling rumours suggesting that she is in a romantic relationship with the famous American rapper William "Rick Ross" Roberts.
Mobetto was first linked to the wildly popular Tanzanian artiste Diamond Platnumz, in 2017, while he was in a long term relationship with Ugandan socialite Zari Hassan.
"There have been multiple rumours some with evidence floating around in all sorts of media in regards to Diamond's constant cheating and sadly I have decided to end my relationship with Diamond, as my respect, integrity, dignity and well-being cannot be compromised. We are separating as partners but not as parents," Hassan wrote on Instagram on Valentine's Day 2018, announcing the couple's separation.
Platnumz and Donna began dating in 2019, and they quickly became "couple goals" on social media. The internet was lit up by images of the stylish pair who often gushed about each other online.
Donna regularly travelled to Tanzania to be with her beau, documenting the romantic dates and vacations on her Instagram account.
Related Topics