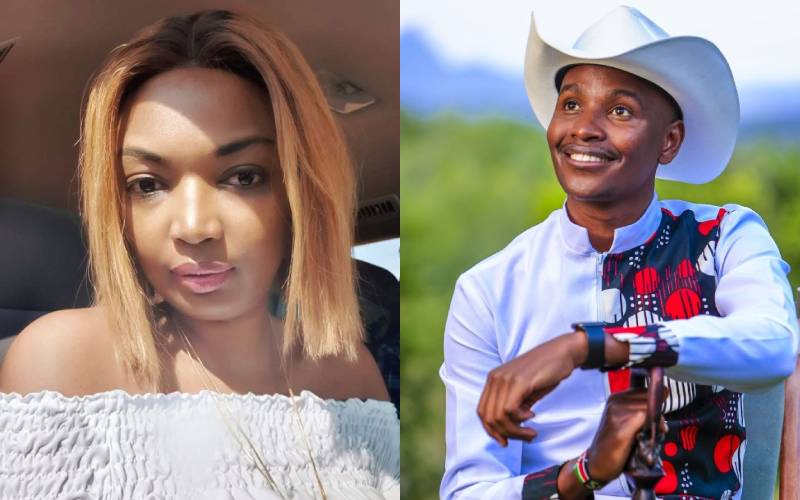 Mugithi singer Samidoh Muchoki and city politician Karen Nyamu on Monday celebrated their son's first birthday.
Taking to Instagram, Nyamu posted an adorable video of her son giggling.
"My baby, you are a beautiful blessing to me. You deserve the very best life has to offer. You have taught me a love I did not know before. Our bond is one of life's most precious gifts," she wrote.
Nyamu assured her son of her undying love and support, saying, "Dadi, you can count on me to always be there. I will fight your battles, and if I give up on any you can be sure that mummy tried her best. I look forward to beautiful moments ahead of us. I love you too much baby. Happy birthday, son!"
Birthday messages and wishes from her fans later came flowing in on the comment section.
Samidoh said he was grateful to God for his blessings and termed his son a perfect gift.
"Every good and perfect gift is from above, coming down from the Father of the heavenly lights. I thank God for his blessings, favour and provision. The gift of progeny, I am grateful for adding an arrow in my quiver. HBD son," wrote the singer.
Samidoh later posted his son's photo and captioned it with George Strait's song Love Without End. He said, "Daddies do not just love their children. Every now and then, It is a love without end, amen."
In August this year, Nyamu created a buzz on social media platforms with a live Instagram feed after revealing she was expecting her second child with Samidoh, something the singer is yet to confirm.
Earlier this year, the two were forced to come clean on their relationship after months of speculation that they had an affair.
In an interview with Standard Entertainment weeks before giving birth, Nyamu was hesitant to reveal the baby's father's name.
However, months later, in a lengthy social media post, Samidoh confirmed he had a relationship with Nyamu, which led to the birth of their son.
"I am sorry! I have put my family and myself in a bad situation. It is true I had a friendship with Nyamu and it is this involvement that led to the birth of an innocent child whom I have and will always support both emotionally and materially. I am a proud father to my children," he said, apologising to his wife Eddah.
Soon after Samidoh's apology, Nyamu said the singer did not put out the whole truth and warned him against over-apologising.
"It was easier to declare the whole truth and not just half of it because you will soon become a slave to apologies. You have done nothing wrong babe," Nyamu said.
Related Topics