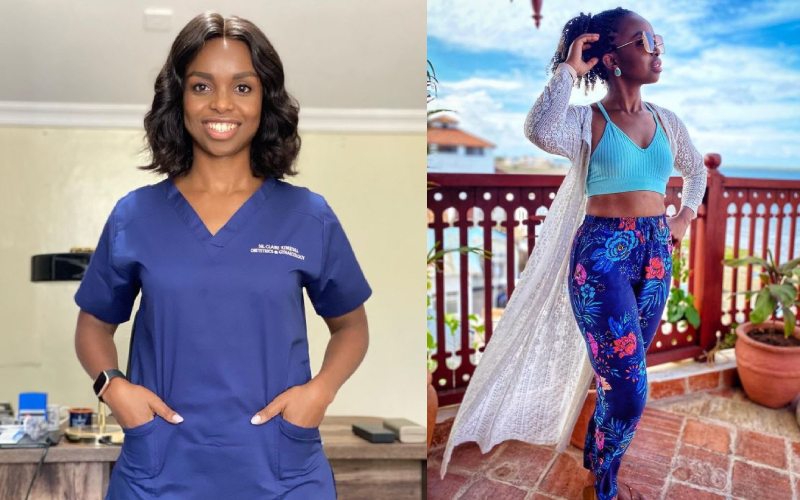 A medic remotely caught up in the fallout between a prominent female entrepreneur and her ex-lover has finally spoken out, turning the tables on her accusers.
Dr Claire Kinuthia, an obstetrician-gynecologist, took to social media to narrate how she has been attacked and victimized in recent days.
Theycallmedaktari, as she is popularly known, said it has been a harrowing experience and that it was all carefully choreographed.
"Even worse I guess has been the expert and legal advice that the law here isn't able to do much to protect anyone, even with evidence of premeditation.
"Watching the puppet-master skillfully at work though, I have to admit, has been awe-inspiring. To know you have the power to damage is one thing but to actually sit and plan it for maximum effect leaves one truly speechless," she wrote.
Describing it as a beautifully executed mission to ensure maximum damage, Dr Kinuthia pointed an accusing finger at the perpetrator whom she accused of keeping a safe distance and making everything play out 'organically.'
"No, I am not being trolled, I have been attacked. For some reason though, I'm still here. I have woken up every day and lived, carried out my obligations and scheduled tasks for the week just as planned, despite the noise, despite the stares and poorly vailed whispers," she added.
I am not suicidal
The medic further stated that she is not suicidal as friends and family have been extremely supportive and rallied to create a wall of love around her.
"I'm absolutely clear on one thing though. My destiny and purpose must truly be great for this to be my path. It's time to truly snap out of my sometimes-debilitating cocoon of self-doubt and self-criticism and start to fully live my highest calling. I am HERE for a reason," she declared.
More 'receipts' to come
Dr Kinuthia also revealed that she has been told that was just a tip of the iceberg as the aim is to completely destroy her.
She maintained that she will sit still and survive through this, assuring her fans that she is still working hard and will give them content just the way she used to once the dust settles.
"I've been told there's still more to come, the aim being my complete and absolute destruction because the Queen isn't quite done yet. There's still a folder of "receipts" with my name on it. So I'll sit still and do my best to survive.
"Meantime I'd like for my core niche audience to know that I'm still hard at work and there's a lot of great content yet to come once the dust settles. 5 minute Fridays will be back next week. I just don't have it in me to act normal right now. Cheers!"
Earlier this week, a proprietor of body care product explained why she was no longer in a relationship with her partner whom she referred to as they/them.
Citing serial infidelity, the entrepreneur stated that those she suspected and confirmed were two individuals; one a public figure and the other a less known married woman, a health worker.
She opted not to mention them to shield them from 'potential attacks' and further stated that there was a lot of deceit in her relationship.
"As soon they knew I found out, they fled, occasionally popping in and out of my life but never once with the truth. This has caused me immense mental and emotional pain. This explains the unfollows and disengagement on social media and socially.
"When it comes to love and relationships, infidelity will never be in my cards. Sure, no one is perfect. We all make mistakes. But at the very least, if they'd have owned up to what they've done, we would be in a much better place," she wrote in part.
Related Topics