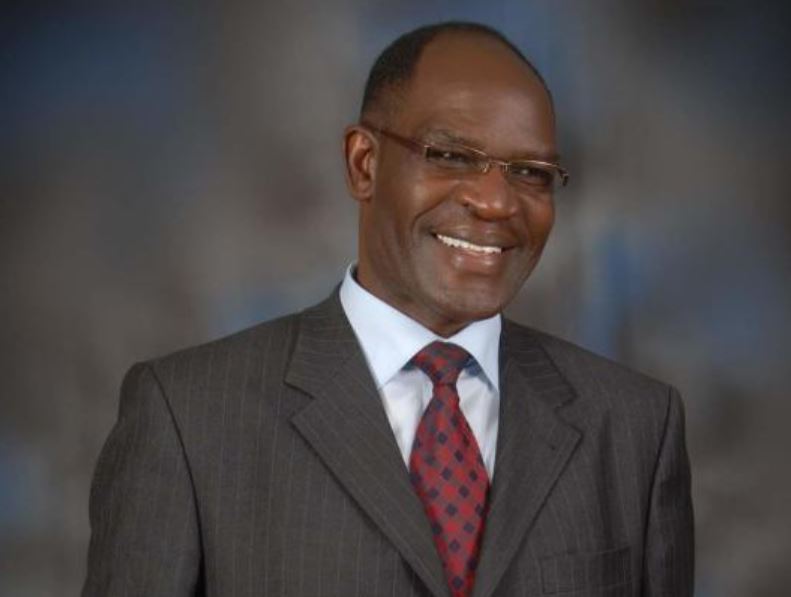 You must have heard it by now, the East African anthem. A solemn upbeat tune that plays right after the National Anthem in public events. The younger generation, specifically school-going children have already mastered it. Most of the older generation still mumble, the anthem having come long after they had finished school and haven't learnt it yet. Still, it is easily recognisable.
We have all learnt of the history of the Kenya National Anthem and its composer(s). but do you know who was behind the East African Community anthem? Meet Richard Khadambi.
He says he has been involved in music in many forms; "from composing, arranging and directing as well. I also teach and train people in the way of music production, audio engineering and music composition."
He says he loves music as a career.
"As a composer, I try to facilitate an idea or someone's creative vision into a project. I have to get the concept of the original minds, place it in an organised manner and put it to play or pass it through voice as a message. Am also there to give ideas and advice and allow the audience to look at it from a different perspective. Teaching music keeps your skills sharp and on top of the current music techniques and development."
Surprisingly, being in music wasn't always his vision, having preferred sports until he was in Class Four when the school music teacher, Samson Mahasi, convinced him to join the school choir.
"He would train me sound so as to assist him in training the lower classes. That is how I developed interest in music," he says. And he has never looked back.
He says the music industry has changed since the time he started. "In the past, you only needed to have passion for music and understand music theory as it relates to composition since no scripting was required, but in the modern time, you need to learn music for notation purposes, he says, describing what he does mas multifaceted.
"In the modern music industry, you have to wear different hats. You have to multi-task and have to be able to do everything and understand every part of the process," he says.
He says the most rewarding aspect in music is seeing your music being performed in a function and extracting an emotional response from the audience.
However, he says, music composing is difficult at the beginning, as you are prepared to work for nothing initially, just to get your name out there and get your music on.
"It may take a few years to build yourself a reputation for quality and delivery on time," he says, adding that despite this music composing is in high demand.
What about the special pleasures of working on commissioned pieces? "The only pleasure I get commissioned or noncommissioned is coming up with a melody and composition. That alone satisfies my heart."
Then there is his biggest tune, the EAC anthem.
"One of my signature tunes is the East African Anthem. Whenever I hear it play during national events, it refreshes my heart. Also I composed several songs both patriotic, theme songs for different events like public service week, National days. I love listening to my other compositions Nitamsifu Mungu, Nitamutegemea, Unirehemu, while Mzalendo was a set piece in Kenya Music Festical 2019."
He says the process of composing the East Africa Community anthem was mooted in 2005 and a national competition by ministries of cultures within Kenya, Uganda and Tanzania.
"My cousin, Anami, and my late wife pushed me to do a song but I was unwell. I was admitted at a Nairobi hospital and taken to the theatre the following day and after the surgery, a melody came to mind. A friend, Chris Mugoha, set it and forwarded it to the department of culture."
He says the top three songs were selected from amongst the East African countries whereby in Kenya, his song won, Joseph Muyale and the late Ernest Waomba came second and third respectively.
"Each country was to form a joint choir to do their three winning songs. My tune emerged position one with John Mugango of Tanzania came second while third went to a Ugandan lady composer. Each country wanted their song to win. The three songs were subjected to a referendum. My melody also was voted the best," he says.
He credits his experience and past as key to his song emerging the best.
"I was given a chance to re-edit, restructure the tune, arrange which I applied the military style I learned at Embakasi in my work. This changed everything overnight and I presented it the following day where it was voted overwhelmingly," he says.
He says that Winning the EAC anthem, he was tasked by the Secretariat to arrange the military band score with all military instruments. "I did a workshop where all military and police band directors (45) attended and I inducted them to train in their respective countries. The technical team especially from Tanzania edited words like "tuishi kama ndugu na dada", to "tuishi kama jamii moja".
Controversy around the song
The song has had its moments, however, like claims that a Tanzanian composer claimed ownership of the EAC anthem.
"No. A Tanzanian Composer, Kibata was among choir directors who participated in the development of the East African anthem with his country. He even claimed on Facebook that he was not paid and is asking the EAC secretariat to pay him. The text, tune, harmonizing and arrangement is mine with some editing from the technical committee," says Khadambi.
Then there is the question of payment. One would assume the composer of such a song would be richly rewarded. "When we did the first competition, there was some financial reward. The Secretariat was to pay the technical committee in this second one after working on it, which they didn't."
Away from this there is also the question of recognition for his contribution to music and culture. "Even with all my contribution to the development of music in this country, no leader has thought of rewarding me. The boys and girls I've mentored have been awarded."
Some of his major achievements include participating in the formation of parastatals mass choir where he trained and established several parastatals choirs under Permanent Presidential Commission. These are Kenya Airways choir, CBK choir, Chamber Choir of Kenya which was used in the development of EAC Anthem and the State House choir.
National anthem
And what is the difference between the national and EAC anthems?
Khadambi says the two are slightly different. Kenya anthem has no chorus, while EAC anthem has a chorus. "An anthem is a national prayer," he says,
He says all patriotic songs composed in Kenya derive the text and work from the National anthem.
"It is unique in a conventional lullaby from the Pokomo tune song that is accepted all over. The song should not be military oriented. It should be done in a prayerful way and it is wrong to sing a national song standing at attention as if under siege," he says.
"The worst part is that," he adds, "we have allowed other people to translate the anthem in vernacular language where nobody is following to know if they are doing the right thing. They might be spreading wrong information to the public. We are not serious with our anthem; we don't have a credited band score for the military."
"People have to sit down as musicians to do a military band score of the Kenyan band and take it to Parliament for approval. Approved Orchestra score, record it and post it on the internet. The second and third verses are different but we sing them the same way."
He counts among his mentors Boniface Muganga, David Zalo and William Lubanga
Final word to aspiring musicians? "If you find your passion in life, follow it. Retirement would never cross your mind in music, is something you will never stop getting better at and if successful you have an extremely long career. Always be true to your own inner voice."
Related Topics