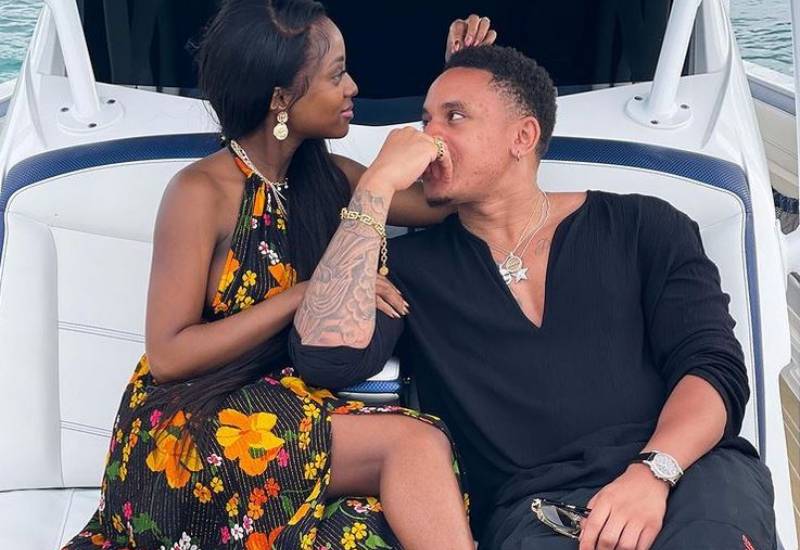 Celebrated Tanzanian musician Vanessa Mdee and her actor fiancé, Rotimi have been serving us couple goals while demonstrating that they have adjusted beautifully to being new parents.
The couple are currently celebrating their baby turning one month old, a memorable moment for the first time mum and dad.
They welcomed their baby boy, Seven Akinosho, at the end of September this year. They shared the news with their fans on Instagram.
Mdee posted a picture of her new-born baby's hand holding onto her own, captioning it with the infant's full name. Rotimi uploaded an identical post.
"Baby Seven. May God keep you under his protection always and forever! Congratulations my loves. God is good! No more secrets for now," Marianne Mdee, who is popularly known as Mimi Mars wrote in a comment under her sister Vanessa's post.
And even Tanzanian actress and model Wema Sepetu had something to say, writing that she was jealous. Mdee however responded with a warm, encouraging message to Sepetu, telling her that her dream of having a child will come true someday.
"One day you will share a testimony too and it will be beautiful and you will have a child. Amen," Mdee wrote.
The pair later released a black and white image of their young family cuddled up together in bed, the infant's face turned away from the camera as he lay on his father's chest.
"Proverbs 22:6: Start children off on the way they should go, and even when they are old they will not turn from it," Mdee captioned the photo.
She also included the hashtags #DaddyGotTwoBigBabies and #AllOrNothing.
Her beau also posted the same image and bible verse caption.
The new dad, who is famous for his role on Netflix TV show Power as well as for his RnB music, including songs like In My Bed and Love Somebody shared a sweet snap with his son weeks later.
Rotimi hinted that the couple are barely getting sleep as they tend to their newborn, captioning the image, " 5am Crew."
In the picture, Rotimi sits slumped back on a chair watching TV while holding his child.
Mdee lovingly commented, "My boys."
The actor shared another cute picture soon after, this time carrying the infant against a warm, sunny reflection.
And the daddy-son selfies keep coming. Mdee gushed on the next picture, an up close photo of Rotimi and the baby, whose dark, curly hair can be seen poking out of the blankets which he is wrapped in.
"The heir." Rotimi captioned the picture, to which Mdee commented, " New screensaver."
Mdee also uploaded another picture, this time a mirror selfie of all three. Her enviable post-baby body is notable on the snap: she has bounced back incredibly to flaunt a synched waist and fit physique.
"Mama and baba Seven #3weekspostpartum, " she wrote.
And this week, Mdee posted another image cradling her son, dressed chicly in a plaited mini skirt, long flowing black hair and boots.
"A month old love song," she captioned the post.
Rotimi proposed to Mdee at the end of 2020 with a dazzling ring.
"She said yes! You are my everything. My angel. In 2015 I prayed that whoever my wife was going to be and wherever she was at the moment I hoped that she was happy, having a good day and receiving God's abundance. Fast forward you. You make me such a better man," Rotimi wrote in a sweet post following their engagement.
Related Topics