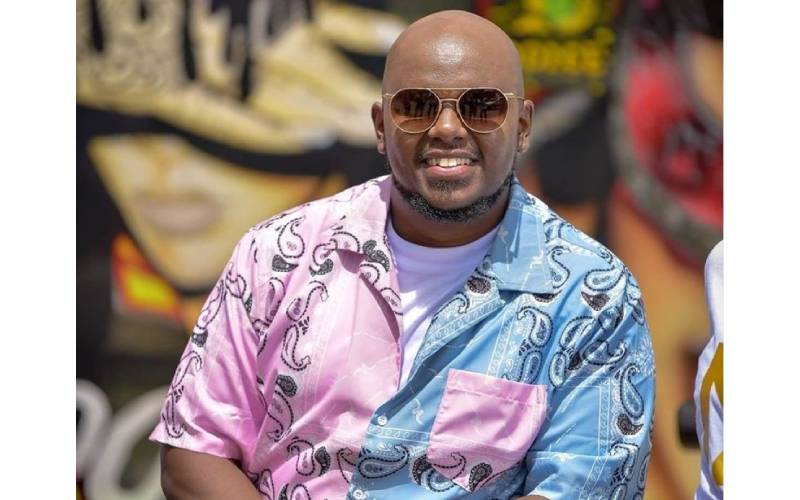 Even with the grand success that came with taking over genge, there was unease brewing behind the scenes at Calif Records as cracks began to show.
"There was no Calif Records to join," Nonini says, as we settle down for the interview.
"Calif? Clemo …Jua Cali…?"
"What do you mean? But I thought Calif was started by Clemo and Jua Cali," I said.
His tone is assertive. It is blunt.
"Calif Records was formed by the three of us, alongside other guys from California Estate where we lived. Clemo had just come from Scratch Records, which he had started with Jua Cali and another guy called Robba. They had differed on how to run it. So I came into the picture and we started Calif Records together. Clemo and I bought the first microphone. That is what nobody ever told you," Hubert Nakitare, for that is his real name, goes on to demystify the popular belief that Calif Records, the Kenyan record label credited for birthing the Genge genre of music, was started by Paul Nunda (Jua Cali) and Clement Rapudo.
For 21 years – since Calif was founded with the young boys from Kamukunji Constituency riding on the wave of revolutionising Kenyan urban music – Nonini has constantly found himself on the showbiz scale with Jua Cali pitching on the parallel.
His thousands of fans extol him as the godfather of Genge. Jua Cali's legion adores him as the de facto 'Baba Yao' of the popular Swahili and Sheng hip hop sub-genre.
And since his music debut with the girl pampering rap Manzi wa Nairobi, Nonini and Jua Cali, him of the 'watuu' stage clarion call, have had to keep the myth going on and let their achievements speak for them, an imagined cold war that has helped scale the Genge beat beyond the borders.
Give it up to the two because as the history of Genge gets written, both will remain on top of the list. When Ogopa Deejays, the Kapuka South B-based rivals were releasing their first album in 2001, Calif Records was formulating a strategy on how to steal the thunder as the new Kenyan sound started shaping up.
In response, Calif Records unleashed Nonini with Nonini ni Nani and Manzi wa Nairobi and Jua Cali with Nipe Asali and Kamata Dame, the latter featuring Pilipili, a duo plot that announced Nonini's music daybreak. Beyond the Calif Records wars, this is the moment Nonini terms as the redefining battle time.
"The Ogopa Deejays Kapuka and our Calif Records Genge supremacy battle was real. We were more hip-hop and at the same time, street. They came up with a club beat and that bothered us since their style was easily accepted in clubs, that also, landed them good deals. That bothered us. One day, Clemo asked me if we could consider changing our style. That is how I came up with Manzi wa Nairobi, an easy Kiswahili flow that was meant to hook everyone with this Nairobi vibe. The rest is history," says the 1982-born, whose follow-up track, Weh Kamu, also became a club bugger during that take-over wave.
Operation Fagia
"Our strategy was simple. We created album projects called Operation Fagia, a campaign that was basically designed to flood our beat everywhere and get Ogopa out of our way. After realising that Ogopa had everything to do with club deejays and had made ties with Kiss 100, we toned down our hip-hop and gave it a fresh club beat to fit into the Beats per Minute (BPM) club play requirement with lyrics that were relatable to both the lower and middle class," he says.
Nonini argues that this competition was healthy for the Kenyan urban music industry. He recalls how Genge crossed over to Uganda and Tanzania before a group of deejays arrived in Nairobi and signed a contract to have Calif Records music get digitised for the international market. Even with the grand success, behind the scenes, there was a strange unease brewing at Calif Records as cracks began to show.
Nonini had been working on his debut album, The Hanyaring Game, which had hits such as the club anthem Keroro.
He wanted the project released, a move, Clemo did not think was the right one at the time. With the differences, cracks, black smoke was fusing from the Calif Records bedroom music factor.
Ironically, Jua Cali was getting more comfortable at Calif, his popularity growing across the country, his music turning him into a regional star. With focus seemingly having shifted towards the making of his debut album Juacali Sekta, it was about time the house of Genge broke apart.
Asked if the assumed supremacy rivalry between him and Jua Cali led to his exit from Calif Records to join Eric Musyoka of Decimal Records, who was then with Homeboyz, Nonini laughs off the question.
"Moving from Calif had nothing to do with Jua Cali. It was a very personal decision between Clemo and I, and it all surrounded the release of my The Hanyaring Game debut album. We had a closed-door discussion. I told Clemo that I had to release it immediately as I felt my creativity was starting to get limited. I had to leave and Clemo agreed.
"I never went to Homeboyz as it has been reported. I only started working closely with Musyoka, who was working at Homeboyz. In fact, together with Musyoka, we recorded Keroro, which was an exchange programme between Calif and Homeboyz. Calif had done Sema Ngoma Moja in compliment. Bottom line is that I have never been signed anywhere. My production has always been my Pro Habo," the now married rapper, entrepreneur and philanthropist clears the year- 2004 moments.
Spread his wings
The rather calculated Hip Hop star went ahead to release his second album Mwisho wa Mawazo that featured collaborations with many Tanzanian stars, among them Professor Jay, Juma Nature and Hip Hop group Kwanza Unit as he spread his wings to become a regional rapping kingpin.
He put together P Unit, the successful boy group that went ahead to receive MTV nominations, one of Kenya's reputed groups of our times.
"When you decide to be a mentor, you create a product that will be like you or better than you. That is my legacy on all the artistes I have worked with, including the ones I am mentoring now. I have a motive to see the industry grow and that includes seeing to it that artistes' rights are respected. That is why I vied for a director's post at the Performers Rights Society of Kenya, where I resigned to join in forming the Creatives Society of Kenya," he says.
Ever evolving, a factor that speaks to his longevity, the Hip Hop singer who had short stints as a radio and TV host, has now added a new leaf to his brand, a clothing line Mgenge2RU.
"Creativity and fashion goes hand in hand. I have been doing a trial and error on this. I believe I have finally got it right and this, I must say is the next big thing," says the Watoto wa Mungu project head, whose new music project drops next week.
"What next for Nonini? Retirement or another surprise," I tease.
"You better be ready. Politics here we come," he says.
Related Topics