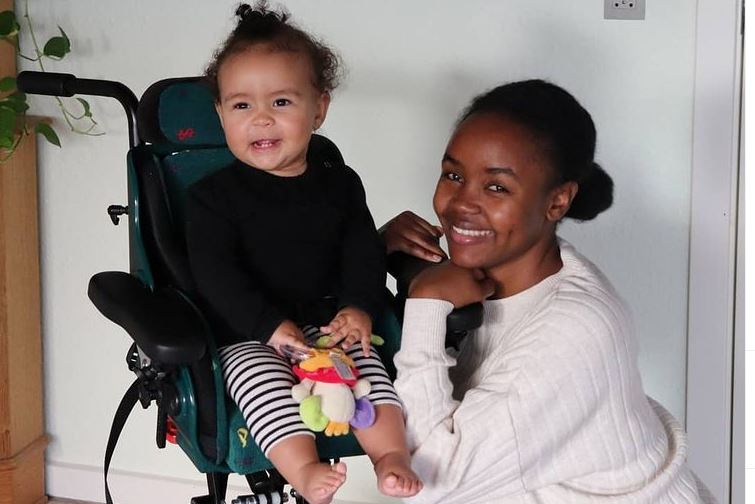 Last evening, little Ayah's parents took to her Instagram page for a live funds drive fueled by various influencers, family, and friends who rounded up their followers and notable personalities for a funds appeal that helped raise over 2 million shillings in donations and pledges. Proceeds from the fund will support ailing baby Ayah to get her urgent medication.
Born of a Kenyan mother, Mary Mithika, and Danish father Frank Lundt, Ayah is suffering from a rare and deadly neuromuscular disease known as spinal muscular atrophy, SMA. She requires a dosage of Zolgensma drug that is now known as 'the most expensive drug in the world' estimated to cost over 270 million shillings to save her life.
In an Instagram live marathon fundraiser for little Ayah, the participants rallied politicians, media personalities, and friends urging them to commit to the funds drive.
"So far, we have managed to raise 176 million, and we are looking to raise the remaining 100 million," Ayah's mom informed netizens.
Occasionally overcome by grief, she held to her baby as more Kenyans streamed in with their contributions with an initial appeal for Sh1,000 challenge. With over 6,000 followers pulling together for the insta live session, the drive picked up the momentum.
Notable personalities asked to join to make their donations. Mombasa's Governor Ali Hassan Joho, who was away in the holy city of Makkah for Ramadan prayers, made a pledge of Sh500,000 with political hopefuls Rogers Kipembe, Ali Noor, and musician KRG the Don each donating Sh100,000. Others included comedian Churchill, renowned sexologist Sue Gacambi, and ousted radio host Shaffie Weru.
Attempts to reach Deputy President William Ruto proved futile as he is said to be engaged elsewhere. "We'll wait for the deputy President's donation, they affirmed."
A few days after social influencer Mabel Oginga managed to raise close to a million shillings in two Insta live sessions, last night's drive fell a beam of light in giving little Ayah a ray of hope at life.
"I was touched when Ayah's parents approached me for the drive, but seeing the sweet child she is, we decided to start with a Sh200 challenge which raised over 600,000 shillings in three days. We followed up with a second drive where we managed 200,000 shillings." Say Oginga.
Other personalities who have previously helped raise funds for Ayah include comedian Eric Omondi, Betty Kyalo, and Victor Wanyam.
Currently living in Bornholm island, Denmark, Mithika couldn't hold tears of joy as she read the raised amount last night.
"We have managed to raise 1 million shillings in cash and 1.2 million in pledges," she announced amidst cheerful ululation from her friends and family who had joined in the live stream.
Severe cases of SMA can lead to paralysis, breathing difficulty and is the leading genetic cause of infant mortality. Zolgensma is assumed to be a one-time treatment drug. With more than half the amount now raised, it's now a race against time as the medication needs to be administered before the baby is two years old. Little Ayah just turned 15 months.
Related Topics