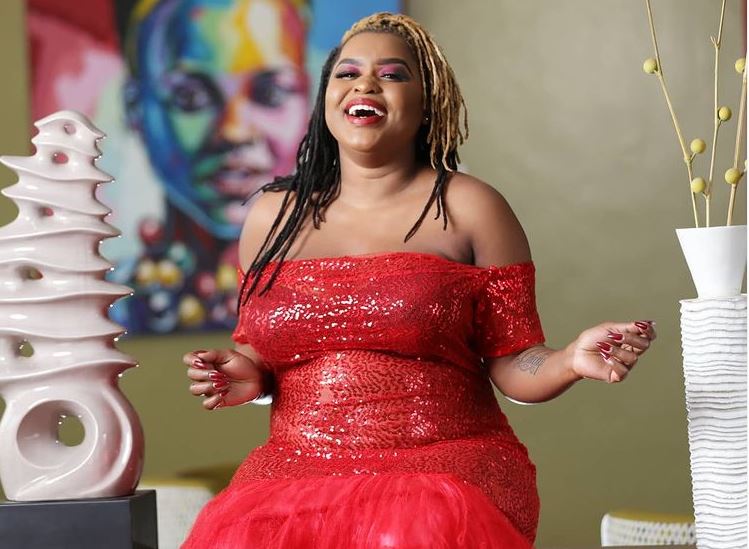 Radio Maisha radio presenter and media personality Mwende Macharia is expecting her second child.
Macharia is known for her show Konnect alongside Clement "Clemmo" Mlekenyi and radio Disc Jockey DJ Immo, which airs on the Standard Group owned station every weekday between noon and 3 pm.
The powerful-voiced radio-host also uses her social media handles for fan interaction, where she typically posts her outfits of the day and welcomes listeners to the lined up show.
However, the daily outfits of the day had steadily declined over the past few months as Macharia discreetly kept the secret up until the reveal today.
Macharia, who is already a mother of one, a seven year old son, revealed the news on her Instagram page by releasing chic maternity shoot photographs that display her showing bump.
In the first picture posted on early Sunday morning, Macharia stuns in a velvet red gown, coupled with an elaborate headpiece. She cradles her tummy in the sweetly captioned post.
"Queen, mother. All glory be to God," wrote Macharia.
The second professional photo followed an hour later, and featured the renowned media guru in another spectacular dress, this time a sheer blue ruffled gown.
"Joy unspeakable. After seven years, I am a mom again," Macharia captioned the post.
The radio personality received floods of congratulatory messages, many from famous local artistes and her colleagues in the media industry.
"Congratulations Mwende!" wrote radio presenter Monique Angelyn Bett.
"Blessings!" Wrote singer Rawbeena.
Heartwarming messages trickled in from popular actress and DJ Pierra Makena, singer Nadia Mukami, celebrated artiste and media personality Nazizi Hirji as well as local star Wahu Kagwi.
Her fans also wished her well, while many others curiously asked who the father of baby is.
"Congratulations, it is not easy," wrote an Instagram user going by the name Amos.
"Tuletee budesko sasa, congrats mama," wrote another, Mary Maria, asking about the father of Macharia's baby.
"Baba mtoto sasa akuje," wrote Chirie Daisy, further probing about the baby's father.
Macharia has maintained her personal life as relatively private, and as such, the pregnancy announcement was just that- and offered no further information as she kept more information close-lipped.
However, in a 2018 interview with Parents Magazine, Macharia opened up about how she part ways with the father of her son, producer and director Jibril "J Blessing".
Macharia said that their relationship had been serious, and that Blessing had visited her parent's upcountry home at the coast as the pair planned to wed.
In the interview, she revealed that by the time she was expecting their son, their relationship was on a downward spiral.
After their split, the two have continued to co-parent and remained cordial.
Blessing sensationally moved on to then budding singer Chantelle, whom he was with for five years- but their tumultuous relationship did not survive lots of travelling and scheduling differences as well as the unfortunate loss of their infant child.
He has since been linked to singer Judith "Avril" Nyambura, but neither of the two have confirmed or spoken of the rumoured relationship.
On the other hand, Macharia's love-life has remained a well-kept secret over the years, with the radio personality being known more for her work in media than her personal interests.
Related Topics