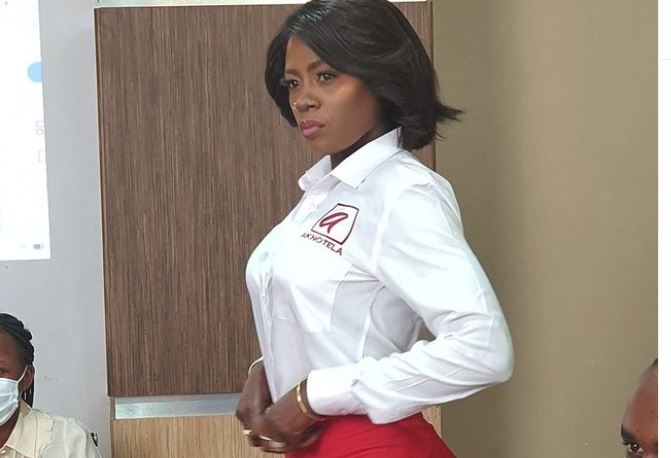 Self-proclaimed president of single mothers Akothee was recently forced to share her HIV/AIDS status with her online fans after numerous rumours surrounding her status surfaced online.
The seemingly aggravated singer took to her Instagram with a hospital report from Karen Hospital, showing her HIV/AIDS status.
"Yes, I am proving a point, so don't tell me not to prove it," wrote Akothee in the now deleted post.
Akothee stated that she was fed up with social media nonsense, insinuating that she recently contracted the HIV/AIDS virus and put under medication. To prove naysayers wrong, the Lotto singer uploaded a detailed medical report showing she is negative, urging netizens to contact her hospital if they needed more clarification.
"For those interested in my HIV Status, what you do with this information is up to you. I don't like your nonsense. If that HIV virus ever gets me one day just know it will have been brought to me at home or the way it was planned by God to happen. I don't know, but that is the news I have a full medical checkup every year you can't plan my life for me while on your data bundles."
"You can check with my hospital @The_karen_hospital. Where I was admitted in 2019, and most people said I am into drugs. Ooh last stages of AIDS and all kinds of rubbish. The first time I saw ARVs are with Pheny Awiti, I used to fear HIV like crazy until I met Phenny. She changed my perception. Now I just exist, if it gets me, I will tell you. For now, I don't have or should I just start taking ARV's now?" Akothee said.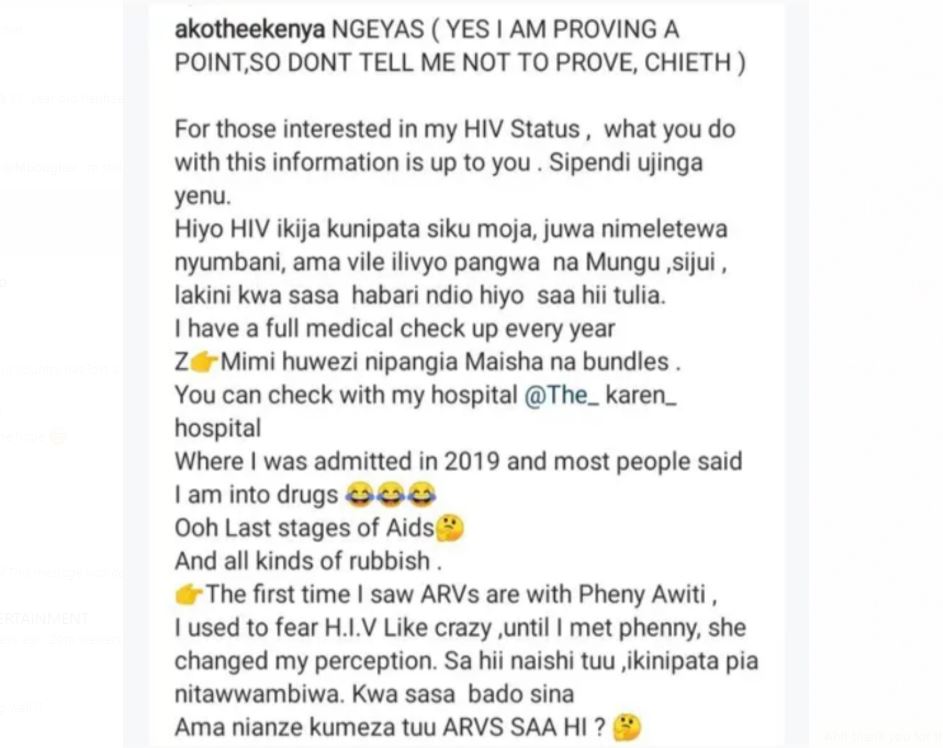 Stigma
Addressing the stigma that comes with HIV/AIDS in a separate post, the Akothee Safaris founder noted that it was getting more difficult for HIV-positive individuals to open up about their statuses due to the criticism the society exposes them to.
"HIV positive can't come out clean and embrace the campaign against Stigma / HIV/ AIDS. They prefer to play safe and protect themselves other than giving out their lives to ungrateful people. I once asked a friend, why don't you just go public instead of hiding and people always threatening to reveal your status? His answer was, 'People are bad. The stigma that comes with it is crazy. People will start running away from you and always use you as an example.
"I now understand why people hide their HIV status even to the people they are dating. Sad. It's now obvious for me why Men would dump a date day when you ask them to accompany you to the hospital for an HIV test. This guy will either disappear or never pick your calls. People are living in denial with this thing because of society," she continued.
Despite the government's effort to help those infected by the virus, Akothee acknowledged that if individuals don't practice faithfulness in their relationships, the infection rate will continue to rise.
"I believe the government can do something. The only worry is that as long as you are dating the sons of pharaoh, you can contract HIV/AIDS from Migori and live in Mombasa, from Kilgoris and you live in Kakamega. Multiple partners I'm telling you. Reason, it has been difficult for me to date is rule number 1, let's go to hospital for checkup. A man would say, 'Babe we have time, why are you worried, I am safe and my response would be, even if you are safe, you don't know me! They end up saying I'm being too pushy!"
Related Topics