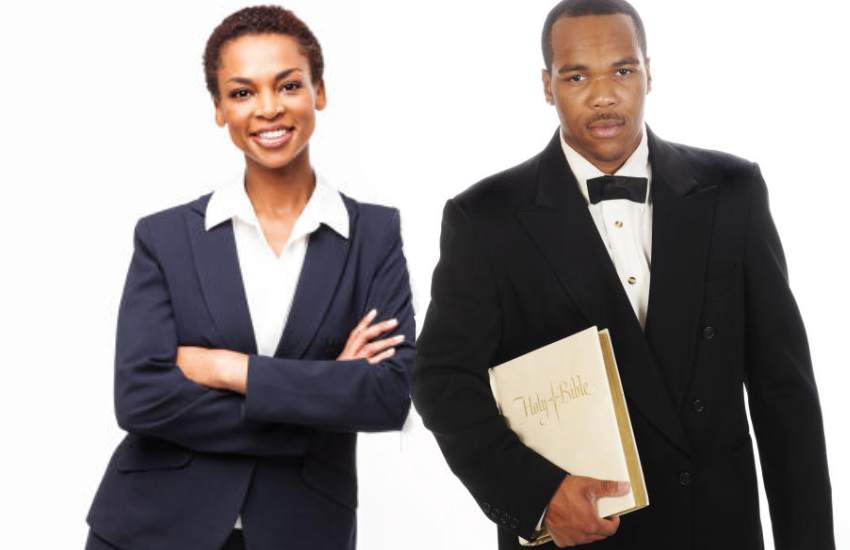 Attracting people to church is no longer just about the Holy Spirit or preaching the gospel of prosperity. Attention-grabbing church names and advertisement on posters are to be proving quite useful, it seems. The streets of Nairobi are littered with numerous church posters. Every corner has one and the trend is now getting into the estates.
Monied 'ministries' have stepped up their game and gone for billboards on major highways, which can set them back as much Sh500,000 or more. The posters are mainly invitations to a night of worship, revival meeting or an American gospel artiste's concert.
But what is rather striking is that pastors prominently include their beautiful wives, all dolled up in the posters and flashing a smile. Is it a marketing ploy? Well, according to Reverend Mathew Musyoki of Fellow Baptist Church in Mombasa, billboards are not an advertisement ploy, but a way to inform the congregation about what programmes will be coming up.
Read Also: 10 types of boring Kenyan pastors
Rev Musyoki says that including the pastor's wife on the poster is because the church supports the family model and hence, it is important to bring this out. "The billboards are mainly to inform people of what is happening in the church and to invite new members. With the era of social media, we have even gone further and done electronic posters for online followers. The posters and billboards must have the picture of the church leader and his wife, mainly because the church supports the family model, the image shows we are married to Christ, which is a spiritual matter. It is not about showing how beautiful or ugly the pastor's wife is," he added.
Musyoki explains that when the posters or billboards are purely about miracles, then it becomes a marketing gimmick. "When most people see the billboards, they immediately conclude it is a marketing ploy. But is not the case. It's purely about informing and inviting people. But when you see a billboard asking you to pay a certain amount of money for a miracle, then that's when it becomes a marketing ploy," he adds.
But another pastor who spoke to The Nairobian is of a different view. Pastor Joseph Onyeit of Exploits Worship Centre in Nairobi says it is important for the pastor's wife to be recognised so those rogue church members who could harbour intentions of seducing her keep off.
"Posters and billboards are mainly used to invite both the public and church members. Having the pastor's wife picture on posters is key, because it demonstrates to rogue church members that the pastor is a married man. Pastors go through a lot of temptation if their wives are not known. When it is declared publicly, then single women who might be eyeing the pastor would know that there is a line they should not cross. The same applies to female pastors. They have to include photos of their husbands on the billboards," he said.
Read Also: This is why 'pastors' are obsessed with the fake 'Dr' title
Bishop Allan Kiuna of Jubilee Christian Centre (JCC) shares the same sentiments.
"In our church, we use billboards to create awareness about special meetings, events and church programmes to inform our members and the public about what to expect. This may include Daughters of Zion conventions, couple meetings and ministry line-up and who the guest speakers would be. We have realised that people are sensitive about who they want to listen to. Some churches use billboards to show the family aspect of their leaders, but mostly, those posters are to create awareness. There is no limit to who should be on a poster. Even unmarried church leaders can be on billboards because they bring the unique aspect of singlehood. Paul, the writer of New Testament was not married, but that did not disqualify him," said the bishop.
Related Topics