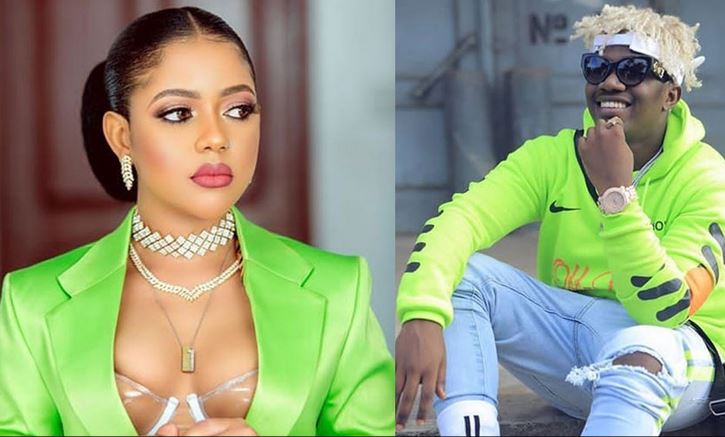 Bongo Flava star Raymond Shaban alias Rayvanny yesterday, January 26, 2021, demanded his ex-girlfriend and mother of his son, Fahyma, to take down a picture of him she had posted on her Instagram page referring to him as 'my husband.'
The displeased Amaboko singer commented on the picture, saying, "Delete my f*cking picture," a request Fahyma adhered to almost immediately.
The former couple is known to have fallen out about a year ago after the Tanzanian model cum businesswoman accused her boyfriend of cheating on her with a video vixen identified as Nanah during the shoot of his popular song, I Love You.
Fahyma, who goes by the name Fahyvanny on social media, turned to Instagram to break up with her child's father and wished him well in all his endeavors—adding that he should forget about her and her son.
ALSO READ: Rayvanny, Fahyma expecting second child
"I have respected you all the years we have been together despite the misunderstandings we have gone through and have forgiven each other always. Most of the time I have realized you desire a life that in the long run will not benefit you. I respect you and I respect my family too but I have reached the decision to willingly walk away. I won't blame you. Still love my family… I wish you a good life.
"Count me and Jay as dead in your life. I will fight and I will win. I will not lack money for food but just consider Jay and I dead to you," wrote Fahyma.
Confused by his baby mama's decision, Rayvanny responded to Fahyma, saying, "I have shot music videos with many other women but I don't know what the issue is with this particular one. Or what is really going on. I'm not romantically involved with anyone."
During a previous interview with Rickmedia TV, Fahyma stated that her family was going through a lot, not just the cheating claims but also needed to figure everything out.
"My family and I have our issues, family issues, and it is not betrayal, there are totally different issues. I would like to request people to stop using my issues to hurt others, maybe their families or their relationships."
ALSO READ: 'Natongozwa sana!' Rayvanny's wife Fahyma laments
Fahyma cheating scandal
Some years back, Fahyma was accused of having an affair with was Ali Kiba's brother Abdu Kiba, a claim she strongly refuted. According to her, the cheating rumors were brought up by haters that wanted to see her and Rayvanny split.
"You know many people loath our love with Rayvanny, they want us to separate even tomorrow. However, that is not possible since he cannot forget what I give him in seclusion. They are just wasting time. They should do better things instead of following our lives," Fahyma told Shusha Pumzi.
Amidst the cheating allegations, Rayvanny posted advice to his fans, saying, "Love her but don't trust her every word. Give to her but don't give her everything. Protect her, don't stalk her. Give her your body but not your secrets. The sweetest things come with the most pain. Keep it in your mind."
Related Topics