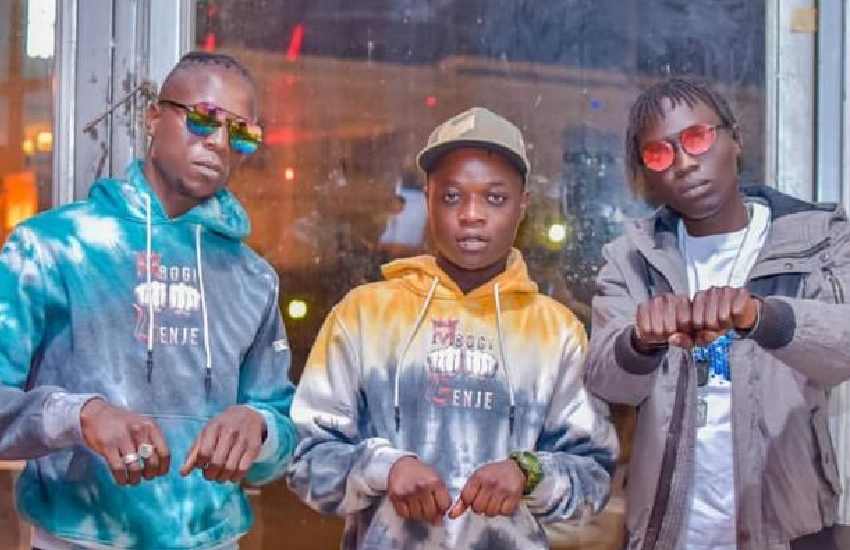 Last year brought us Barbz wame-muok lots of new street sheng and slangski, especially from the likes of 'Mbogi Genje.' But here are 42 smart long-lastin basikg sheng lingo that will do the cross-over into 2021.
Kanairo: This is simply the city of 'Nairobi.' Mfano kwa sentensi: 'Ukifika hapo Kanairo, jua kwamba ata kuomba ka-nare sio saree ...' This simply means Kanairo is a harsh city.
Kinde: 'Ten bob.' This is the current term for that all-important 10 shilling coin, n fer shore those in the know will let ye know that 'ashu' has been shooed out.
Mbwegze: Kukuwa wawili. Mfano kwa sentensi - 'hao senke walikuwa mbwegze', or 'uko Umoja, sikuwa jamo (alone), tulikuwa mbwegze na nguku wangu.' (I was with my GF, 2 o us).
Odi: A very ordinary person or thing! 'Oti si mnoma, ye ni Odi tu.' Here'z some rock lyrics – 'Life's extraordinary, and I'm ordinary, but I 'm the one who can give you love' (if ye believe this, your love life will end up ka hio ya Daddy Owen, with premium tears).
Rieng/Rada: What's up? Fomu ni gani? What's popping? Where's the party at? Kwa mfano: 'Rieng ni kufika New Year's heng!'
Nguna/ Maguna: A sexy lady/ ladies. Mfano kwa sentensi: 'Rada ni kukutana Java na maguna. Alafu tuendee nao kwa bash iko na ma-drinxxx na ma-yeng. Hio ndio rieng!'
Read Also: Can God answer Sheng prayers? DJ Soxxy sparks debate
Salasa: Thirty! A true exampo: 'Asubuhi ma-three ni salasa kutoka South B adi Haile Selassie.'
Mturaa: Kenyan street sausages. Mfano kwa sentensi – 'Zamo mturaa za Mutungi zilikuwa tamu. Lakini kutoka corona i-land na Mutungi aanze kuosha mkono na ku-sanitise, his mturaa no longer taste the same, unanauwo?'
Nauwo: 'You know?' You know those people who like talking n sayin' 'you know?' at the end of every sentence. If they switched to 'nauwo' they'd sound like dogs or Maasais, nauwo? 'Unanauwo wale ma-bow wow umaliza kila sentensi na nauwo, unanauwo, ka yule hoe, nauwo?'
Dunda: The site of the club where the party is at. Kudos to the word 'dunda.' It's been there since 1991 Carni, when Pulsers turning thate this year were crawling into their darn diapers.
Nitakuvutia: This means 'I'll call you', which may happen; but 'ntakudungia' means we'll send 'mpesa,' which may happen, lakini huyo nguna anaeza kula fare ya Ubra baada ya kudungiwa...
Kanja: Pay! Nimekanjwa – I've been paid.
Ngwete: What we used to call a 'fala' back in the day, or a 'dwanzi.' A stooped or dumb person. Other day at the chemist, heard a dude telling someone on phone – 'we uko na ile ungwete ukuja na genetics.'
Dipra: A Prado. Or any large fuel guzzler. Gari bwakala!
Banushi: Shiba. Something our politicians proved they can't be in 2020, by eating up the economy, down to Covid-19 cheddar.
Mrota: Mtaro! Common sheng word down in the ghetto coz mrotas are many. But remember one of the 2020 memes with mrotas, where you say 'alirushiwa mawe, akagongwa, pa! Ataro!'?
Baroda: Pesa! I donno how 'Bank of Baroda' managed to get its name into popular slangski, esp coz who knows a single client of Baroda, do you? But kudos to Co-Op for working slang angles.
Ngife: Bank! Do you know the best onomatopoeiak word in the world? Dat 'krrrrrrrr!' ATM sound.
Read Also: Ten sheng sentences that may save your life
Mzing: Mzae. Often like an older person or your pops. Mfano kwa sentensi – 'New Year nilipeleka Mzing mzinga ya vodoski, unaeza fikiria nilimpa chungli vile baadaye mzing ali kibla.'
Chungli: Very strong 'kwang kwang' or pombe kali sanaaa! Mtu ata anaeza fikria ni chang'aa. Last year, gin waz chungli! 'Kibla,' by extension, is to pass out, often from drinking lotsa chungli.
Mnoko: Mkono. But it can be used in a variety of ways. For example – 'Xmas ni mi nilinunua chungli, sasa usiwe bonoko, ni wakati wako wa kurudisha mnoko.'
Rengwa – Ngware: Very early in the morning. Mfano kwa sentensi: 'Jogoo iliwika rengwa, na pia alarm clock, nika-tempt-iwa kulenga. Lakini nikakumbuka lazma nitafte mboga, nika-muok nikaenda kibarua uko mboka.'
Mboka: Kazi. Kwa mfano: 'Wairish alinivutia rengwa kunikumbusha rada ni mboka.'
Idra: Dry – 'Kumekauka.' Mfano kwa sentensi - '2020 kulikuwa idra, ni ka ganji ilikuwa nadra. Lakini 2021 ni ka tuta-kanjwa, tuomoke.'
Ubra: Uber – 'Subira Ubra ina-muok' (wait, be patient, the Uber is coming). For real for summa us who can't spin the Subra, the Ubra was the God-sent of the last few years, at aka si Dipra, jo!
Muok: Kuja! One of the most bigly sheng words that came into common usage in the year 2020. If it waz back in oh-three, n Nonini was singing that 'Wee Kammu' song in modern sheng, it would go like this: 'Leo niko jamo dangulo, si muokree kutoka hapa, kwa hivyo ukitaka, we MUOK!'
Dangulo: This is your keja, your crib, your digs, residence.
Senke: Polisi or The Police. I like the way the sibilantics 'S' have stayed in sheng from the 90s when it comes to cops, though they started off as 'ponyis.' Then it went all 'S' shaped – from Sinyas, to Sanses, to now 'Senkes.' Whatever happened to that killer senke, Hessey wa Dandoch?
Bugda: To die! 'Huyo buda alibugda na corona.'
Buyaka: Kushtuka! New year tulikuwa mbogi tuko juu ya shashola, ghafla baruti ndio izo tukadhani ni senke wanabugda wasee, tuka-buyaka!
Shashola: If ye mistake fireworks for gunshots, there'z a high chance you are on shashola or weed. My prayer for kids this year is that they stop thinking 'shasholaing' is rad.
Kuji-pin: To arm yourself, whether with a ngiso (dagger) or even a gun. Thaz when the 'Mbogi Genjes' begin to make deadly sense in their songs like 'nime-ji-pin sasa wacha senke wa-muok. Leo kuna ma-buda kwa ground wata-bugda ...' (Met 'Mbogi Genje' at Kisima three weeks ago, n they were pretty chill. Also saw bugda-suspect wa Monica mogatha, one Jowi there. Chilling)!
Bwakala: BIG.
Mambeko: Ma-dame, or the ladies. Mfano kwa flattery – uko awards' ceremony nilicheki mambeko. Lakini Mwalimu Mbeki, na hio urembo bwakala, ndiye mama yao hao mambeko.
Mogatha: A harsh word for 'beautiful,' and is most often used within the context of mambeko. For exampo, huyu nguku yuko kwa cover ya Pulse leo ni mogatha, na tutaendelea na hio mtindo
Pori: Mfuko! And if it has a 'pori ya mkwanju' (forest of money), the better. Pori inaleta p***ie!
Read Also: The 'war' over sheng - Why Mudavadi, Mutua are in a battle for words
Nditni: Ndani. Yaani, you are in the mix. Like sir Nick Salat of the new KANU can say in 2021 – 'sisi tuko nditni, ndiiitniii, ndiiitni.'
Kuomokre: Kukuja, or to come/arrive.
Kuomoka: This was The Sheng Word of 2020, and it means to get some cheddar, and then to 'change your class.' Of course it also provided choice insults for roast masters like the Smitts.
Nuttin' mo satisfying than telling some ngwete to their face: 'We ni ka nyani imeomoka, bruh.'
Ina-ni-affect, inani-suffocate: Yaani you just can't help yourself, you feel it so much! Like being at dunda, then y'all do 'Jerusalema' when it comes on.
Waaah: Just know that thanks to Diamond Platnumz na le General'e Koffi Olomide, you'll be hearin' 'anachukua, ana weka, WAAH!' well till about March, 2021.
Related Topics