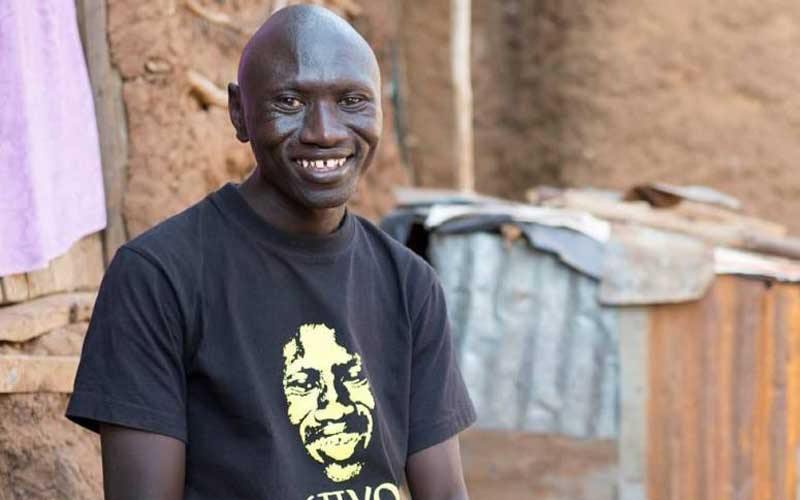 Kibera-based Kenyan singer, Stephen Otieno aka Stivo Simple Boy famed for the popular slang, Inauma but itabidii uzoee has opened up on his life as one of Kenya's popular singers. Stivo Simple Boy first rose to fame after his interview with Tuko where the prevalent phrase was born. He then went on to release multiple songs including the famous, Vijana tuwache mihadarati jam that made him a household name.
Narrating his musical experience so far during a recent interview, the jovial singer explained that he actively took up music as his main hustle with a few other activities on the side for extra money. "I'm currently doing music full time but on the side, I sell t-shirts and hats. Also when someone is having a birthday and they request me to sing for them I do so at a fee," he said.
Touching on his recent collabo with fellow singer Vivian on their track Simpo Simpo, Simpleboy admitted that he was shocked when Vivian reached out to him explaining that her request was contrary to his music taste. "Vivian called me and told me we needed to do a collabo. I was shocked. You know I'm not so much of a love songs person, my style is more about educating the community on different societal matters but I just decided to give it a try and let Kenyans give their opinions," said Stivo.
Societal pressure
He explained that he has been getting pressure from people to start living grand since many assume he has already made it in life and has a lot of money. "People think that because they see me out there making it that I have money, not yet. If I had money I wouldn't be living in Kibera, I would move to Westlands. Money doesn't come easily, you have to work really hard.
Also read: Kenyan celebs who don't take alcohol
"There is a lot of pressure, especially with this latest song that we just released. People are assuming that Vivian gave me a lot of money. The truth is I haven't gotten any money from that song yet," he said. Other than financial pressure, the singer went on to reveal that his efforts to collaborate with other Kenyan artists have hit the wall as most of them don't take him seriously, neither have they supported his work.
The Tuheshimu Ndoa crooner however gave a shout out to Nyashinki, Kaligraph and Jalang'o for always encouraging him to be better. "Well I don't know what's wrong with Kenyan artists, maybe they don't think I'm an artiste as well. I haven't gotten any support from any of them. Maybe they are afraid. I feel really good when a few of them commend me like Nyashinki, Kaligraph and Jalang'o." he continued.
"Tanzanian rapper Professor Jay is my role model. He is the reason I decided to mold my music to concentrate on societal issues and I will prove everyone wrong and show them that I will make it."
Also read: Bien opens up on difficult childhood
Related Topics