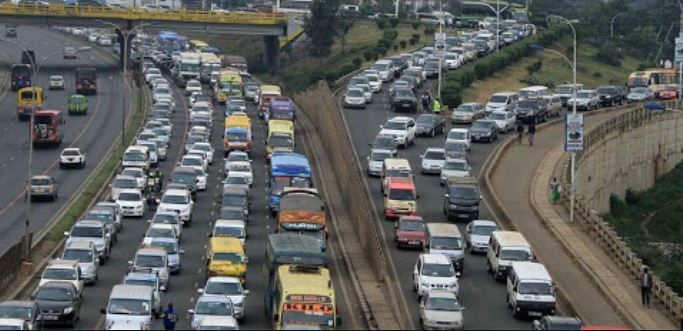 Motorists using a section of Thika Highway will experience traffic disruptions for five days after Kenya National Highways Authority (KeNHA) announced it plans to erect another bridge on the busy road. The authority announced a partial closure of the highway from Friday, August 21 to August 25, to enable them erect a steel deck. Work is set to commence on the section around Garden City Mall, which will be closed from 9.30pm to 4.30am on five consecutive days.
"KeNHA pursuant to Traffic Act Cap 403 section 41 wishes to notify the general public that Thika Superhighway shall be partially closed at Garden City Mall," a notice read in part.
It gave out guidelines for drivers to use to manage the flow of traffic. Vehicles headed to the city centre will exit the highway at Exit 8 in Kasarani and use Baba Dogo Road and rejoin the highway using Outer Ring Road. Traffic towards Thika town will also divert almost at the same spot on the opposite side of the road and use a different route behind Mountain Mall.
"Motorists have also been asked to exercise caution navigating around the site station, follow the traffic management plan and the direction given by the traffic marshalls," the statement read. This will enable the agency to erect a steel footbridge at the site. The agency has so far erected one at Drive Inn area.
ALSO READ: Accident along Thika Road unmasks the cheating ways of 'model husband'
Won tender
Fourway Construction Limited has been given the job to construct the Survey of Kenya and Garden City footbridges at a cost of Sh390 million. The ongoing construction of four footbridges along the superhighway, which will cost taxpayers a whopping Sh820 million, began almost two years ago and only Weitethie was recently completed and opened for public use.
Interways Works Limited had been contracted to install the Weitethie and Mang'u footbridges at a cost of Sh430 million. KeNHA has blamed the delay on a slow pre-export inspection of the importation of the Chinese-built footbridges constructed in May 2018. The highway is fitted with 18 footbridges, with 10 more designed but yet to be erected due to lack of funds. The structures for the bridges were welded in China but their delivery into Kenya was delayed after the virus outbreak, according to KeNHA director-general Peter Mundinia.
In 2016, the High Court ordered removal of speed bumps on the highway to ease traffic. The court order cited bumps at Survey of Kenya, Homeland and Kenya Breweries after Nairobi Governor Mike Sonko (then Nairobi Senator) sued the county government in 2015. A recent study showed about 313,000 people enter Nairobi between 6am to 9am daily with the 7am to 8am period witnessing the heaviest traffic flow inward of about 111,000 people.
Related Topics