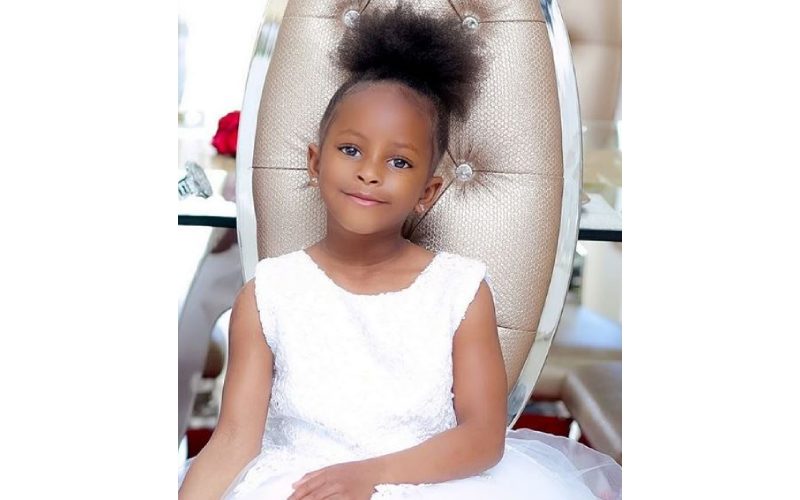 Tanzanian celebrity baby, Latiffah Dangote, popularly known as Princess Tiffah, turned five years old on August 6, 2020…how time flies. Her ecstatic parents; Tanzanian superstar Diamond Platnumz and South African based Ugandan businesswoman Zari Hassan took to social media to celebrate their daughter with adorable messages.
Zari was the first to mark the little princess's birthday with a lengthy heartfelt message on Instagram appreciating Tiffah's growth and drama, promising to continue praying over her life.
"Once upon a time far away in the land of Tegeta-Madale, a princess was born and the people of the land were excited for her arrival. Her name was @princess_tiffah..... She continues growing gracefully and beautifully before the people's eyes except with a bit of drama. Her story is an amazing one......and it still continues. Happy birthday lil ma, always praying for you #LatiffahTurns5," she wrote.
Diamond on the other hand posted a cute video of the little day complaining over him not picking her call when she wanted to speak to him and asked that he calls her back immediately.
"Happy Birthday to the Love of my Life..... words can't Express how much i love you my tee.... @princess_tiffah," he wrote.
Tiffah's grandmother was not left behind in the celebration. She posted two adorable pictures of Princess Tiffah in her diva element with a moving caption.
"Drama queen Latipha Naseeb @princess_tiffah the child with the most drama all over Africa Bibi Uwa loves you so much," she wrote.
Tiffah's half-brother popularly known as lilq_is_bae on Instagram penned a tear-jerking message for his only sister, terming himself as the richest person in the world because of the love of his sister.
"The Forbes Billionaire List is totally wrong. I am the richest person in the world because I have the love of a wonderful sister like you. On your special day I wish you only smiles and joy. May each minute of your life be filled with happiness and blessings. It's true that a special birthday gift is very hard to find but it is impossible to find a special sister like you @princess_tiffah Your birthday is more special to me than you, because on this day, I got the most precious gift of my life. Happy birthday baby sister I love you," he wrote.
For her fifth birthday, Zari threw Tiffah a slumber birthday party dressing her and her little brother Prince Nillan in luxurious night wear.
The outspoken social media sensation never shies away from celebrating her kids and most especially teaching her daughter Tiffah how to be confident.
In a previous post, Zari dedicated a letter of encouragement to her little lady reminding her of how strong and beautiful she is.
Related Topics