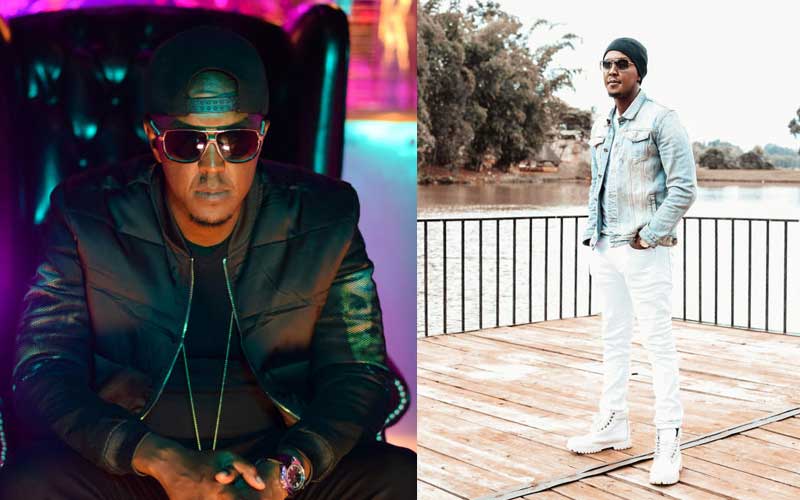 Kenyan reggae artiste, Kevin Waire, popularly known as Wyre, a.k.a the Love Child, has done what few have - maintaining his relevance in the music industry for 20 years. He talks about his music, life and love.
"I'm the kind of guy who, if I have a headache and listen to music, it will go away. That's how much I love music," Wyre tells me. "If I want to meditate, that's what I listen to. Other than my family, it's what keeps me sane. So it is not only a career or a hobby, it is my life."
That could explain the amazing staying power Wyre - now 39 - has, still dominating the airwaves 20 years after he began.
But it could also be because music does flow in his veins. His uncle was legendary Kikuyu Benga musician, Sammy Muraya, and his favourite memory from childhood is his father's huge collection of music vinyl.
"My dad was the one who built Sammy his first guitar. He talked to Sammy because he realised how much I loved music. He was the one who got Sammy to take me to my first studio session," he says, smiling at the memory. "So I started recording when I was in high school."
At 10, his son is already an amazing pianist and good guitarist. "There was once they went into a toy store with his mum when he was two or three years old. You know the way you expect boys to go to the car section? He went and grabbed a guitar. That is when I knew. I was so happy when that happened," says Wyre.
Wyre is easy to talk to and laughs easily, not a hearty laugh but polite laughter that makes the conversation light and pleasant. Our conversation is punctuated with his responses of 'Yah man' and 'You know what I mean', just like the reggae and dancehall artiste that he is.
I quickly understand why, despite being in the limelight for 20 years, the public knows very little about his personal life. I'm surprised when he says, for instance, that he is a very good tennis player, which he started playing as a child, especially lawn tennis. He has just had a match with his son before the interview.
How he met his wife
The lack of details about him is entirely by design – he keeps those two separate and doesn't want to talk about that part of his life, he says.
Luckily, he graciously cedes a little ground today and gives a peek into his life and his family.
READ ALSO: Wyre finally reveals his young son
"I met my wife in the early 2000s at a talent show in Carnivore when she brought me an autograph to sign for her sister. We were both part of the audience. Then a few weeks later I met her again at another venue when she brought me another autograph to sign for her sister because they lost the first one. Little did she know she was going to be my wife.
"One thing that struck me when we started talking was that she wasn't interested in me because of the music. If anything, I had to do the chasing. For me that was a really cool thing," he says.
When they got married in 2008, his family became his whole world.
"My family is what drives me as a person. They are my everything. Whatever I do is related to making sure they are safe and live a good life," he says.
He will even cut short studio sessions just so that he can go back home. When he has a show, after his performance he hangs around for a few minutes and then leaves. "The feeling you get when you go home and your son hugs you is amazing. So if I am not at the studio or at performing, I am at home," he says.
He doesn't go out much or drink either.
"Children pick up on everything. They adore you as parents. He sees dad on TV, feels proud when he sees me performing and wants to be like dad. He adores me and I don't want to let him down. You do anything in your power to make sure you never let your child down. They hold you as a parent up high on a pedestal."
A Kenyan born musician who mixes Jamaican patois and Swahili in his songs is a bit of an anomaly. How did that happen?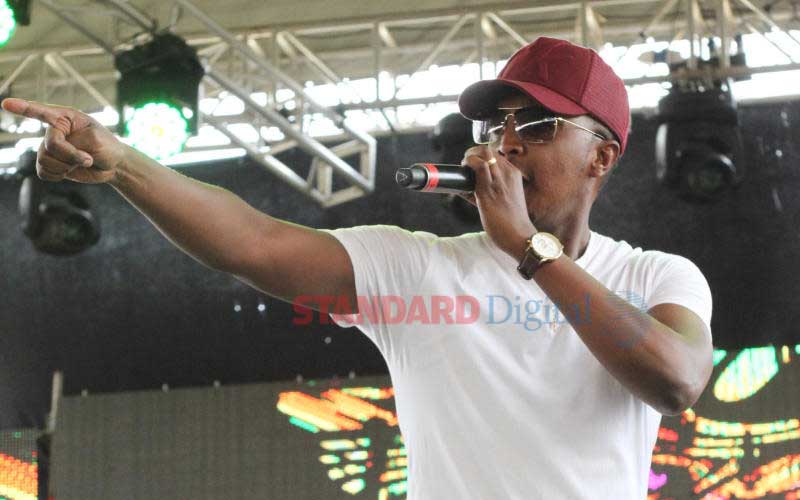 "The first album I ever owned was a Don Carlos and Gold tape, a reggae tape. I fell in love with reggae ever since. Shortly after that came Yellow Man, Shaba Ranks, Snow and Born Jamericans. The more I listened to it, the more I fell in love with it. I ended up learning the lingo. You know, reggae is very infectious. It grows on you. When you mix the patois with Kiswahili, with sheng, the vibe comes out nicely. It sounds good," he says.
It is very difficult for a non-Caribbean artiste to succeed at reggae at the level that he has. After all, patois is not the language of their music, it is also their everyday language, so it would be akin to a European born and brought up in Europe succeeding in the Kenyan Kapuka scene. "One of the funniest things was when I landed in Jamaica to shoot the video for 'Nakupenda Pia' and when we landed there were two or three cops observing passengers get into immigrations…"
He then proceeds to say what those policemen said in pure patois and I understand nothing, then he laughs, saying: "I'm looking at them and I'm like, 'These people actually talk like this!'. You know I'm used to the usual accent of the cops we have here, so comparing it to that, I found it so funny. (laughs) It was amazing."
He has, however, done so well in that niche that he won best new entertainer at the 2013 International Reggae And World Music Awards (IRAWMA) and has not only done collaborations with reggae and dancehall heavyweights like Grammy award-winning Morgan Heritage, Cecile and Alaine, but his own music also plays there.
"When I was doing a shoot there, 'Uprising' was playing a lot on Irie FM. I have performed in Jamaica and I had an event called 'From Nairobi to Kingston'. I did my own showcase at Tuff Gong studios and I had an audience show up. Being a reggae artiste outside of Jamaica, to actually get the chance to perform there and have them actually like the music was a very humbling moment for me," he says.
READ ALSO: All you need to know about Kevin Waire a.k.a Wyre
One of his biggest unfulfilled ambitions is to do a song with Damien Marley. He curtain-raised for Marley when the latter was in Kenya and has been his biggest fan "even before he had dreadlocks and had a big afro".
"Funny story, in 2003 I got his album called the Halfway Tree. The Halfway Tree is a certain place in Jamaica. I love the album so much I can sing every song, from the intro to the last song. Ten years later, in 2013, I was shooting my music video in Kingston, Jamaica…at the Halfway Tree, standing at the clock that is on Damien Marley's CD cover!" he says excitedly. "That was not just a coincidence. There is no way. Miracles do happen. Dreams come true. So if it was meant to be, it's meant to be."
One of his biggest regrets is not joining social media early. A celebrity can hardly succeed nowadays without a strong online presence, a bit of a quagmire for someone who loves his privacy as much as Wyre does.
"One thing I wish I did was to jump on the digital wave early enough. I was slow to get into social media, to be honest. I am a very private person so I like keeping my personal issues to myself. So I kept away from it. If I had jumped on it much earlier my numbers would have been much higher on social media by now," he said
Like many, he never envisioned social media becoming such ubiquitous part of life and as important as it is for the success of an artist.
"I mean, we were from Old School, where we would go from station to station dropping our CDs. When going on tour you had to go with a whole box of CDs. Now all you need to do is put your music in digital stores and by the time you are getting to the US people are singing your music back to back in concerts. So I am on it now and I am taking full advantage," he says.
'Shujaa', the first single of the album he is working on, came out this week on his YouTube channel. "There are a lot of people going through situations right now. Either they've lost their jobs, they've lost loved ones or they're currently ill because of the ongoing pandemic. So what I am telling people is that no matter what situation you're going through, you can come out it victorious. Come out a hero. So not all is lost, whatever situation you are in. That is what Shujaa is about," he says.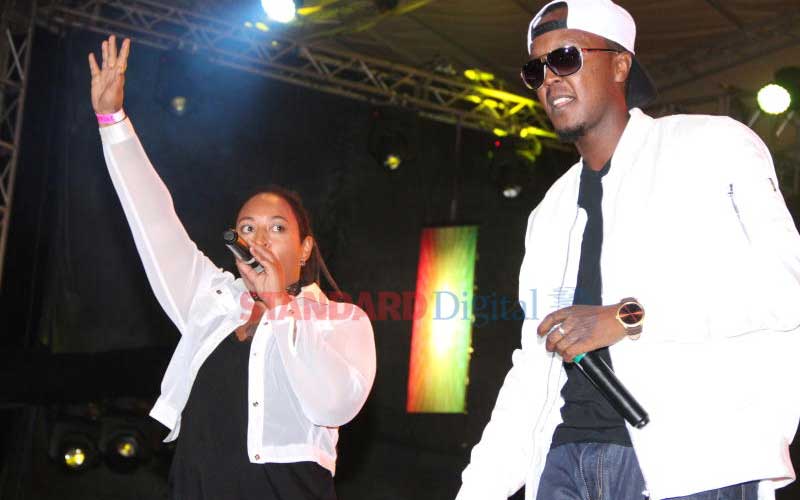 Before we end the conversation, I ask the question that has been on the lips of nostalgic fans - Is Necessary Noize gone forever? He says pretty much the same thing Nazizi said when SUNDAY featured her:
"There was no official breakup. You will be shocked – me and Naz still do a lot of projects together. We actually still tour together sometimes. We have even recorded stuff but we haven't released it yet. We started out as solo artistes and we had always planned to get back to our solo projects but it is not that we have refused to get back together. It is all about the right timing. Our solo careers have taken us all over the place so you can try and plan for sessions but one would be touring in another country. We will drop content at the right time."
Related Topics