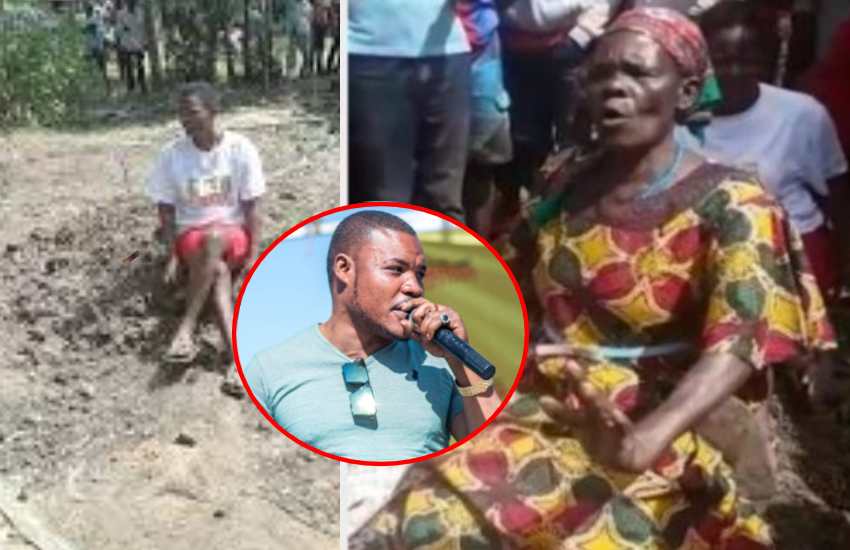 Abenny Jachiga's mother was on Saturday, June 13, forced to sit on the grave of her late son after irate fans made attempts to exhume the Ohangla singer's body in protest over the artist's hurried burial at 2:30am.
According to a video doing rounds on social media, Monica Auma and Jachiga's widow, Belinda Aluoch, sat on the singer's grave in Kolwa East, Kisumu County to stop frenzied mourners from exhuming his body.
The singer, real name Bernard Onyango Obonyo, famed for Kasinde and Usidharau Mwenzio hits among other songs was laid to rest secretly at his Chiga home under the watchful eye of police officers.
The deceased's brother, Austin Omondi, was the only member of the family allowed to witness the burial that came several hours after locals engaged police officers escorting the hearse in running battles.
Read Also: What killed Ohangla singer Abenny Jachiga? Samples taken from body
According to locals, the popular singer had not been accorded proper respect neither had the family nor community given enough time to grieve.
"He was buried under tight security with police who were in plain clothes and some bouncers at 2:30am," a source told Standard Digital.
Pelted with stones and overpowered by the surging and relentless crowd that succeeded in refilling the grave and stopping any attempts to lay Jachiga to rest, the officers retreated into the night.
"They have dispersed us. They have tried to remove the soil from the grave and bury the body but we have refused. There will be no burial today," a relative of the musician told the Saturday Standard.
Bolstered, the mourners ferried Jachiga's body to St Elizabeth Hospital mortuary, on foot, and kept vigil at the homestead after rumours swirled that the officers were planning to bury him at 9pm.
"There were rumours on social media at around 9pm that he was being buried, we confirmed it was not true, we kept guard until midnight but did not see anyone," said a local, Ken Obonyo.
Read Also: Frenzied mourners seize Abenny Jachiga's body, halt 'hasty funeral'
When they dispersed, the officers sprang into action.
Related Topics