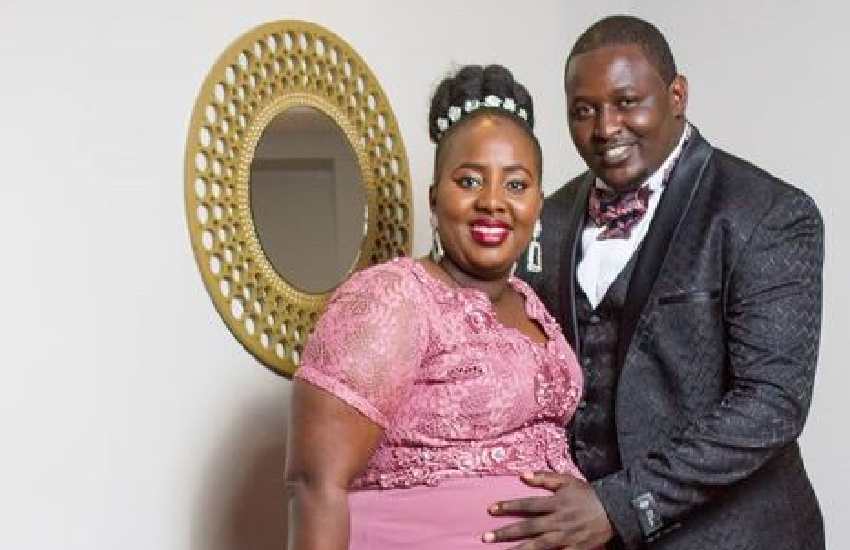 Churchill Show comedian Terrence Creative and his wife Milly Chebby have strongly debunked claims that their marriage is again on the rocks.
Word on the street had it that the couple had had enough of each other and they were on the verge of breaking up.
However, the two lovebirds confirmed they are very much in love, happy and above all, looking forward to eternity together.
According to the claim, Chebby allegedly turned violent, forcing Terrence to flee their matrimonial home.
Speaking on May 15, however, the couple in unison expressed their shock in the report and denied that there is a storm in their paradise.
Read Also: Terence Creative sheds light on 2019 affair, how it rocked his marriage
Terrence and Chebby wondered why people were hell-bent on seeing their breakup yet they had no issues with anyone that could warrant such tainting.
''So, they say we are parting? Waaah! What do people want really?'' Terrence posed to Tuko.
Disputing the rumours, Chebby said that her husband is a 'peaceful man who does not like that kind of drama'.
''We are fine, we are here together as you can here. How can I even start beating or fighting with someone like Terrence, himself is a peaceful man and does not like drama. We have never gotten to that stage.'' She said.
Last year, Terence was on the spotlight after admitting that he cheated on Chebby. The rumour mill had it that the woman he had an affair with a 19-year-old environmental enthusiast, Anita Soina.
Clearing the air, Terence revealed that his wife was aware of everything that happened and disclosed that he had made peace with Chebby and owned up to his mistakes.
"Things will always happen in life, the most important thing is to always put your wife in the loop. Mwambie this is your weakness akusaidie because if you don't do that, you'll keep on being blackmailed and people will do anything to bring you down. A lot of women will call waseme vitu mingi sana but it's okay," said Terence.
His confession came days after YouTuber Edgar Obare of BNN - Bandana News Network - with whom Terence had allegedly been feuding over the cheating allegations; uploaded a trailer of Soina confessing her relationship with Terence.
Read Also: Anita Soina introduces new man after cheating scandal with Terence Creative
Opening up during the interview, Soina explained that Terence was not her sponsor and that their actions had feelings involved.
"He wasn't a sponsor. If I didn't love him, ndio ungesema ni sponsor. If I was just there for money ingekuwa hivyo but I think it's not that way," she said.
Chebby later admitted to having known about the affair before it went public, saying that she felt disappointed and stressed.
"When it happened last year, I was so confused, I almost lost it, literally. I never saw the purpose of living. Everyone spreading lies you can't even explain the truth or tell your side of the story," she said.
Related Topics