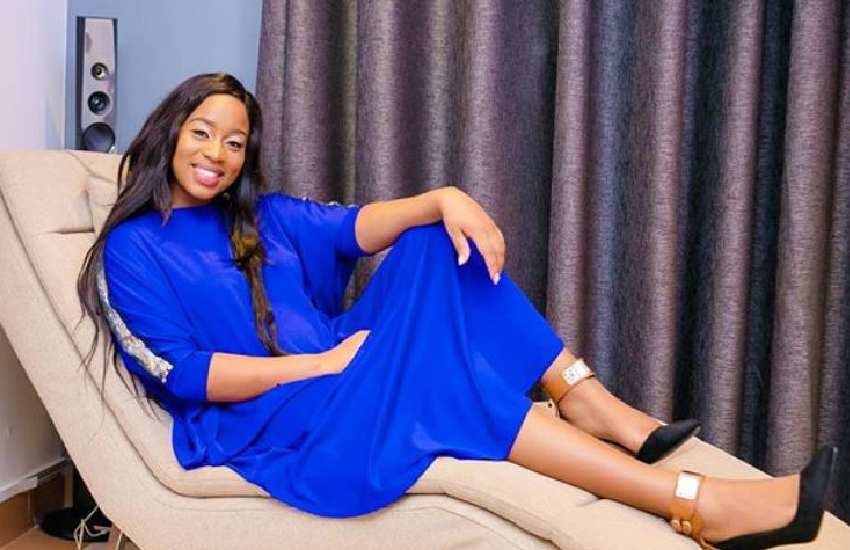 Singer Kevin Bahati's wife Diana Marua has opened up about her past relationships after weeks of online trolls. Marua was being accused of being married before meeting Bahati.
The mother of two has now come forward to set the record straight. Speaking during a 'Q and A session' on YouTube, Marua disputed the claims that she has had a family before marrying Bahati.
According to her, she was a model in her past life and played the role of a mother in a family set up for a brand she was then promoting.
"Before I met Bahati I used to be a model. I played the role of a mother in a family set up for Nivea. It was a project which ran for the whole year, which means it would appear on Father's Day or Mother's Day with the kids included," she said.
Admitting that she had made peace with people confusing the ad with her real-life, Diana went ahead and clarified that she never had kids nor a family before meeting Bahati.
"This translated to people thinking I was married before. I have never been married nor had kids but I don't mind being called mummy," said Marua.
Read Also: Diana Marua denies claims she stole designer bags in explosive post
In the same video, she further disclosed to meeting Kenyan professional footballer Victor Wanyama through a mutual friend and added that the two had never dated.
Another user asked how many men she had dated and Diana defended her self-saying she would not disclose the number because many men including fans would put her under scrutiny with photos, some of which she just took with her fans.
Diana was recently a trending topic on social media after she confessed that she went out with another man but lied to her husband that she was at her grandmother's place.
She revealed this on her 'Truth or Dare' video on YouTube. Bahati asked Diana to say the biggest lie she had ever told him.
Marua prefaced her answer by telling the singer that at the time, she didn't believe he was serious about dating her.
Bahati also asked the mother of his two kids whether she had ever cheated on him. 'No' was her straightforward answer.
"I don't even need to think about that because I've never cheated on you," she said.
This put them on the spot with many netizens poking their noses in their past lives. Nevertheless, Marua rose above the critics and sent a message of assurance to Bahati.
In her public message to the singer, she revealed that people may call him (Bahati) a mistake but he's the best mistake she made.
"If loving you was a mistake, then you are my favourite mistake. Mistari tuu..." she wrote in part.
Read Also: Gospel industry is messed up, says Bahati as he shuts down EMB
Akothee, who has become a friend to the family and even did a gospel song with Bahati, was in full support of Marua writing:
"Love is a beautiful thing, it has no age nor class, it's a matter of two hearts and chemistry crowns it all. Love is a decision made by an individual to stick to their partner and embrace all their faults and strengths, Diana Marua you are a superhero wife to Bahati.
"Yes Bahati is an orphan, so you qualify to be his mom, we are all mothers to our husbands, even the ones carrying succession packs with empty pockets still want to be pampered. Pamper your man and take care of your family."
Related Topics