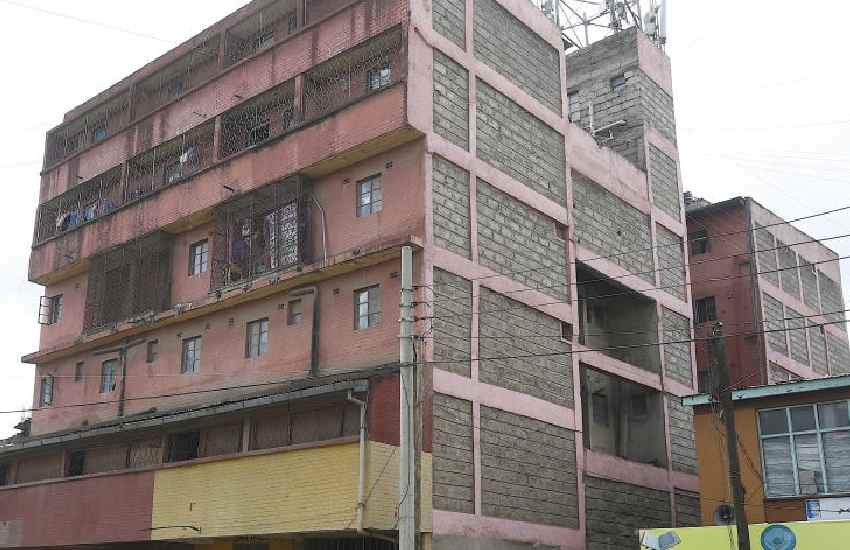 In life, he was a recluse millionaire. Not the type that could make heads turn or tongues wag. And for a decade his remains have laid in peace. But this is about to change.
Fredrick Kagio Kinyua died on July 5, 2010, without a will, and for a time, the estate was administered by his wife in trust of their ten children. Last month, the High Court declared how his property will be distributed.
Kinyua's widow Esther Njeri and his seven daughters and three sons are fighting over the estate administration in Nyeri County. Five daughters were unimpressed with their mother on how she used over Sh200 million collected as rent from their father's estates in Nairobi.
Agnes Gathigia, Ann Wanjiku, Rose Wanjiru, Cecilia Wahito, Lilian Wakiuru Kagio complained that since the death of their father, their mother collected over Sh90.9 million in property rent, which rose to Sh200 million, as at December 2015, but failed to account for it.
Read Also: Mystery over tycoon's death in toilet at his Westlands home
In February 2018, the 80-year-old widow filed a succession case at the High Court in Nairobi applying for confirmation of the grant as the administrator of the deceased's estate.
Njeri wanted the entire estate devolved to her but the application was objected by five daughters, who argued that their mother was entitled to a life interest in the property and that she was not entitled to absolute claim to the estate as she proposed.
At stake were Kinyua's shares in Mumias Sugar Company Limited, East Africa Breweries Limited, Safaricom, Kenya Airways, National Bank Limited, Kenya Re-Insurance, Kengen, Centum, ICDC Investments Company Limited. Other shares are with Taifa Sacco, Kenya Commercial Bank, HFCK, Ndekaki Company Limited, Barclay Bank and Standard Chartered.
Filing affidavit
In real estate, the deceased had joint investments in Nyeri among them being in the tourism and hospitality industry. Other property include 23 plots distributed in Nairobi, Nyeri, Nyandarua and Laikipia counties.
Back in December 2015, the court had ordered Njeri to supply the statement of accounts or she would lose her right as the estate administrator.
After filing an affidavit with the required accounts documents in January 2016, the daughters sought the supplied documents struck off arguing they were inadequate and applied to have two of them (Wanjiru and Wakiuru) be listed as the administrators.
The daughters wanted their mother to provide all documents including bank statements, invoices, rent income receipts and all other documents relied on in the preparation of the financial statement for the period from July 2010 to 31st December 2015.
They also sought the court to restrict their mother from interfering with their right to receive and collect rent from two houses namely Wangera house and Mlango Kubwa.
Justice Aggrey Muchelule of Milimani High Court distributed tens of prime plots, apartments and shares for the discreet trader, who hailed from Mukurweini.
Described as a straightforward, generous and a staunch Catholic, Kagio offered his resources in construction of schools, churches in his village.
In the ruling, Judge Muchelule said that the documents were not professionally obtained.
Read Also: Ambwere - Western tycoon who offered to pay teachers
"The documents talked of gross income, which was estimated and the estate was not subjected to any audited account. The actual income and profits of the rental income from some of the properties of the estate was not ascertained and the estate was not valued," said Muchelule.
He went on and declared how the property would be shared among the children and their mother referring from two distribution proposals filed by the five objecting daughters and their mother.
Two parcels of land located in Gikondi that hold the matrimonial home was given to Njeri and two sons - Stephen Muthuu and Charles Kinyua, each getting equal share.
"From the submissions, it was agreed the proceeds of the accounts in Barclays Bank, KCB, Standard Chartered, HFCK and Equity should go to the deceased's widow. I allow that," said the judge.
Shares in HFCK, KCB, Kenya Airways, Kenya Breweries, East African Breweries, Taifa Sacco, ICDC, Centum, Kengen, Kenya Re-Insurance, National Bank, Safaricom and Mumias Sugar were also given to Njeri. Shares in Nyeri Kamuchinde Hotels went to the daughters.
The court, however, declined the daughter's proposal to get other 6,738 shares in South Tetu Hotel & Bars giving them to their mother and brothers.
Related Topics