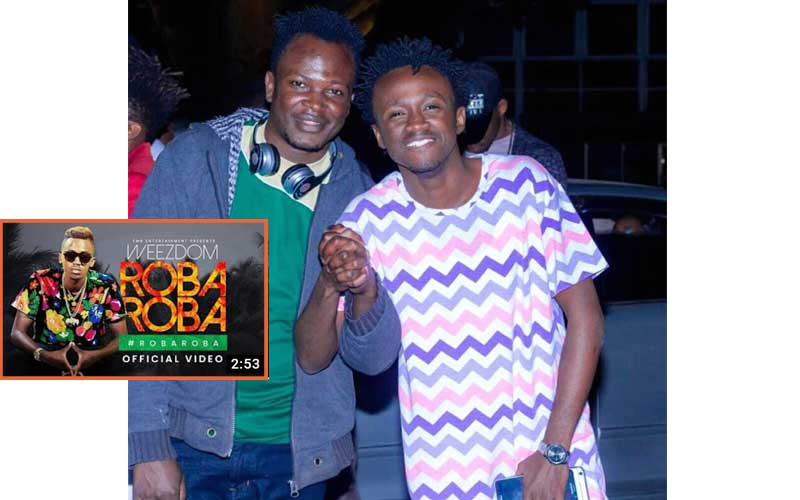 Eastlands Most Beloved (EMB) record label's CEO, Kevin Bahati has found himself in yet another fix with a former employee after producer Paulo accused him of editing and using his work without his consent or payment. The former EMB records producer claimed Weezdom's latest song dubbed Robaroba was one of the projects he helped create during his time at the record label but was never compensated.
"They copyrighted my work without my consent and also removed my trademarks logo from the song hence infringing my right as a producer," said Paulo.
READ ALSO: 'Bitter brotherhood' in Bahati's EMB Records?
Arrest
In January, Bahati sent Paulo to jail alongside Peter Blessings accusing them of stealing from the record label. However, according to the producer, the items he was being accused of stealing were gifted to him. He later asked for forgiveness from Bahati.
"Yes, he got us arrested but I have considered forgiveness. He accused me of stealing his studio things. I had taken some things which he had given me and there was a misunderstanding that I had stolen them. I just want to tell Bahati that I'm sorry, he should just forgive me and go on as we were," said Paulo during an interview with Word Is.
"I was given a call by someone who said he was a journalist and that he needed an interview. That's when I found it was the police, who escorted me to the police station. At the police station, they accused me of stealing," narrated Paulo.
However, according to the producer's lawyer, Bahati had him arrested on claims that he was tarnishing his name and that of his company.
READ ALSO: We disown you as the gospel ministry in Kenya- Ringtone to Bahati
"Bahati and Weezdom came to the station and said the producer was spoiling his name because they had agreed before that he was not supposed to say anything about what happened during the first arrest. Bahati said he was taking him to jail."
Fallout
Bahati has in the past had serious fallouts with his staff, with some exiting the record label prematurely and others ending up in jail. The biggest fallout in EMB history involved Bahati's former 'bestie' and EMB signee, Mr Seed. Bahati accused Mr Seed and David Wonder, also formerly an EMB signee of owing him millions.
READ ALSO: Mr Seed's spouse Nimo Gachuiri was not put behind bars in Thika as alleged
"Sijawahi ongea hii kitu somewhere else but nadai hawa vijana more than Sh6 million, that's why they created a story to trend, but time will tell," Bahati said.
Related Topics