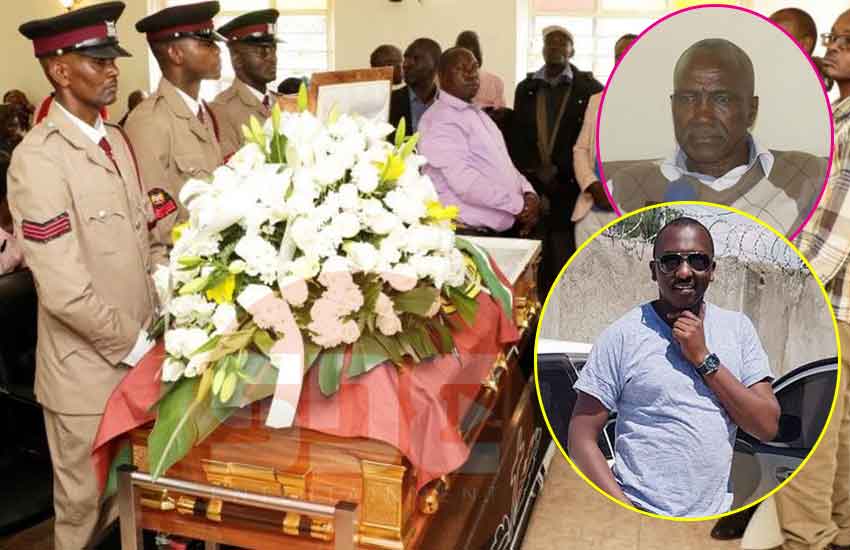 Family and friends of slain Police Sergeant Kipyegon Kenei were yesterday overcome with grief as they viewed his body for the first time since his death.
Emotions ran high and anguished cries filled the air as mourners congregated at Umash Funeral Home in Nakuru County.
Sgt Kenei, an Administration Police Officer attached to the office of Deputy President William Ruto, was killed in mysterious circumstances with his death linked to a Sh39 billion fake firearms scandal.
Read Also: Kenei's blood will haunt you forever - father to killers
While mourning his son at the funeral home, Kenei's father, John Chesang said the killers will not go unpunished.
"I have a strong conviction that my son's blood will forever haunt those who killed him. He didn't commit any offence and his murder will not go unpunished," said Chesang
Chesang asked the government to ensure the truth about his son's murder is not covered up.
"I urge all officers in this country to do their duties without fear. Work diligently and the truth will always stand with and for you. We expect transparency in the investigations without any form of cover up for the sake of any other officer who may be working in such a risky environment," he said.
Read Also: Sergeant Kipyegon Kenei to be laid to rest on Saturday
He said the family is yet to come to terms with the death of the 33-year-old officer. "It has been a very painful experience. We thank the police officers for supporting us. I'm glad investigations have revealed that my son did not commit suicide," he said.
Kenei's mother, Alice Chesang was overwhelmed with emotions and her message was passed across by her daughter-in-law, Florah Rono.
"Our mother's prayer is that even as Kenei is laid to rest those behind the killing will be brought to book. His blood was innocent. We hope that he will receive justice," said Rono.
Related Topics