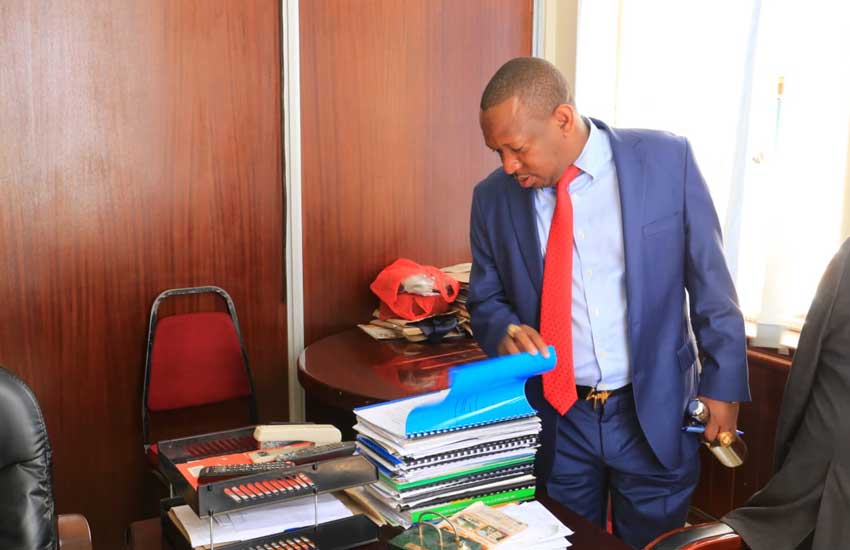 Spending three hours with Mike Sonko can be an excruciating affair as enduring a root canal surgery. He juggles five phones that ring incessantly, has people budging into meetings, which gets him distracted. Then there is a bottle of Hennessy as well.
We had planned for an interview which took two weeks to schedule because he wasn't in the city. Then one evening, he just called out of the blue and invited us to his private Upper Hill office where he conducts official County business.
Upper Hill's rustic order stops the moment you exit the road and get into a side lane that leads to Sonko's office. The first things you will notice are the Sonko Rescue Team fire trucks and water bowsers. A few graffiti covered matatus that look grounded are also parked on both sides of the road. As you move nearer, it becomes a single lane because of the volume of traffic coming or leaving Sonko's office.
We drive to the gate where a 'soja' asks for identification through a peep hole and without a word disappears. He comes back a minute later and asks us to park anywhere and walk in. By then three other cars are lined up behind us prompting a colleague to get out and take up the duty of a traffic marshall as we ease off the gate and look for 'anywhere' to park. Evidently, everyone who came to see Sonko has parked 'anywhere'. We drive through the chaos and squeeze our car between a Range Rover and a Probox and walk back to the gate.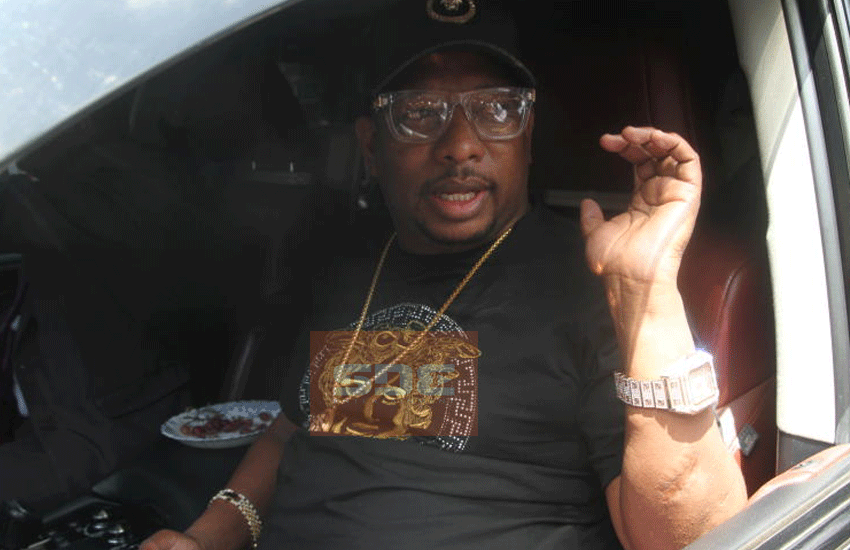 Four heavily armed police officers in camouflage uniforms and scores of private security men are riding shotgun. The private security are all in cheap ill-fitting black suits. Some don dark glasses even though the sun went to sleep an hour ago. We are frisked twice – by private security and cops. Phones, recorders, notebooks and pens are taken away. "Utapewa kalamu huko ndani," says one gruffly.
We are led to a room full of people. The sofas are full so we have to stand as an aide gets us some chairs. The room has 18 people, men and women, all waiting to see Sonko. I can spot two of his county executives also waiting to see the boss. It's 7pm.
After 20 minutes, a man walks in with a list and calls out our names. We follow him to another officer where police officers frisk us again. No electronic gadget is allowed in. Not even a watch.
After a thorough search, we are led into Sonko's office where, in the first room, is a band of Asians chewing miraa at a table. One of them, with green miraa juice caked all over his lips and crusted on the corner of his mouth, leads us to another room and asks us to wait. In the room are five women bonding with a bottle of whisky on the table. We take our seats and wait for another 20 minutes before Sonko walks in, a phone on one ear, barefoot.
It's now 8:24pm and Sonko who has finished his phone call offers a soft limp hand and sets a different interview apart from the one we had scheduled. And no, he won't answer any questions, unless it is to do with this new topic. He orders an assistant to show us a documentary.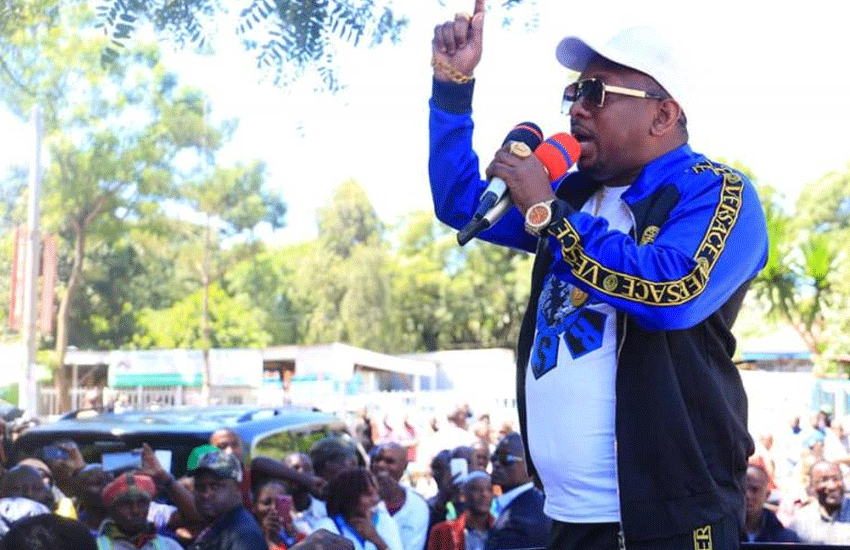 By 9:05pm, we are still in the office. Meanwhile, all his five phones interchangeably light up like Christmas trees. An aide comes in, whispers to him that someone has been waiting for him since five.
"Oooh…, niyule jamaa alikuwa anataka kujinyonga juu ya bibi? Mwambie nitamwona kesho. Aekewe mahali alale. Akitaka kujinyonga ajinyonge hapa. I will help him tomorrow," he dismisses the aide before one of the girls confronts him. She insists that he must settle the man's issues. Apparently, it is a marital dispute, which Sonko fixes in a series of calls – all on speaker. The man grateful leaves Sonko's office in tears.
We have barely resumed our interview when former MP Kalembe Ndile bursts in. He is accompanied by several women whom he says are Mulu Mutisya's daughters. Someone has grabbed their ancestral land. And just like that, Sonko has shifted his attention to help the women. He makes phone calls to government officers in the ministry of lands, manages to get the local area chief in the grabbed land jurisdiction and promises to talk to the DO and the DC the following day. He leaves with Mutisya's brood and comes back after 10 minutes.
It's now 10pm. We start the interview again but his phone rings. A woman has a daughter stuck in Saudi Arabia and she needs to get back to Kenya. Sonko looks for the ambassador and calls the diplomat. Within 10 minutes, he has finished and the girl will be in the next plane back to Nairobi.
He leaves the room and goes for another meeting in a different room.
He comes back 20 minutes later with an old man who has been waiting to see him for hours. They converse in Kikamba before he calls his cook and instructs him to give the old man some money. The cook, holding a wooden spoon, dips into the folds of his chef's uniform and whips out a bundle of notes.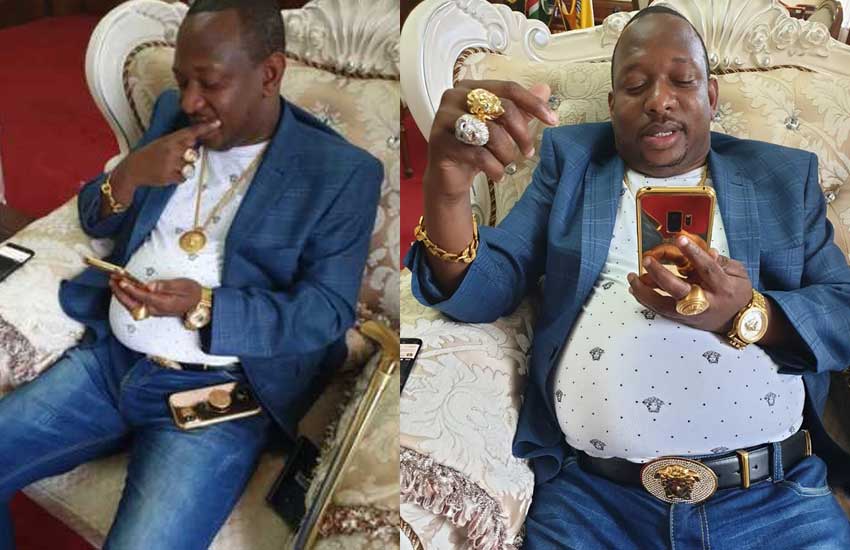 At that moment, County Executive Charles Kerich walks into the room seeking leave from duty. He has some commitments and has to travel to the village.
Sonko: Ile mambo ulimaliza?
Kerich: Ndio. Hio Mambo iko sawa.
Sonko: Na ile kitu iko sawa saahi?
Kerich: Iko sawa."
Sonko: Na yule mtu amesaidika?
Kerich answers in the affirmative before Sonko allows him to leave.
As Kerich leaves, Sonko says, "Huyu (Kerich) ndio dawa ya hao cartels. Huyu ndio anaaweza. Huyu ndio kiboko yao." He suspended Kerich three days later.
It's now 11:14pm.
We have spent almost four hours without getting a straight answer from Sonko on any issue. I excuse myself and leave. The reception is still full of people who want to meet Sonko. The Asians are still chewing miraa and some women covering the Nairobi chill with lessos are seated outside whispering in low conspiratory tones. The compound is a beehive of activity.
I leave Sonko's office with a throbbing headache and it's compounded by realising a lorry has parked in front of my car, while a Land Cruiser has parked behind me. This is the heart of Sonko's power base.
Related Topics