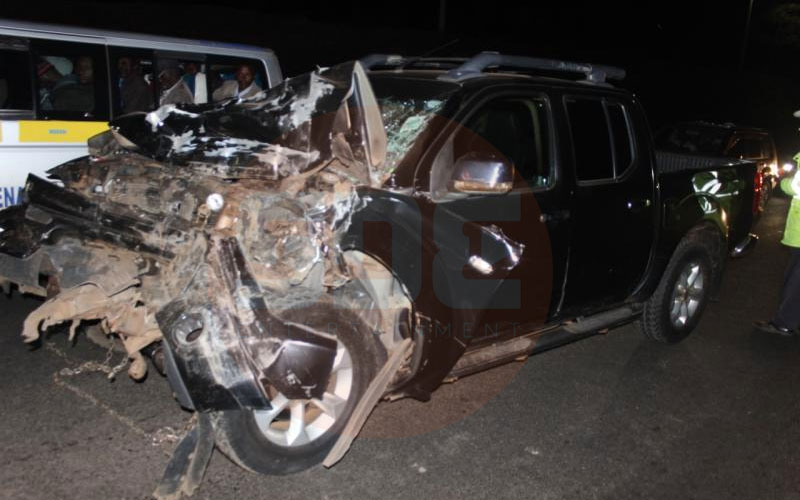 Kikuyu musician Mike Rua has shared the last moments he had with his friend John De'Matthew who died in a road accident on Sunday night.
Speaking to The Standard on phone, the shaken Rua said he had spent the whole of Sunday with De'Matthew at a fundraiser in Gatanga organised in support of fellow musician Peter Kigia's ailing child before going for drinks on Thika Road.
According to Rua, De'Matthew was emotional during their last moments together and broke into tears after he reminded him of a past incidence.
Pressed to touch on the specifics, Rua said that he could not remember since they were having drinks and De'Matthew left afterwards.
"I spent most of Sunday with him. Just before we parted ways he was crying when I brought something up which I cannot remember since we were partying," said Rua.
Kikuyu benga musician John Ng'ang'a Mwangi alias John De'Matthew rose to fame with his timeless hit My Dear Nduku in 1987.
The song that would capture the hearts of Kikuyu music lovers is a fictitious rendition of De'Matthew's deep loss following the death of his lover, Peris Nduku, in a tragic road accident.
The legendary singer manages to weave this loss into the hearts of his fans when he sings; "Nduire ngumisaga… korwo kuu wathire ni Mombasa no njuke… Nindatuma rambi rambi ciakwa kwi Ngai na ndamuuria akuige handu hega…muthenya wakwa wakinya ni ngoka (I still miss you. If you had left for a place like Mombasa, I would visit. I send my condolences and pray to God to keep you ... when my day comes, I will join you).
The song, whose popularity never waned, catapulted De'Matthew to music stardom.
Over the years, he went on to compose other hits, among them Njata Yakwa, Njambi, Tuuragio Ki, Muoyo ti Kibandi, PIN yakwa and Ngoro Gitina.
De'Matthew's sudden death on Sunday night in a road accident on Thika Road eerily mirrors his make-believe lover's departure from earth 32 years ago as the couple travelled to meet De'Matthew's parents.
The singer had left a Thika hotel and was driving his Nissan Navara pick-up when he rammed a trailer.
Earlier, De'Matthew had spent the day with fellow musicians and fans of Peter Kigia wa Esther at Metro Fill Hotel in Thika, who had gathered to raise funds to pay for Kigia's daughter's treatment in India.
Kigia was overwhelmed as he described his last moments with De'Matthew, his long-time friend. The popular artiste was rushed to Thika Nursing Home where he died. His body was later transferred to Kenyatta University Funeral Home.
The death of the singer, who inarguably assumed the title of king of Kikuyu benga following the death of legendary musician Joseph Kamaru last year, left his fans in Kenya and abroad reeling in shock and disbelief.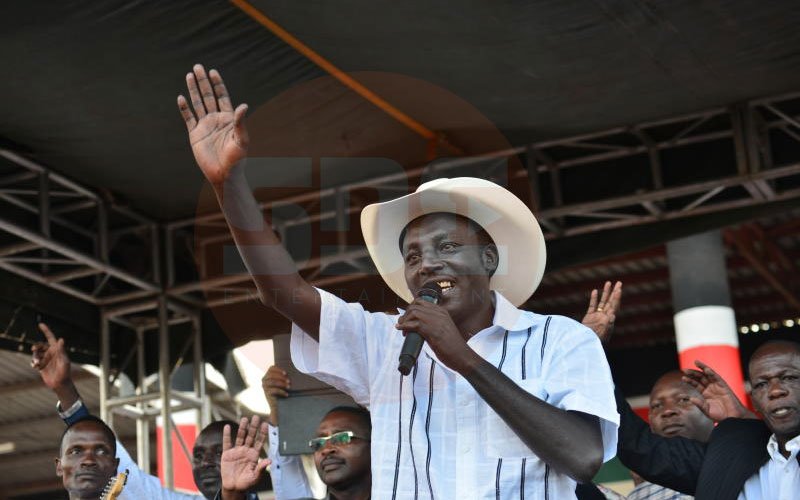 As news of the musician's death spread in mainstream media and on social media, his unbelieving fans were nudged to pen messages of condolences as they reflected on the cherished moments they had shared.
Poetic lyrics
His music filled the airwaves yesterday as fans' requests poured into Kikuyu vernacular radio and television stations.
His videos on YouTube also saw a surge in the number of views as listeners sought to listen to his poetic lyrics.
De'Matthew was a great composer of Kikuyu lyrics, which carried deeply veiled messages of societal ills like alcoholism, as well as promoting peace and cohesion in society.
He had about 50 secular albums whose songs were imbued with words of advice that transcended time, age and communities.
De'Matthew was born in Gathiru-ini village, Mukurwe-ini sub-location, Gatanga Constituency in Murang'a County over 50 years ago.
The fourth born in a family of eight children took the name De'Matthew from his father, Matthew.
He attended Mukurwe-ini (now Githambia) Primary School where he is said to have composed his first song. He proceeded to Naaro Secondary in Kandara and Igikiro Secondary School.
De'Matthew used to hawk cabbages and potatoes at Nairobi's Soko Mjinga market before he ventured into music.
In previous interviews, De'Matthew credited popular Kikuyu musicians Timona Mburu and Joseph Wamumbe for introducing him to a full-time music career.
He said the two artistes helped him release his first single Jenifer in December 1986, which was followed by My Dear Nduku in August 1987. The song was produced by Albert Gacheru (Wa Maitu).
Until his death, De'Matthew was the chairman of Talented Musician Sacco (Tamco), which sought to uplift the welfare of musicians by investing in real estate.
Musical force
De'Matthew, who was a force in the music industry, is credited with bringing together feuding musicians and uniting them towards a common cause.
One of De'Matthew's bestselling song was Njata Yakwa, which he performed with Murang'a Woman Rep Sabina Chege. Yesterday, Sabina mourned the musician as a dedicated and inspirational person.
"I have seen you grow as a person in the music industry. It is with humility that we accept God's will for he was still on the throne when the accident happened," she said.
Many people thought the two were lovers, but De'Matthew would in an interview clear the air, saying that Sabina was just a pillar in his music career.
In 2012, De'Matthew's music was cited for hate speech. The case was later dismissed.
Related Topics