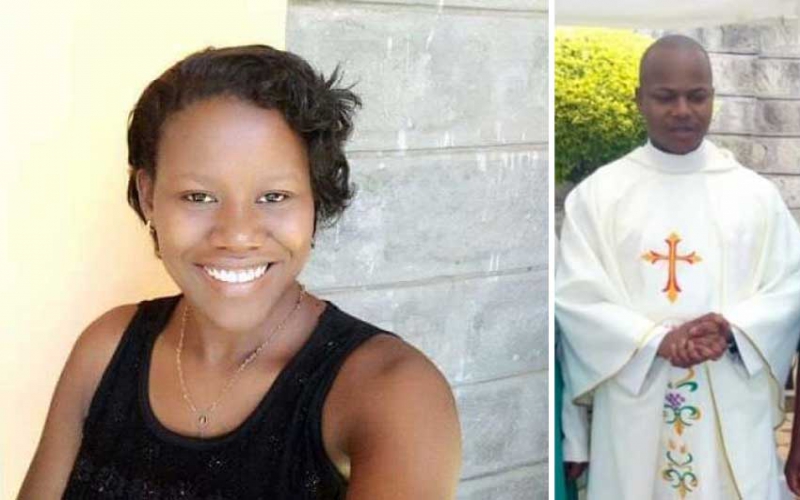 Janice Ntinyari, the 25-year-old lover of a slain Meru priest has revealed her last moments with the man of God. The couple began the day in high spirits, completely unaware of the tragedy ahead.
On that Monday afternoon, Father Eutychus Murangiri, 32, drove to their favourite rendezvous in Meru town at around midday where the two met.
On the cards was a promise of a night of revelry that the two had grown accustomed to.
Like many other previous meetings, this one too started with a phone call and the setting up of a date. Janice says the father preferred meeting on Mondays because this was his official day off.
"He would drive from Limbine in Tigania West in his Toyota Camry while I would use public transport from Nkubu for our Meru meetings," Janice told the Sunday Standard.
The two would cover a combined distance of 70 kilometres every Monday to fall into each other's embrace.
Read Also: Meru priest murdered in bar, body found in pool of blood
The return trip would see the father cover a 40km return journey while Janice's trip would rack up 30 kilometres. This had been going since 2013, when Janice was a 19-year-old college student and the father on his journey to priesthood.
Feeling sleepy
On that fateful Monday though, the Father was in unusually high spirits and even introduced Janice to one of his friends after which the two lovebirds drove to Makutano Town and settled in a bar, setting the tone for the remainder of the day.
Here, a childhood friend, whom Janice identifies as Valentine Kinoti joined them some minutes later at around 1 pm and the friends drunk up to 10 pm.
By this time, she was a bit tired. Perhaps from the trip, the two had made or from the general malaise brought about by her five-month pregnancy.
Sleepy, she left the bar and proceeded to a room she had booked together with Fr Murangiri at the Kinoru Gateway Hotel.
"We were together but l was too tired and l had to go to bed to rest. I asked them to excuse me before l checked to the room," Ntinyari said.
But there is a twist to the romance. The pregnancy belongs to another man.
"The man responsible is a teacher I met when l was in Kajiado where my family had set up a new business," she said. "The priest did not know this was not his child."
The other man is a teacher from Western currently practising in Embu. About two hours after she had left the bar, Janice was woken up from her slumber by loud banging on her hotel room door. "It was the hotel manager.
He told me that Fr Murangiri had been stabbed," she says.
She was then told that after having enough for the night, the priest and his friend had left the night club and walked for about 100 metres to a miraa vendor to buy some before parting ways.
Read Also: Priest murdered after partying was my lover for six years, waitress says
According to police reports, it is believed the priest met his killers as he walked back to his car, which he intended to park closer to the guest house.
A guard at the club told police the priest, while bleeding, walked from the direction where his car was parked before collapsing near the door. He told police the priest's friend rushed to the club after the attack.
Meanwhile, Fr Murangiri's family has admitted to knowing Kinoti but denied knowledge of any relationship between their kin and Janice.
"I wish to state that my son was not involved with any woman. We do not know her or where she is from," his father, Domiciano Muthuri said, adding that Fr Murangiri, a second born in a family of six children, was well-behaved and showed interest in priesthood when he was still young and never turned back.
Janice, a hotel manager in Nkubu town, has distanced herself from the killing of the father, saying she is as shocked as anyone else.
Fr Murangiri, an alumnus of Meru School and Catholic University of Eastern Africa (CUEA) before joining the seminary, was described as bright, obedient and diligent. Meru Catholic Diocese Spokesman Oreste Murimi said Murangiri will be buried tomorrow at Mujwa Catholic Cemetery.
Related Topics