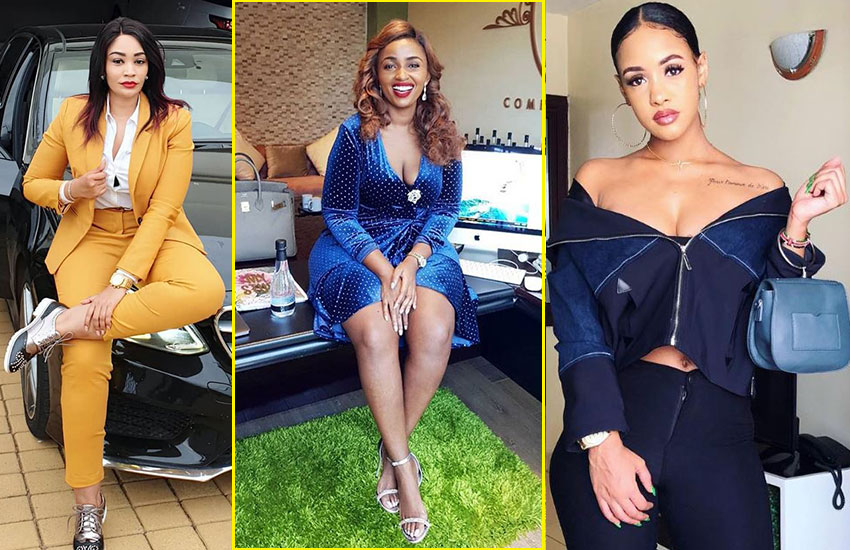 From Zari Hassan rattling Tanasha Donna to Anerlisa wondering why fans were congratulating her for a coming baby she didn't know anything about, what a treat this was in celebvile world this week.
First of all, how did Zari get to Wasafi Media to talk trash about her ex-boyfriend Diamond and his hot Kenyan flame Tanasha Donna?
Wasafi Media partly belongs to Diamond, right?
It's been a week of hot exchanges and as it seems, not even the rainy cold weather in Nairobi can cool things down. In this below-the-belt punch, Zari was quoted as having referred to Diamond and Tanasha as 'idiots' before the two hit back.
It didn't sound like the usual friendly fires we are used to celebs raising to keep the social media numbers rising, no! Zari, who is said to have found new love seems to be leaving the station with a thud! And she is sounding really bitter while making the 'final' exit submission.
Apparently, Diamond had tried to insinuate that indeed he had prove that Zari was having something going on between Zari and the one half of the former P-square duo, Peter Okoye as well as a trainer, something that could have been the genesis of their break-up. It was the first time for Diamond to come so strongly on Zari since they part ways about a year ago.
And while the drama unfolded, it was Tanasha who came out smelling good even after Zari had come out provoking hard.
"Y'all know I don't speak unless really needed but damn, I am just out her like what do I have to do with this? I am sorry but I will not respond by speaking ill of someone I don't know, I am all about positive energy.
"I can never disrespect a woman I have never met and don't even know simply so I can get a point across. I have no reason to hate to be honest. I am just a nobody who is out here grinding and tryna get these cheques, way too mature to tear another woman down. Yours sincerely, idiot," Tanasha responded on her Instagram page.
"By now my ex is telling his new girlfriend how bad I was and the girl too will be feeling pity for him thinking she's got a saint. Two idiots," Zari lashed out.
Then how would this be! Someone is busy out there congratulating Anerlisa and Ben Pol over a coming buddle of joy the two know nothing about! It could be a wake-up call, or let's just say, this could be a cue to action if not a little truth.
"Congratulations Ben Pol and Anerlisa. With permission baby reveal things," this trusted big name had commented.
"Baby reveal," a sounding astounded Anerlisa wondered as fans bombarded her social media platforms with all the congratulatory messages the good language can offer. What a week!
Related Topics