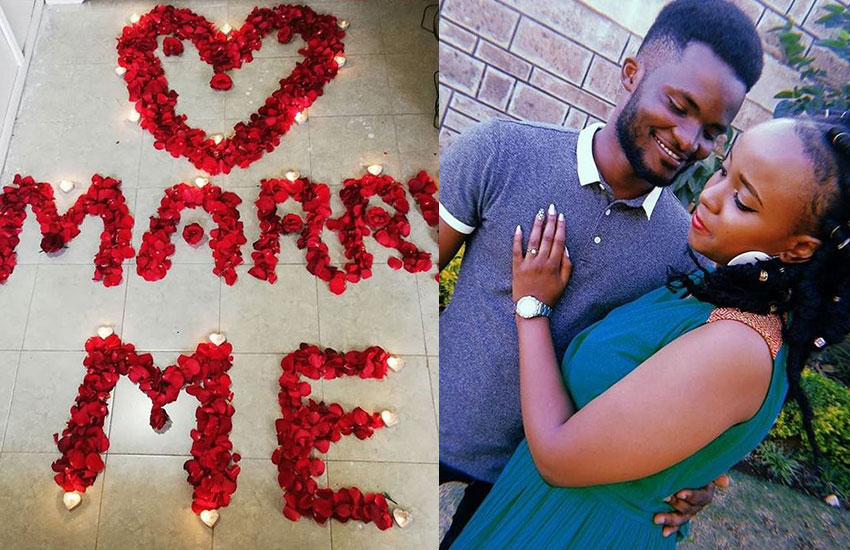 Popular Kenyan singer cum choreographer Bruz Newton is one step closer to quitting the bachelors club after proposing to his girlfriend.
Famed for Bazokizo and Zigwembe ya Yesu anthems, Newton popped the question in style by lining red rose petals into the magic words that he dotted with shiny gold heart pendants.
Sharing the news via Instagram, the dance guru stated that love "love doesn't cost a thing, but only honest actions" that matter.
"Expressing love is not based on how expensive you go, but how genuine you are with your actions. A simple deed can hit the deepest part of the heart. Like the other day, I realized a rose flower is only 20 ksh. It's not that men are not romantic, I realized we over think and overestimate everything, but if you do your research well. You will realize love doesn't cost a thing, but only your honest actions," posted Newton.
The response from his partner told it all.
"I said yes. I've learnt that whenever I decide something with an open heart, I usually make the right decision. You my love? Are the best thing that ever happened to me. Thank you for your love and support. This has been a long journey for us and I can't wait to conquer more with you. I heart you," read her message.
His touch on Bazokizo with veteran rapper Collo catapulted him to countrywide stardom and landed the two Song of the Year, Afro Pop Song of the Year and Collaboration of the Year Groove nominations in 2017. They won the latter.
Speaking at the time, Newton said that the project was as a result of a chance encounter with the rapper during the shoot of Gudi Gudi.
Related Topics