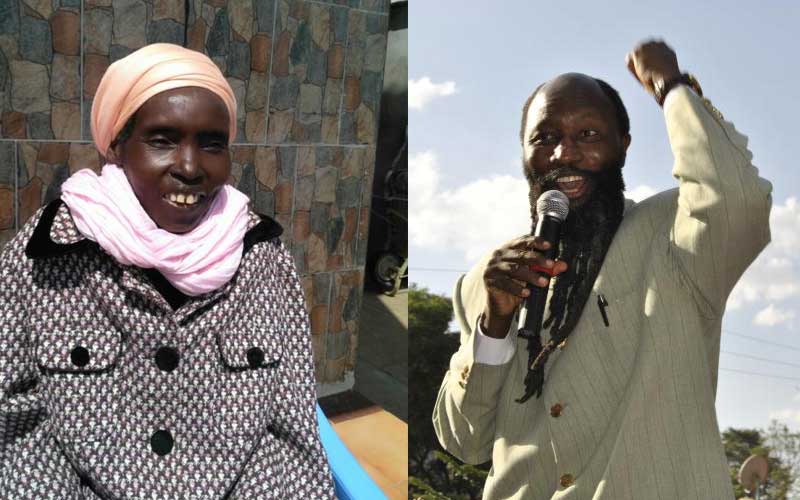 On Saturday, Rosa Chepochesau Samson was buried in Talau village, West Pokot.
Mama Rosa, as she preferred to be called, had died four days earlier and the only mention of an ailment in her eulogy was arthritis.
The 59-year-old woman had lived an ordinary life until June 2017 when the news of her "death and resurrection" spread like wildfire.
Thousands of followers of the Ministry of Repentance and Holiness, which is led by David Owuor, a self-professed prophet, travelled from all corners of the country to Cheparten village in South Pokot to witness this "miracle".
Rosa's husband, Samson Rotirakori, testified then that he truly believed his wife had died for about two hours and that it had taken Owuor's powers to resurrect her.
During Saturday's burial ceremony, clergy from Ministry of Repentance and Holiness churches in the North Rift were in attendance to conduct the final rites.
Those who rose to speak mourned Rosa, saying she was the only person to "die twice" after being given a second chance by Owuor to live after resurrection.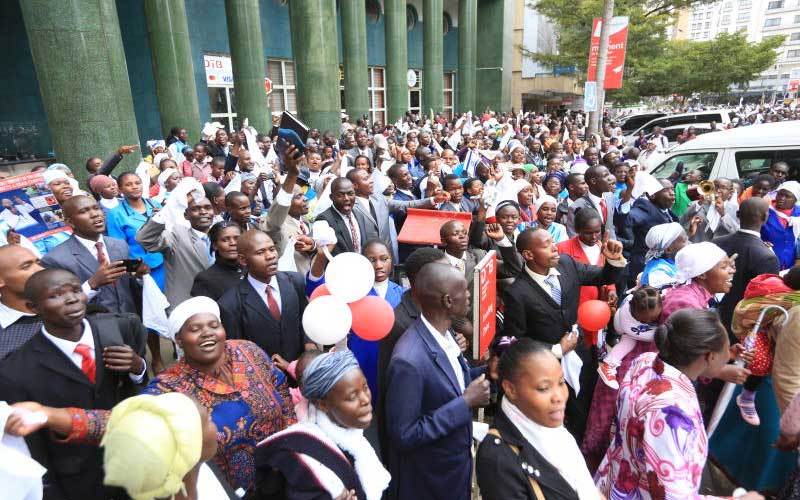 Family members, led by Paul Kibet, eulogised Rosa even as they thanked the church for standing with them.
"We are saddened by her demise but we also use the platform to celebrate the years she was alive. She knew the value of Christ and we have all heard of her testimony. We are grateful for all those who attended the ceremony," said Mr Kibet.
The family insisted that Rosa had been resurrected through Owuor's intervention, which had led his followers to march in the streets singing praise songs of his prowess.
Her husband said that when Rosa's condition worsened, he had called a senior pastor and requested him to send a prayer request to Owuor.
"Immediately after the phone call, Rosa stopped breathing and stretched out her hands and legs. I covered her with a blanket and my daughter, Ivyne Chesang, who was beside her tried, to close Rosa's eyes but the eyes couldn't close. Her body was cold and stiff and the heart had stopped pumping," said Rotirakori.
Coughing and sneezing
The husband narrated that at 12.51 am, he received a text message from Owuor saying 'it is well' and to their shock, two hours later, Rosa suddenly begun coughing and sneezing. She then asked everyone, twice, "who has brought me back?"
Rotirakori did not say whether the family had made any attempt to seek medical help, or to get a medic to confirm his wife's demise.
According to her eulogy, which was read during the funeral, "The late Mama Rosa was initially diagnosed with arthritis and died in June 2017 before she was resurrected by the mightiest prophet who uttered three words 'it is well".
"We have not seen such wonders, but we know that Mama Rosa is in heaven. It is a great celebration; her resurrection and death," said Rosa's daughter-in-law, Grace.
"We celebrate her life. Rose realised a secret that without God there is no life. She preached many places. Many listened to her clarion call," said another relative identified only as Joseph.
Speaker after speaker said they were confident Rosa had gone to be with the Lord in heaven.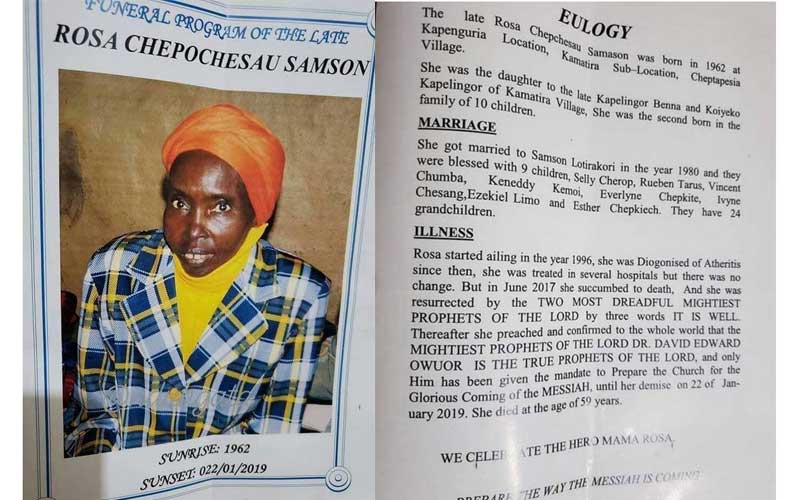 Related Topics