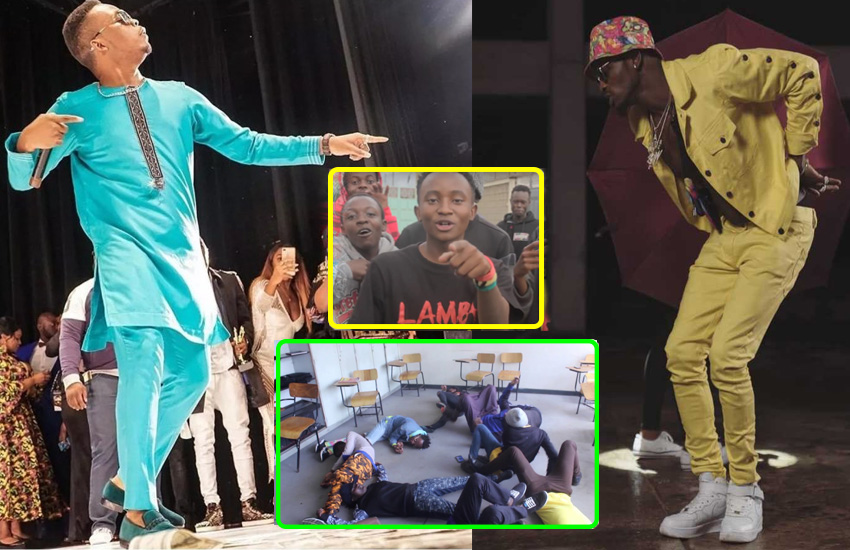 2018 was such a year when it comes to dance moves. Directors, producers and singers literally worked round the clock to keep their shine and stay afloat.
These entertainment players worked extra hard to put the best of dance moves in music videos.
We sample some moves that clicked.
Shaku Shaku dance
This was arguably among the most trending moves in Kenya in the last months of 2018.
From the viral Akorino bride whipping the moves expertly in her wedding, to the controversial Mwanza song, the dance moves kept Kenyan party goers occupied.
It is said to have originated from the vibrant streets of Agege in Lagos and pushed into mainstream media by Nigeria rap sensation Olamide in his song "Wo".
Since then, established singers have scrambled to sneak in a move or two in their music videos hoping to entice their audiences.
The dance steps mimics the walk of a drunkard or crazy antics pulled by someone high on weed.
To try it out, one is required to cross their arms on chest and thump each of their feet on the ground in turns with their bodies facing either left or right while staying put on their position.
There are dozens of tutorials on YouTube, and for bongo music lovers, Diamond Platnumz and Rayvanny packaged and delivered it pretty well in a much localized manner in some sections of their controversial song Mwanza.
Idibala dance
Better known as Malwedhe dance by Kenyans, it is credited to 26-year-old South African star King Monada it his song Malwedhe Idibala.
In the song, the Limpopo star croons of how he develops fainting spells when his lover cheats on him or fails to return home for the night.
But it is the "fainting" or "collapsing" part in the chorus that usually breathes life into a class of bored university students in a lecture room or a badly 'hangovered' staff at work on a rainy Monday morning.
Amazingly the collapsing fever also found its way into wedding ceremonies with bride, bridegroom and their best men/women occasionally 'fainting' during wedding jigs.
On their way to a match, Rugby Kenyan Sevens team recorded themselves 'fainting' with the song playing in the background perhaps to drain away tension.
But wait a minute, there is a warning from King Monada "I appeal to my fans not to 'Idibala' (faint) while driving. They must dance responsibly this festive season."
Vimbada
Kenyan gospel stars Moji Short Babaa and Jabidii gave Kenyans a refreshing dance move to sail them through 2018 with their song Vimbada.
The song features creative dance moves that involves swinging arms up-down in turns while the legs are slightly folded.
For better outcome place your thumbs against you knuckles of your index and middle fingers to make a fist before trying.
The dance move went so viral that Deputy President William Ruto's daughter Charlene Chelagat recorded herself with a friend taking the moves quite admirably.
Kanyaga Lami
This style is indisputably in every 'Matiangi generation' kids' bloodline and was pushed through by Ethic Entertainment in their controversial song Lamba Lolo.
However the name of the dance became more defined in the song Kanyaga Lami by Timeless Noel and Jabidii early November.
The Lamba Lolo crew do it so well that you would literally be tempted to pull the moves only to break your bones at first attempt.
It has close relations to Odi dance that was the craze back in 2017 that involves skilfully moving your hands and legs along with your "twisted" body around expertly.
Caution:As we earlier said, it is only reserved for 'Matiangi generation' kids, anyone older than that should stick to Lingala
Kwangwaru Dance
No song spiralled into craze mode along with its moves the way Kwangwaru – a song by Tanzanian musical heavyweights Harmonize and Diamond Platnumz - did.
Besides featuring lewd lyrics, the video stages skimpily dressed vixens with humongous derriere dropping them like there is no tomorrow.
The song and it moves was a 'must have' in the village deejays' playlists during the infamous disco matangas in Western Kenya and partly carried blame for runaway pregnancies in the region.
Kwangwaru moves requires one to slightly lean forward, swinging one's hand and butt in tandem. Beginners should arm themselves with basics skills of showing how 'teleza pangoni' and 'vunja vunja kidogo' is done.
For the female gender there is no short cut, learn how to "jiggle likkle".
Which ones have you tried this year?
Would you like to get published on Standard Media websites? You can now email us breaking news, story ideas, human interest articles or interesting videos on: [email protected]
Related Topics