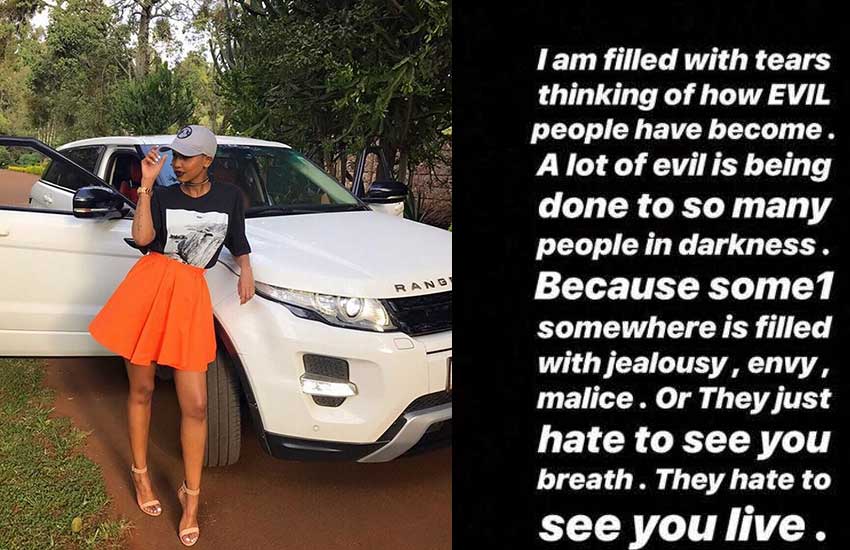 'Bora uhai,' are the words that Huddah Monroe must replaying over and over again in her mind after she claimed that someone wanted her dead.
Through her insta stories Huddah claimed that someone tried to kill her out of what she termed as "jealousy and malice" but she managed to get away.
"Past 1 week I've been through a lot. I can't believe I overcame death narrowly. Someone tried to get rid of me, get me out of this world and God prevailed. Don't play with God. When it's not your time it's not your time. I'm thankful for another chance. And when the time's right. Everyone will know everything that happened to me… Because all that's done in Darkness must come to light… I am a CHAMPION. A STAR. A KING," read Huddah's post.
She disclosed that the issue might have been brought up by jealousy.
''I am filled with tears thinking of how EVIL people have become. A lot of evil is being done to so many people in darkness. Because some1 somewhere is filled with jealousy, envy, malice. Or they just hate to see you breath. They hate to see you live."
She, howver, did not go into details as to what happened, but cautioned everyone about trust insisting on, ''trust no one.''
Since her return from Tanzania, Huddah has kept a low profile. Could her near death experience be the reason? As she stated, the truth will come to light.
Related Topics