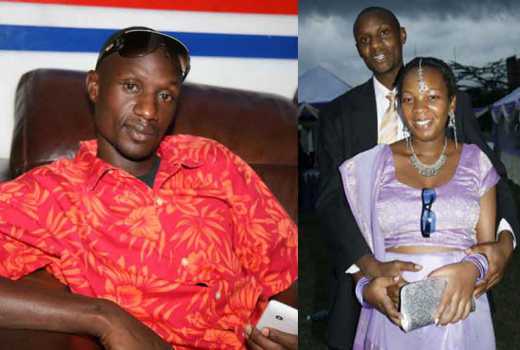 Mohamed Dola Otieno sits patiently and comfortably in a leather couch. He has been waiting for the interview with patience, something he cultivated as an investigative journalist with some of the leading media houses in Kenya and as a freelancer.
Spotting visibly-healed scars on his face and hands, the six-foot basketball fanatic is still a bit shifty in his demeanour especially with the curious glances directed to him.
"I am no longer Moses Dola but Musa Muhammad Dola. I converted to Islam while in prison," said Dola, whose phone call-back tune is a Qaswida (XXX).
"I have not yet legally changed my name but I am in the process."
Dola became famous after it was alleged that he killed his wife, Sarah Wambui Kabiru, a former journalist with NTV in 2011 in their house in Umoja Estate. What followed the accusations is what he calls the darkest period of his life.
"I was used to blowing not less than Sh4,000 per day on leisure. Here I was, lost on what the future holds and facing the possibility of being forever confined. I was like a mirror to the society with what I was doing (investigating the wrongs in the society). Here I was, said to be acting in contrary," said Dola, who grew up in Mombasa, Nairobi and Kisumu and schooled in various towns across Kenya.
On March 1, 2011, his wife was discovered dead in their house. Dola was later taken into custody where he spent 11 days.
On May 16, he was taken to Industrial Area Prison where he would spend the next 627 days in remand before his trail started.
"I dreaded the jail. I had helped take a lot of criminals in and I feared that something bad would happen to me in revenge attacks. I am glad the guys did not harm me," said a pensive Dola.
"I was used to the soft side of life. Nothing prepared me for a life in prison where people are locked in at 6pm. All I did was wake up, eat and as much as it was easy, the feeling that I was confined was too much."
He then discovered basketball.
After accepting that his residence had changed, he asked for a basketball from the prison authorities. He started playing a month after he was locked in and in a few weeks' time, he had a team.
"I became a coach. I was very influential as I was the go-to guy in matters sports," said a beaming Dola.
In January 25, 2012, he was involved in an altercation with some warders, which saw him suffer solitary confinement for 30 days after being forcefully shaved.
"Darkness. That is what I can say. Dark times with zero communication with the outside world. I was placed in a dark cell and doused with water and underwent a lot of beating with my hands and feet tied. I got pneumonia from the whole experience and only a date with the courts saved me," he said.
Dola says he had heard such experiences occurred in jails but he did not expect them in Kenya. He claims some officers were jealous of his growing influence in the prison.
During the hearing of his plea in court, he told Justice Nicholas Ombija of his ordeal and the judge summoned a warder in charge to appear in court and explain the allegations.
"It was a wake-up call in the prison's department because after it was highlighted in the media, things changed. I later on dropped the case because the officer would have lost their job."
Sh1 million bail
Dola converted to Islam, saying religion was his only solace. He had always been interested in Islamic literature and way of life and his incarceration offered him the change to explore the religion.
"I was accused of being a member of Al-Shabaab but that did not stop me. People think it is a gimmick but I know what God has done for me."
Dola left jail in December 2012 after depositing Sh1 million bail in court. But life after jail was harsh. He found his property worth Sh1.6 million missing and he had to start afresh.
The property included cameras, studio equipment and other electronics which used to earn him extra cash.
"I had to get away. I went around the world but came back because Kenya is home. I met a lady who has been understanding and has been with me throughout. She will be my wife soon," he said.
The woman, whose identity he declined to reveal, nearly left him after discovering Dola was 'still imprisoned'.
"I would sleep all the time or refuse to talk or go out. I think I scared her," he said.
Dola's reluctance to go out was out of frustrations owing to the way society viewed him.
"I had over 1,500 friends on social media. They are now 1,074. That is just online. True friends are no more. People I used to work with have shunned me. People avert their heads when I approach. But acceptance is important. I have decided not to care what people think of me. I have faith in what the court will decide," he said.
I now value freedom
Freedom is something Dola highly values. He says being in no control of one's time is very depressing. The 32-year old came out to find the world had moved on and says he has to pick up the pieces and deal with life's new challenges.
"I cannot spend Sh4,000 a day entertaining myself anymore. Every little sense and time is very precious. I cannot just leave my eight-year media career to stagnate. I had done a lot before I went in and my work speaks for itself."
Dola says his family offered him the greatest support and have continued even when his life crumbled.
His five-year-old son is currently staying with his late wife's family in Mombasa. Dola says he regards them as family, unless the conclusion of the case separates them.
"Every day I wake up to the realisation that my late wife is no more and I will forever carry that burden," he says.
He is currently writing his autobiography. He has also ventured into film with scriptwriting being his favoured entry point.
"I will get back to mainstream media one day. That is where I belong," the journalist says.
Related Topics