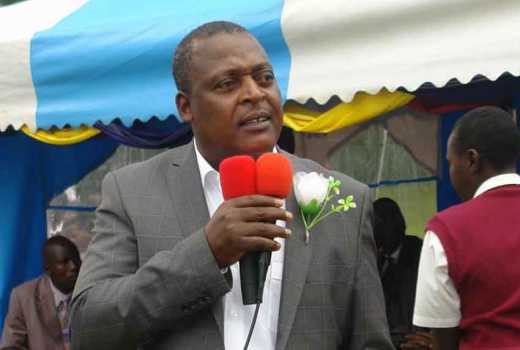 Cyrus Jirongo, the man whose name became synonymous with the Sh500 note was 31 years old when he led the YK 92 group that propelled Moi back to power in 1992. He spoke about political assassinations and why he believes he is better than William Ruto
Out of the blue, you claimed that, "If you want to know the killers of Jacob Juma (JJ) this is where to look." Why?
I come from the Luhya community and we take death seriously, especially if it's through murder. JJ had named people he claimed wanted him dead on Twitter. That's where investigations should start. I have been a victim of attempted assassination. When a person is assassinated in Kenya, you will hear a story about a woman, or money, and then the police will come with a stupid explanation about what happened.
Is it true that JJ slapped Deputy President William Ruto as you claimed?
I can't say what did not happen. It happened. And that is why upon JJ's death, I lodged a complaint on behalf of the community.
So, was Ruto your 'mtu wa mkono' in YK92 (Youth for Kanu 1992)?
William Ruto wasn't part of YK92. He worked for Julia Ojiambo at KICC (Kenyatta International Convention Centre) when he left university. My relationship with him from 1992 to 1997 was purely business. Ruto has a lot of energy, he is a brilliant man and works hard. You will admire his energy. We worked closely and I know him pretty well. He wasn't a member of YK92. It's only that we both got to Parliament in 1997, even though in my case it was very reluctantly.
When was the last time you spoke to him?
During the burial of former Minister Soita Shitanda. We had a chat with him and the president.
The deputy president claimed that you are jealous of him because he used to work for you, yet today, he has achieved much more than you...
My vision on what I want to achieve and be in politics is definitely different from Ruto's. My vision is a honourable one and to benefit my constituents. Clearly that's not his vision. The claim that I am jealous is a figment of his imagination. I can never be jealous of being in politics Ruto style.
In fact I had no intentions of getting into politics. (Former)President (Daniel arap) Moi nominated me to Parliament and decided to give me a ministerial position. I turned it down. My interest is in business. I got into politics under pressure.
Would you vote for Ruto for president in 2022?
I will vote for myself first.
What is your view of President Uhuru?
During a past political campaign, we spent a night in Kitale in my house. We stayed up late. He woke up very early the next morning and loaded milk onto the farm pickup. Uhuru was in my boma, milking cows, something I have forgotten how to do, while I was still asleep. Uhuru is a highly social and extremely likeable person. The only problem I have with him is that he must stop being a reluctant president and take charge. He means well and is a good person.
Why do you think Uhuru is reluctant?
I don't know whether he is under siege. I don't know, he is very intelligent and he can be Kenya's best president ever.
Are Luhya voters split?
No. We voted for Matiba as a community, we voted for Kibaki overwhelmingly, and voted for Raila Odinga twice. Luhyaland isn't split.
What about Weta? He wants to be president...
We have voted for other presidential candidates and the community is asking, was it worth it? What's wrong with asking those we have voted for to reciprocate? That's the feeling on the ground. If Weta or Jirongo decide to run, the community will vote for us to the last man.
Are you considering running for president?
It is something I am thinking about very seriously and consulting across board. In due course, I will make up my mind.
Is it because you want to see your face on the note they named after you?
(Takes a Sh500 note while laughing) Look at this picture; this is the face of a handsome old man. He has a gap between his lower teeth; I also have a gap, but it's between my upper teeth. Surely, this is a case of mistaken identity (laughs)!
You have been linked to corrupt deals. Do you think you have the moral authority to talk about integrity, or should you instead apologise to Kenyans?
Earlier, I gave you the anatomy of political assassinations. Normally, there is an economic crime behind it, and what the police do is to find someone to blame. I was nearly assassinated. The Goldenberg scale fleeced Kenyans of Sh150 billion and my assassination would have been a good explanation for that looting. There's no instance where I was named as being involved in Goldenberg.
I built Hazina Estate with money I borrowed. Unfortunately the bank closed down and instead of the Sh300 million I was supposed to pay, I was slapped with a demand for Sh1.6 billion. I am in the process of paying Sh1 billion. The amount is in an escrow account at the Central Bank of Kenya, but I will only have Sh200 million from it. It is simply economic warfare against perceived political opponents as a way of silencing them.
People say you are very close to retired President Moi...
There is no doubt that I was very close to Moi. But that does not prove that Moi gave me riches or that I looted NSSF (National Social Security Fund). People create propaganda to help them explain the crimes they have committed. Somebody looted Sh158 billion was let off the hook, and everybody want to make it look like YK92 was involved. I borrowed Sh130 million to build Saika Estate. Post Bank Credit lent me Sh300 million for the development of Hazina Estate. To distract people who benefited from Goldenberg, Jirongo was identified as the perfect candidate to carry the blame.
Are you a wealthy man today?
I eat. I don't starve.
The hate level in this country...
It starts with tribalism. It's the reason for hate speech. Musicians de Mathew, Kamanda and Njoroge were arrested and arraigned in court for tribal hate speech, but were later discharged. (Migori Senator Dr Wilfred) Machage was forced to leave office because of hate speech charges. I don't think the way to deal with people's feelings is by stopping them from expressing themselves. You can't legislate a feeling.
What would be your message to President Uhuru?
I would advise him to take charge and put this country in order. It starts with sorting out the IEBC (Independent Electoral and Boundaries Commission), inclusion and addressing negative ethnicity.
Can you beat Ruto in a presidential contest?
My vision on leadership is different from his. He's no match to me. As a leader, you are expected to be honourable and serve the people. If I were a president, people would remember me the way they remember Mandela and Martin Luther King. Money can never be substituted for honour.
Aren't you afraid of being assassinated?
My daughter, Sally, was on Riara Road with her boyfriend. A motorcycle with two people passed them, and stopped a few metres ahead. One person whipped out a gun and asked the boyfriend to give them the computer he was holding. They then pointed the gun at my daughter, but the man pushed them and stood in the line of fire. They shot him for that. She is now in South Carolina to bury her boyfriend. My daughter is not in politics, so the message was meant for me.
- Transcribed by Mkala Mwaghesha from a Jeff Koinange interview
Related Topics