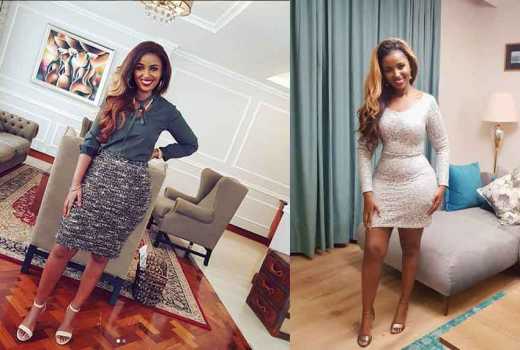 Keroche heiress Anerlisa Muigai has given her side of the story on what transpired between her and Ben Kangangi after she was sued for defaulting on a Sh19.9 million loan.
According to the multi-billion shilling beer empire heiress, she was not dating Kangangi in the first place and that he was just a mere friend whom she lend her hand as he hustled his way up having been brought up in Mathare.
Muigai claims that she borrowed money on behalf of Kangangi to a tune of Sh20 million for a tender that he had allegedly secured with the government to supply electrical cables. She offered him Sh7 million and promised him the remaining Sh13 million which led to Kangangi introducing her to a shylock, Dennis Mombo Mwangeka, to offset the balance.
Mwangeka demanded collateral for the money and she handed him three cars, one in her name, with the promise of repaying after one week. However, after two weeks had elapsed the shylock came for his cash but Kangangi vanished and stopped taking her calls.
"In the same week of calling Ben, i was informed that Ben and Dennis had been seen drinking together yet Dennis had told me that he did not know who Ben was. I even tried to call Dennis immediately after been told that and he lied that he was in Eldoret. A friend also send me a clip on Youtube of Dennis' house being raided years back by police over stolen cars.
"Straight away I saw something was not right and felt that I got into a trap and decided to take this matter to court to try and save my own money too. Ben Kangangi was held in Pangani police station till he agreed to sign off the money that I had taken under my name to be under his name and also return my money which he did agree to sign eventually.
"He was released and also returned my 5M the following day but still remained (sic) to pay me 2M.He also surrendered more cars and mine was returned.
After a few months Dennis called me and told me to withdraw the case from court as he was going to sort it out. Bens cars were also returned which made me think Dennis was paid off the money by Ben and truth be told Dennis never called me again since 2015 until the day after my 30th birthday which was January 2018, he started haunting me again."
This contradicts a report by the Nairobian in a lawsuit by Mwangeka that she had given checks worth Sh4.4 million to him on October 30, 2015, that all bounced.
Related Topics