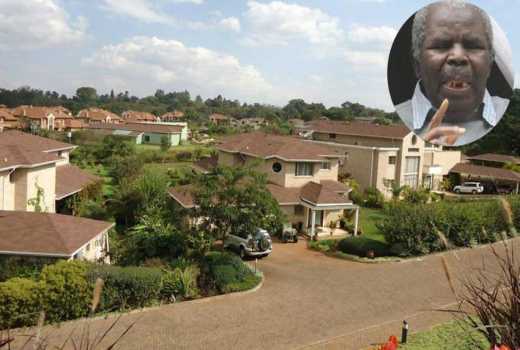 Kitisuru, Nairobi's up-market estate, came into the limelight in 2010 when one of its famous residents became frail, sickly and 'imprisoned' inside his mansion's imposing metal gates.
Gerishon Kirima, a once powerful city politician and well-heeled businessman, was said to have been kept away from family and friends. The then badly needed medical care, according to one of his his daughters who spoke to the press at the time, had allegedly been withheld by his third wife, Teresia Wairimu.
Three doors, one of them grilled, had to be broken for Kirima to be secured. His feet were swollen and couldn't fit into blue-patterned loafers. He had to be helped out.
In the emotive scene, a sobbing Kirima, in a red jumper, hugged his grandchildren; Gerald, Gabriel, Waruguru, Wairimu, Charlotte and Ruthie, while asking: "Why did you abandon me? I feel like I'm dying." "You are not dying dad," they had reassure him amid tears.
Overcome by emotion, a chubby policeman, gun in hand, sobbed at the sight of the old man and his children. Kirima, who later died in South Africa, was the former MP for Starehe, Deputy Mayor of Nairobi, assistant minister in President Moi's government and one-time head of the Kenya Butchery Owners Association.
Gerishon Kirima was an example of a Kenyan who had 'come from far.' He started out as a carpenter at the University of Nairobi, when he settled in Nairobi's Bahati area from Kinangop in the 1960s. He then moved to Kaloleni where his wife Agnes Waruguru sold furniture Kirima made in his spare time outside their house.
Through painstaking saving, the Kirimas ventured into the meat business, the Njiru slaughterhouse, and real estate business, which he supervised while driving in a battered 10-year-old Peugeot.
It was a long arduous journey Kirima took from Kinangop to live in K&S House in upscale Kitisuru, 10 kilometres Northwest of Nairobi. K&S stands for 'Kirima & Sons,' a company that controlled his Sh750 million estate.
Other famous residents of the hood, that some pronounce as 'Kitsuru', include businessman Brian Yongo and former diehard Kanu politician, JJ Kamotho.
But did you know that Kitisuru is a mzungu corruption of Gitathuro, the river that snakes behind Utalii Hotel on the Thika Superhighway?
The brown Gitathuro River, where kids of Nairobi's hoi polloi engage in duff mpaararo, is one of nine tributaries of Nairobi River.
Related Topics