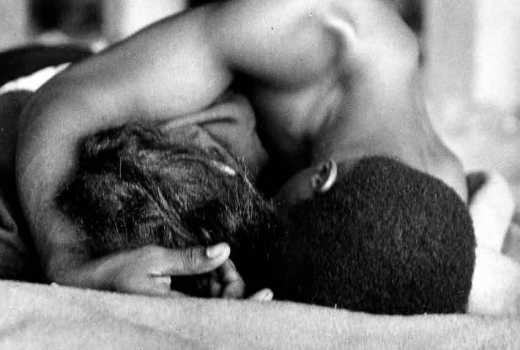 Martin Gachuma wears his dear wife's wedding ring on his pinky finger. He rubs it from time to time whenever he remembers his late love.
"Christine never took it off, even while taking a shower. She was so paranoid that she would lose it, so it literally stayed on her finger. I once hid it from her in those rare occasions that she took it off and she embarked on a futile search through the house, trying to remember where she'd left the ring until I came clean," recalls Martin, a 38-year-old accountant from Ruaka on the outskirts of Nairobi.
Christine, 35, quit her teaching job to be a stay-at-home mother after her second pregnancy.
"She was the best mother to our two babies. I couldn't have asked for more. She was a nice person, explains Martin, adding that, "Until this day, I feel like this is just a dream and I will wake up from it. She was the last person I expected to do such a heinous thing."
Martin was a victim of suicide in marriage after his wife stabbed herself to death while seven months pregnant. That was two and half years ago. Police concluded that it was a murder/suicide as she also killed their unborn child.
On the morning of February 9, Martin woke up just before dawn to find Christine's lifeless body in their master bedroom. She was lying covered in blood and looked peaceful.
Martin could not comprehend the bloody scene in front of him.
"I stared at the floor thinking, 'Okay, why is she asleep on the bathroom floor, but why is there all this juice spilled all over?' It looked like it was cranberry juice or something," Martin recalls. "It just wasn't sinking in," he added.
"I immediately had an eerie feeling that moment," Martin said. "I called out her name but she didn't respond," he explained.
The house was still dark, but he saw light coming from the crack under the door leading to the master bathroom. Martin tried to administer cardiopulmonary resuscitation (CPR) to her and called her parents who immediately called for an ambulance.
"I called out for help but only my daughter was in the house and she was still asleep. I then sat there and wept for my wife and unborn son."
Hours later, his in-laws arrived followed by the ambulance. His wife was rushed to hospital but nothing could be done for her or their unborn child.
Martin believes his wife was suffering from depression. He is not the only spouse to have suffered suicide in marriage.
John Kanyari, 44, is a widowed matatu driver based in Githunguri. A few years ago, his friends were envious of him for managing his wife and mpango wa kando with such skill.
Neither of them knew the other.
He was a happy man. That was until Mary, his wife of 11 years, discovered his illicit affair.
She had earlier sworn that there's no way she would let her husband be with another woman. Two months after the discovery, Mary's 38-year-old lifeless body was found hanging from their living room in Githunguri.
"I was so devastated when I discovered her body hanging from our house but I didn't know what to do. I knew it was my fault, and there was nothing I could do to salvage the situation," recalls Kanyari, adding that the night before her suicide they had argued.
"The argument flared again and she attacked me. I was lying in bed and she jumped on my back, and bit my arm."
After apologising, Mary went to lock the main door and Martin drifted to sleep.
"When I woke up after 5.30am, she wasn't in bed and I went to look for her, only to find her naked body hanging from the roof," he told The Nairobian.
He adds that, "Mary's family blames me for her death and I know it is my fault. They cut off any communication they had with my children. I was left all alone to take care of them. I've tried to rebuild my life with the kids," he shared.
"I'm a good, quiet person. I did something that was very wrong. But the consequences went way beyond what I expected."
It is not just men who suffer suicide in marriages as Julia Anyango discovered when her son found the body of his father dangling from a mango tree in Kiambu where she worked as a nurse.
"Our relationship had been failing," says the 35-year-old. " I knew he (Robert) had been depressed for over a year ever since he lost his job and I became the sole breadwinner. He began smoking marijuana and that led to the hell that I am living in," Julia said.
Robert was an ambitious corporate climber who was sacked and shortly lost his self-confidence and withdrawing from society.
"He became paranoid and started accusing me of cheating. I tried to tell him that he was being irrational, but he would not have it," says Julia.
"I never knew how bad his depression was until I found him hanging from a tree," she explained.
Julia vividly recalls the shock of seeing him in the mortuary and planning the funeral where she was being referred to as 'the next of kin.'
She talked to trauma counsellors "to see what I should and should not say to my son. Lying next to my little boy while he was sleeping, weeping for his broken heart."
The worst part was yet to come as after the funeral, her in-laws kicked her out of her matrimonial home, accusing her of killing their son. She eventually moved back to her parents' home.
"I'm doing okay now. I am currently seeing someone and I am ready to rebuild my life again. This time, I will pay more attention to my partner whenever they are going through hardships and find out what I can do to make things better for them whenever they go through depression."
Related Topics