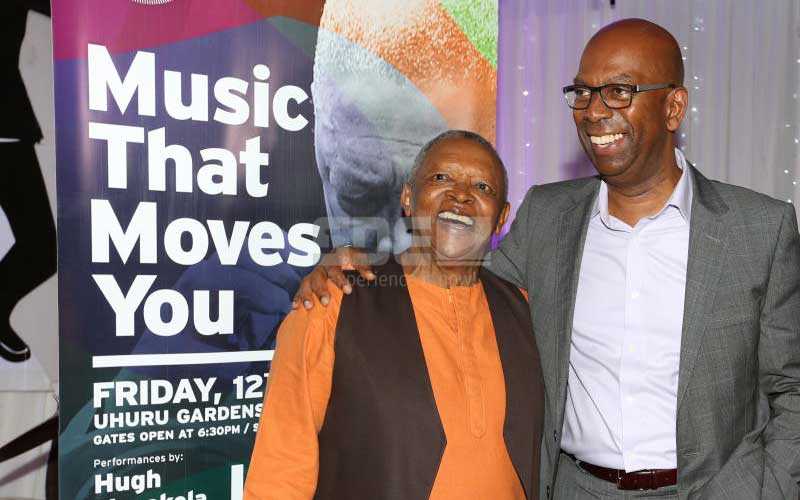 Africa's most celebrated jazz musician is gone. Hugh Masekela passed away in Johannesburg on Tuesday, January 23, 2018 at the age of 78. The trumpeter succumbed to prostate cancer that saw him bed-ridden in his last few days after a lengthy treatment process that began in 2008.
Masekela was renowned for churning out hit after hit from way back in the mid-1960s until his last album recording, No Borders, which was released in 2016. For over 20 years, Masekela was a popular and frequent visitor to Kenya.
Expectedly, therefore, the news of his death which was broken by local media houses, shocked many jazz fans in this country. Masekela's last performance in Nairobi was on August 12, 2016, during the annual Safaricom Jazz Lounge at the Uhuru Gardens.
Prior to the Safaricom concert, the "Man with a Horn" I had last watched performing live seven years earlier during the Cape Town International Jazz Festival in 2009, was still in his element: the prolific jazz maestro and entertainer he had always been sever since coming into the limelight in the early-1960s.
Hugh Masekela was equally celebrated worldwide for his brand of Afro-jazz, which featured various elements of his traditional South African styles that included infectious beats such as kwela, mbaqanga, and township-jive alongside West Africa's juju, Caribbean zouk, America's blues, straight-ahead jazz, soul, funk, and Latin America's cha-cha-cha, pachanga, and samba.
His was a potpourri of musical idioms that defied rigid categorization but, nonetheless, carried the jazz thread in his notes and syncopations.
Moments after the demise, Masekela's family issued a statement announcing his passing "after a protracted and courageous battle with prostate cancer. He passed peacefully in Johannesburg, South Africa, surrounded by his family."
In October 2017, the musician cancelled a scheduled performance at the Hugh Masekela Heritage Festival in Rockville, Soweto, in order to continue with his treatment.
Hugh Ramopolo Masekela, who was born in Witbank on April 4, 1939, is survived by his daughter, Pula Twala, his son, Selema Masekela, and his wife Elinam Cofie, whom he married in 1999.
Earlier, during his exile years in the United States, Masekela had some fruitful musical relationships with various artists in that country; and one such successful encounter was with fellow trumpeter-producer Herb Alpert. The pair recorded two well-received albums in 1978: the self-titled Herb Alpert / Hugh Masekela and Main Event.
Masekela's activities were not solely confined to music but also to the emancipation of fellow South Africans – Black, White and Coloured – against the racist apartheid regime that had for hundreds of years treated Black people with utter contempt, depriving them of their basic human rights.
For instance, he wrote Soweto Blues soon after the Soweto Riots of 1976 that witnessed many lives lost. Then in 1987, while in exile in neighbouring Botswana, he wrote Bring Him Back Home, a tune that demanded the unconditional release from detention of South Africa's foremost anti-apartheid and independence crusader and that country's first post-apartheid President, the late Nelson Mandela.
The Afro-jazz-funk piece subsequently became synonymous with Mandela's world-wide and home political events.
Earlier in that decade, Masekela had recorded albums such as Hugh Masekela & The Union of South Africa; Home Is Where The Music Is; I Am Not Afraid; The Boy's Doin' It; and Colonial Man.
Although the "Man with the Horn" is gone, Hugh Ramopolo Masekela's legacy as an entertainer and a social-political activist will, nonetheless, last for years.
Related Topics