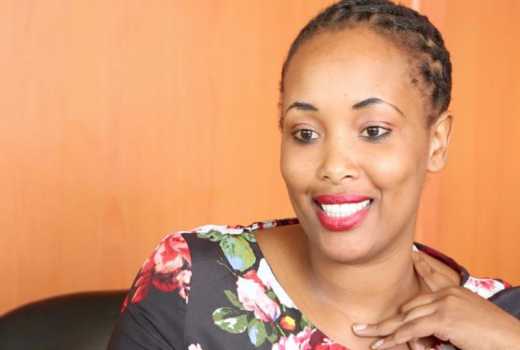 30 –year-old Beverly Munga runs a website, where she openly sex toys
With two Masters Degrees in law, Beverly narrates how she got into the business of selling sex toys
Beverly Munga is a lawyer, or a Vibrating Lawyer as she calls herself online. She runs an online business www.gspotkenya.com where she openly sells sex toys she sources from different countries in Europe.
She says she has been importing and selling sex dolls for the past four years. "People order, and buy them, currently, I am out of stock. Samantha is just an upgrade of the sex dolls, but if someone orders, I will definitely import one for them. "
"I never thought that the business would have been going strong four years later," she says, without batting an eyelid, and with a straight face.
She sells 15 types of vibrators, six types of dildos and strap ons, all types of male toys, fetish and lotions and lubes.
She came back home in 2012 from the United Kingdom.
Armed with two Masters Degrees in law, it can be said, she had options in her journey to a good life.
Her friends, her family and other people in her life expected her to set up a law firm and hit the ground running. She hoped clients would come knocking. But that did not happen.
She took a totally di­fferent path.
She decided to start a business of selling sex toys in Nairobi.
"I looked around and saw friends running businesses such as boutiques and I figured that I could venture into business," she says.
As her mind went into overdrive, contemplating suitable options, her thought trailed back to the time she was in second year at the University of Nottingham. "That was the first time I ever thought of selling sex toys," she says.
It came in the backdrop of a new culture.
It may not have been a hard landing settling into a London life, but she admits, the liberalism astounded her. And also appealed to her. She had a deep longing for freedom.
"In London, no one really cares what you do with your life. Your sexuality is your business. People buy sex toys from shops just like we buy bread in Kenya," she says.
It mesmerised her. It was at such moments that she contemplated bringing a piece of London to Kenya
"I told myself, 'I have never seen sex toys sold in Nairobi: what if I started such a venture?'" She has never used them herself.
But what peaked her interest was that the candour around selling and buying them neither attracted blank stares nor scorn.
The sex toy business, she admits, was supposed to be "a onetime thing."
"There was the curiosity of how the Kenyan market would behave. But at the heart of my ambition, I wanted to make profits," she says.
When her first order landed at JKIA, she fretted. Will anyone buy? What will people say? Will there be trouble? But all the trepidation would turn into jubilation for the then 27-year old.
"Within three weeks, that first batch was sold out. I was not expecting that. That told me Kenyans wanted these products but were probably hiding behind conservatism," she says.
The second, third, fourth and fifth batches arrived and customers promptly placed orders.
"I did door-to-door deliveries myself," she says. "My customers ranged from your average girl on the streets to a married couple in Kileleshwa."
It has been four years and Beverley, despite initially hoping to stop after a while, has stayed put with the business. Her aim, she says, contrary to what many may believe, is to o­ffer options "for couples who want that elusive pizzazz" in the bedroom.
When she started, she knew her main customers would be single ladies and men, lesbians and gay, but to her surprise she got more of married couples buying the sex toys. "I have so many married couples who buy the toys," says Beverly.
Some of the married men and women say they are not sexually satisfied by their partners, but are not willing to cheat on them. Others perceive intercourse with their partners as boring and monotonous, hence want to try something adventurous.
Another group consists of those who do not live with their partners, with some working in di­fferent geographical locations or even abroad.
Beverly, who calls herself the vibrating lawyer, terms the Coast as her hotbed of customers, where the demand of the products is very high.
Running the toy business has meant that Beverley encloses herself within impervious layers – so tough that neither hateful messages nor online abuse can permeate.
"I stopped caring about what critics thought of me. That is because I am conducting a legal business that is only di­fferent because I sell sex toys," she says.
The 31-year old however gets hurt by online trolls whose posts link her to prostitution. Some call her out for 'wasting her parents 'money abroad only to come back and sell sex toys'.
"I won't lie to you, there are moments I questioned what I was doing, but I got really proud when a 61-year old woman, who had never had an orgasm, came back and thanked me for selling her a product.
"The sad story of a woman whose husband su­ffered from diabetes and the couple needed some help made me realise that I was contributing to peoples' happiness," Beverley says.
Related Topics