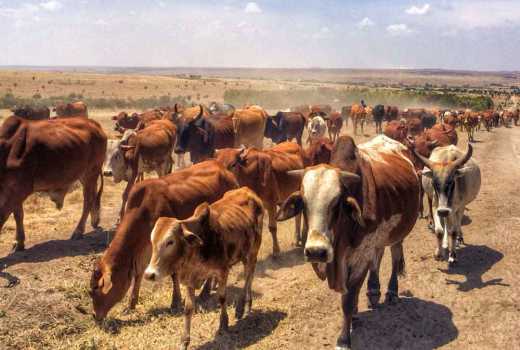 The high bride prices among the communities in Kerio Valley attributes to cattle rustling according to their elders
The leaders have also been tasked with reviewing the tradition on dowry to bring down number of livestock paid as dowry
Men are required to part with as many as 40 cows and 60 goats as dowry
Payment of high bride prices during marriages has become a major trigger of cattle rustling among communities in Kerio Valley.
Leaders from warring Pokot and Marakwet communities want elders to review the tradition on dowry amended, to reduce the number of livestock paid as bride price.
The leaders who met at Lelan along the border of Elgeyo Marakwet and Pokot counties yesterday for an annual prayer cum peace meeting, expressed concern over the high number of livestock a man has to raise in order to be allowed to marry from the Pokot community.
Young men are required to part with as many as 40 cows and 60 goats and in some instances camels as dowry, which has made many to resort to cattle raids to raise the number.
In attendance were West Pokot Governor John Lonyangapuo, his Elgeyo Marakwet counterpart Alex Tolgos, West Pokot Senator Samuel Phoghisio, Marakwet West MP William Kisang, Elgeyo Marakwet Woman Rep Jane Kiptoo, and Catherine Mukenyang (West Pokot speaker) among other leaders.
"The high number of animals required as dowry is driving many young men into bandit attacks, causing insecurity in the entire Kerio valley," said Mr Kipsang.
The lawmaker asked Pokot elders to emulate their Marakwet counterparts who reviewed the number of livestock required as dowry thus significantly reducing cattle rustling.
Mrs Mukenyang challenged Pokot men to intermarry from their neighbours since dowry is easily affordable.
Last year alone, over 100 people were killed during cattle raids, with thousands of animals reportedly stolen by raiders.
But elders from the two communities when addressing the crowd pledged to promote peace and development
Related Topics